Happy Madison Making 'Real Genius' TV Show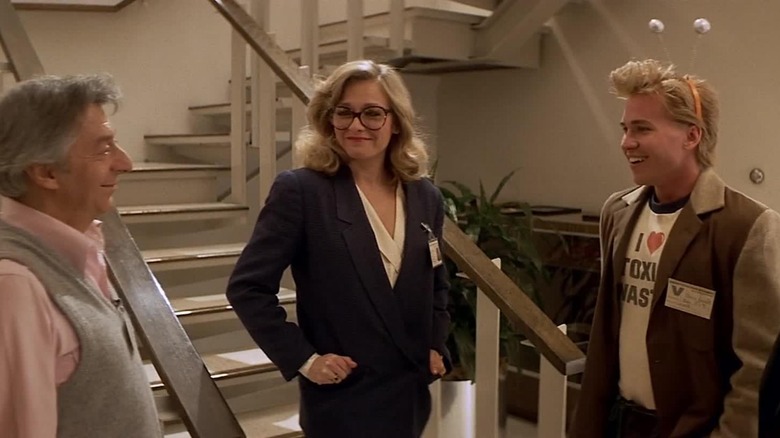 Real Genius, the 1985 college campus comedy starring Val Kilmer, is a smart and cheeky guide to doing right by the old coming of age comedy structure. So, naturally, a new Real Genius TV show that will relaunch the title is dropping most of the signature elements. That's how things sound at least, as the new show will be a workplace comedy rather than a school-set story.
The Wrap has the early details, explaining that " the TV reboot of Real Genius will be a workplace comedy, set in the present-day and centering around the relationship between two co-workers with incompatible personalities."
The film definitely featured "incompatible personalities," such as individualistic student Chris Knight (Kilmer) and his fellow student and extreme brown-noser Kent. But the workplace location could change the nature of the characters quite a bit, depending upon how old they're written to be. Sure, there might be many more story options in this scenario, but based on what little we have it's difficult to comprehend what makes it like Real Genius.
Development on the show comes from Craig DiGregorio (Workaholics co-exec producer), who wrote the script with David King (Parks and Recreation, The League). They're backed by Adam Sandler's Happy Madison Productions, 3 Arts Entertainment and Sony TV.
NBC is eyeing the project, and has given it a script commitment plus penalty order. So not quite as good as a pilot order, but there's some interest there.
Here's the trailer and synopsis for the original film:
Fifteen-year-old Mitch Taylor is a whiz-kid who is accepted into a "young genius"-type college program. Hathaway, desperate to build a space-based laser weapon for the CIA, has drafted some of the finest young minds in the country to his college and fooled them into doing all the work.