How Robert De Niro Showed Meryl Streep The Kind Of Actor She Wanted To Be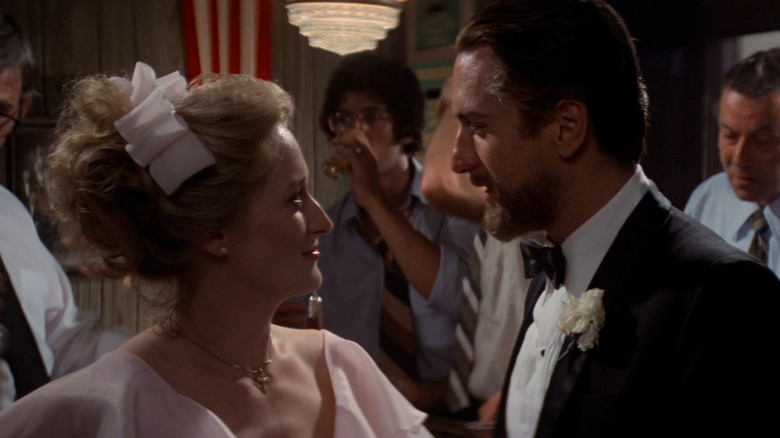 Universal Pictures
We talk a great deal nowadays about audience identification with a movie. If a person who is on screen looks and sounds like me, then I am able to connect with that character and care about their story, because, in a way, it is my story too. This mentality runs through the minds of many aspiring actors. They think, "I can do that," because someone they resemble is doing it. In certain instances, this line of thinking can be extremely valuable, particularly for marginalized communities who rarely are afforded the opportunity to see similarly marginalized people in film, television, theatre, or other narrative art.
But it can also be extremely limiting. If you are an actor purely looking to recreate the career of a similar actor who came before you, how are you pushing your craft forward? A diversity of inspiration makes for a more dynamic sense of empathy within someone and gives you the tools to possibly take on roles people may not think you could do.
Just look at Meryl Streep, the most celebrated female actor of the last half-century. The three-time Oscar winner finds herself transforming film after film, whether they be the most harrowing of dramas or the lightest of comedies, and committing to these characters with her entire being, not showing a shred of self-awareness or vanity. She is someone who also has helped open the doors and expand the kinds of roles women are able to play on film, as no one can really pin down what her "thing" is. Frankly, it is the career plenty of male actors have always been able to have. So it makes sense that one of Streep's major guiding lights in the business was someone quite different from her: this Italian dude from Manhattan named Robert De Niro.
An unknown electricity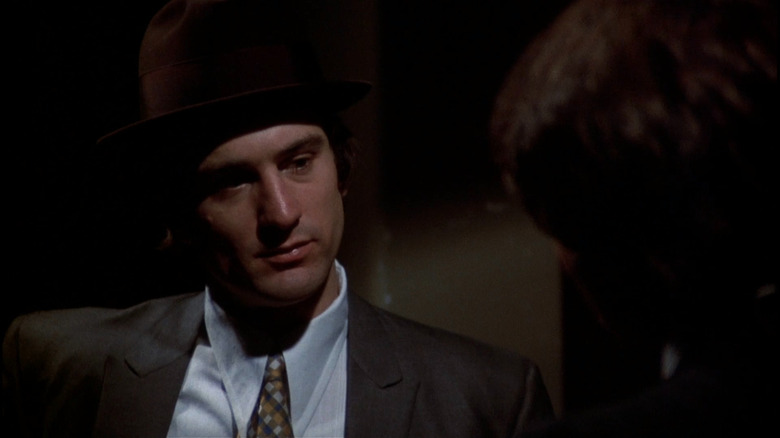 Warner Bros.
The first time Meryl Streep saw Robert De Niro in a film was in the 1973 baseball film "Bang the Drum Slowly." In that picture, De Niro plays a catcher diagnosed with Hodgkin's lymphoma. He also has a strong Southern accent. Not knowing De Niro prior, Streep thought this was just who this man was. In her speech celebrating him at the unveiling of his personal archive at the Harry Ransom Center at my alma mater, The University of Texas, she said of seeing him in that picture [via The Hollywood Reporter]:
"[W]e all agreed that the kid they found in the South, non-actor, clearly non-actor, incredible performance. We thought they must have scoured Appalachia to find this guy."
Later that year, she goes to the cinema again to see a little movie called "Mean Streets," directed by a fresh-faced Martin Scorsese. Much to her surprise, that Southern kid from the baseball movie turns up. He isn't just some guy they plucked off the street. No, he's a proper actor, and he's an absolute dynamo. She goes on to say:
"He's a New York punk. He's absolutely mean, this fast-talking street smart guy and we were blown away. We scoured the credits and saw his name. I said, 'Oh my God.' He's Italian. He's Robert De Niro. He's an actor. And it really blew me away."
Seeing that kind of transformation from one performance to another from such a young guy helped light a fire for Meryl Streep in what kind of career she would hope to have as a working actor. If he could fully commit himself to these parts and disappear, why couldn't she do the same thing?
Her 'beacon for 50 years'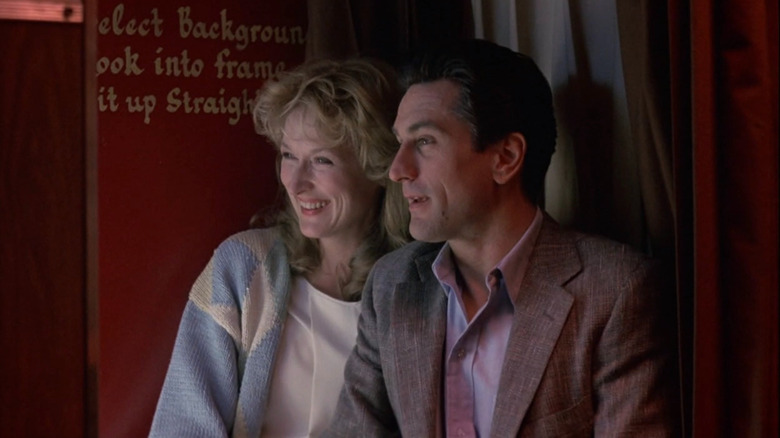 Paramount
Meryl Streep reacted to the early career of Robert De Niro in the same way that a whole host of actors looked at Meryl Streep in her first film roles. Going from "Julia" to "The Deer Hunter" (where she starred opposite De Niro) to "Kramer vs. Kramer," amongst others, showed someone of incredible versatility and discipline for her craft. If Meryl Streep was in your movie, more often than not that would be a major sign that your film was worth seeing, if just for her performance alone.
Streep said in her speech, "Over the years, people have always said to me, 'What actress do you most admire? What actress' career would you like to emulate?'" While she is quick to mention a cavalcade of women she looked to for inspiration, including Geraldine Page, Maggie Smith, and Barbara Stanwyck, that is just a tad too limiting a scope for Streep:
"But, really, the second time I saw Robert De Niro, I said to myself, that's the kind of actor I wanna be. That's what I wanna do. And I wanna do it with the commitment and the passion and the skill and the beauty with which he applies to it. And he's been my beacon for 50 years."
Over their careers, the two have only appeared in tree films together: the aforementioned "The Deer Hunter," the forgotten 1984 romantic drama "Falling in Love," and most recently, in 1996's "Marvin's Room." I hope that in their later years the two are able find another project together, as their talent has clearly not diminished in any fashion (though, admittedly, De Niro's heart isn't always in the projects he does). When Streep and De Niro are on their game, there's nobody else you'd rather be watching on screen.