My Father's Dragon Trailer: Another Gorgeous Animated Adventure From Cartoon Saloon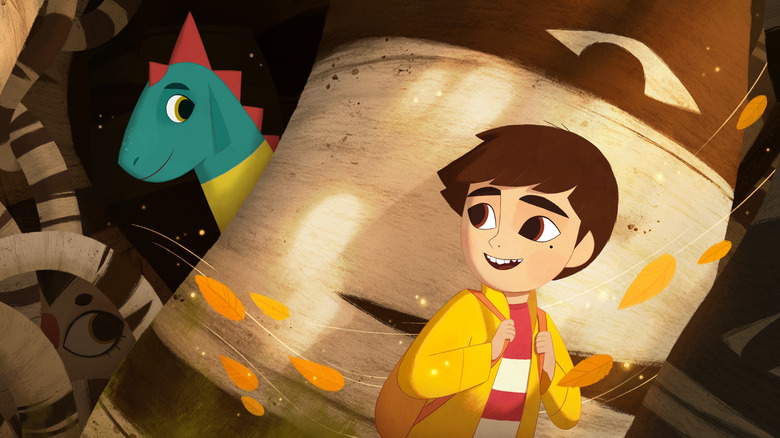 Netflix
Cartoon Saloon is one of the best animation studios working today. The Irish studio has continuously given us gorgeously-drawn tales that combine fantasy with reality, unafraid to hit some hard truths about life, particularly the sins of the past, while still delivering fun and exciting adventures for the whole family. From their Irish Folklore Trilogy and its exploration of mythology and history, culminating in the spectacular masterpiece that is "Wolfwalkers," to the more dramatic but still impactful Angelina Jolie-produced "The Breadwinner," the studio has a unique visual style and a penchant for using the medium of animation to tell stories that kids can watch without shying away from the hardships of the world.
The latest Cartoon Saloon film is "My Father's Dragon," inspired by the children's book of the same name by author Ruth Stiles Gannett. Studio co-founder Nora Twomey, who directed "The Secret of Kells" and "The Breadwinner," is taking over directorial duties for this film, based on a script by "Inside Out" screenwriter Meg LeFauve, from a story LeFauve worked on with John Morgan.
"My Father's Dragon" follows a young boy named Elmer, who is struggling to cope after a move to the big city with his mother. One day, Elmer befriends a talking alley cat — as you do — who tells Elmer of a magical place called Wild Island, where a baby dragon awaits to be rescued from captivity. The two strike a friendship and must endure challenges as they navigate the mysterious island and the fantastical beasts within it.
A new adventure awaits
"My Father's Dragon" has a stellar cast, with boy wonder Jacob Tremblay ("Doctor Sleep") starring as Elmer and "Stranger Things" star Gaten Matarazzo playing Boris the Dragon. Rounding out the cast is the likes of Dianne Wiest, Rita Moreno, Chris O'Dowd, Judy Greer, Alan Cumming, Whoopi Goldberg, and Ian McShane.
The trailer focuses more on the fantasy and adventure parts of the story, with Elmer and Boris becoming friends and meeting all sorts of creatures. But even in this short preview, there is already a hint of a deeper environmental theme. In the trailer, we see Boris talk about wanting to save his island, and every time he tries something, it sinks further into the water. This being Cartoon Saloon, expect some poignant themes about preserving our world along with the cute adventures.
Here's the film's official synopsis:
Struggling to cope after a move to the city with his mother, Elmer runs away in search of Wild Island and a young dragon who waits to be rescued. Elmer's adventures also introduce him to ferocious beasts, a mysterious island and the friendship of a lifetime.
"My Father's Dragon" will have its world premiere at the BFI London Film Festival in October before heading to Netflix on November 11, 2022.