Robin Williams Left A Lasting Impression On The Wire Creator David Simon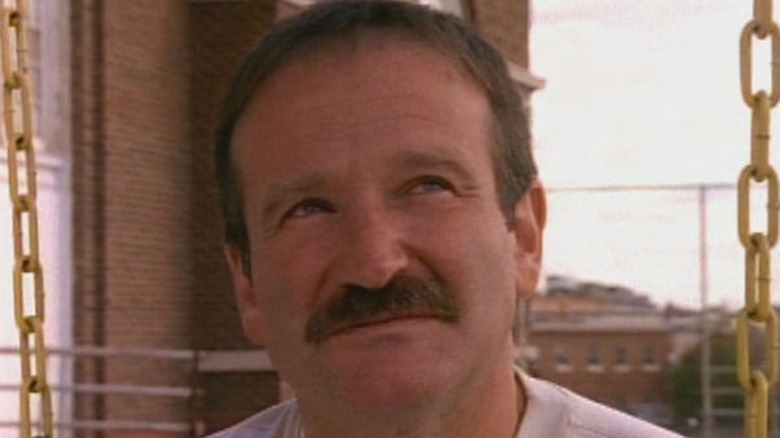 NBC
Heading into the mid-1990s, Robin Williams was one of the most bankable stars going, but he was far from infallible. "Awakenings," "The Fisher King," "Aladdin" and "Mrs. Doubtfire" were bona-fide hits, but they were interspersed with massive flops like "Toys" and "Being Human." So while people flocked to Williams when cast in a compelling role, they didn't turn up just because his name and face were on the poster.
So when Barry Levinson reached out to his "Good Morning, Vietnam" star to provide the filmmaker's critically acclaimed, yet low-rated NBC drama "Homicide: Life on the Streets" a bit of must-see sizzle, there was no guarantee that his guest appearance alone would bolster the series' Nielsen profile — particularly since he was cast as a tourist/father coping with the murder of his wife. Nevertheless, the episode in question, titled "Bop Gun," was slated as the show's heavily promoted season premiere. It was an all-or-nothing move for Levinson, given that the network had renewed the series for a scant four episodes.
For a young writer named David Simon, whose Baltimore crime reporting would eventually lead him to create HBO's "The Wire," even if the show was going to get axed, it at least gave him the opportunity to observe a genius performer's process up close. It was an experience he'd never forget.
A collision of comedy and tragedy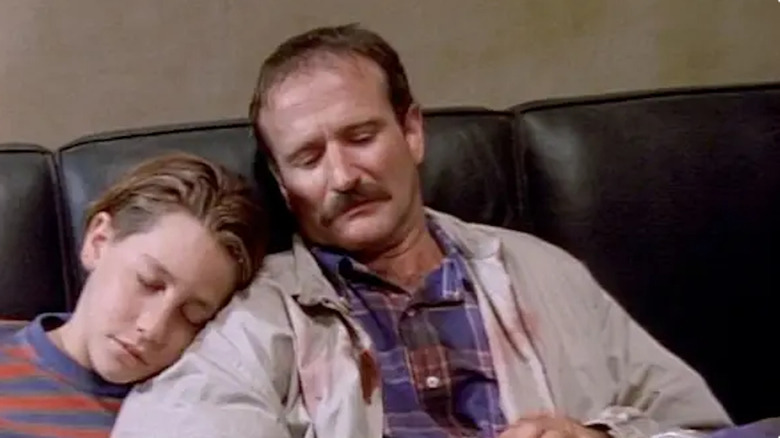 NBC
The episode was a departure for "Homicide" in that it focused primarily on a victim instead of the cops. Williams' character is ill-equipped to handle the chilly emotional response of the officers charged with investigating the murder. He's also lost while trying to comfort his two sons. This is Serious Robin, more serious, in fact than he'd been in a feature film to that point.
Simon was on set for the filming of the episode, and was struck by the actor's thorough commitment to the character. As he told Dave Itzkoff in the author's biography "Robin":
"'The crazed, manic stand-up routines, the machine-gun witticisms and impersonations—all of it was on hold as he tried to live in the shattered soul of a husband and father who had just lost his wife to sudden, implacable violence.' And yet, Simon observed, 'He was, I found, the most in-character actor on that film set.'"
In between setups, Simon gave Williams a tour of the morgue, and showed him a series of dollhouse-sized dioramas that depicted various crime scenes. The actor would guess at what transpired in each situation, and Simon would give him the answer. Finally, Williams was called back to work, at which point the writer got to see the star do his zany thing to lighten the grim mood of the set. As entertaining as this was, Simon was far more fascinated by how Williams got back into character.
"Before Simon left the set, he caught sight of Robin in a hallway, 'using the few remaining minutes before filming to face the wall and reacquaint himself with whatever horror he was trying to channel. He was sweating, too, as if it had taken all he had to rise to that warm summit and provoke such laughter. To my great surprise, his face was that of an unhappy man, and I retreated, saddened and surprised by the thought.'"
Robin solves Homicide's ratings mystery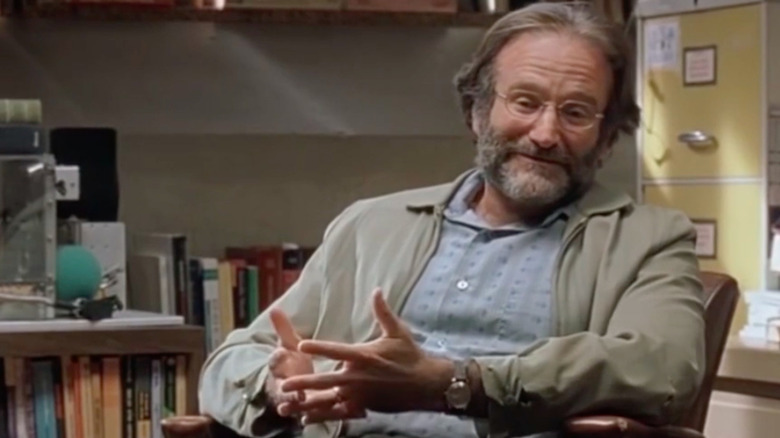 Miramax
Levinson's Hail Mary pass was a ratings touchdown. The "Bop Gun" episode was one of the most-watched shows of the week. NBC renewed the series, and gave it a 20-show order for its third season. "Homicide" was never a ratings juggernaut, but it lasted for seven seasons. It's difficult to imagine this outcome without Williams' Emmy-nominated performance.
Still, it's disquieting to imagine Williams' ability to quickly transform from the stand-up, stream-of-consciousness virtuoso who makes people howl with laughter to believably portraying a man struggling with an unthinkable tragedy. There were levels to Williams' genius that none of us, not even an ultra-perceptive writer like Simon, could fully grasp.