Do You Like UHD Movies? Scream 2 Is Getting A 4K Release
Dimension Films
It's been 25 years since "Scream 2" slashed its way into U.S. movie theaters with an opening scene set in a movie theater. And just in time for its silver anniversary and Halloween, the film is finally receiving the 4K Ultra HD treatment for the first time. Paramount Pictures has announced via an official press release that a newly remastered version of "Scream 2" will be released on digital and in a 4K Ultra HD/Blu-ray set in October.
The Blu-ray set provides access to a digital copy of the film along with bonus content, including feature-length audio commentary and deleted scenes with optional commentary by director Wes Craven, producer Marianne Maddalena, and editor Patrick Lussier. There are also outtakes, a featurette, music videos for Master P's "Scream" and "Suburban Life" by the Cottonmouth Kings, and the movie's original theatrical trailer and TV spots.
"Scream 2" struck while the iron was hot, arriving a year after the first "Scream" back in 1997. This new 4K release of "Scream 2" looks to be doing a similar thing and capitalizing on the renewed popularity of the "Scream" franchise thanks to the arrival of the fifth installment back in January and the ongoing development of its follow-up, "Scream 6."
'Hang the phone up and star 69 his ass!'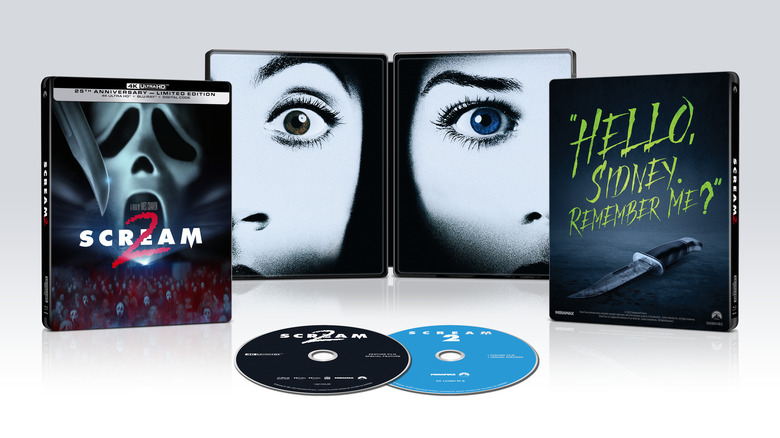 Paramount Pictures
"Scream 2" remains memorable for its opening scene, where Omar Epps and Jada Pinkett Smith's characters, Phil and Maureen, attend a free sneak preview of the movie-within-a-movie, "Stab," having a typically meta discussion about the nature of slasher flicks and how they always seem to involve "dumbass white girls" getting cut up. Maureen opines that horror "is historical for excluding the African-American element," but when they get into the theater, talk of Black and white gives way to "Red Right Hand," which would later become the theme song of "Peaky Blinders." Maureen talks to the screen as Heather Graham reenacts the death of Drew Barrymore's character from the first movie, and soon you'll be able to do that, too, in ultra high-definition.
This is also the movie where Jamie Kennedy's all-knowing horror expert, Randy Meeks, finds himself being stalked and outwitted by Ghostface on a college campus. If you've somehow never seen "Scream 2" or just need a further refresher to differentiate it from the other four "Scream" movies, here's the official synopsis for the film in 4K from Paramount Pictures:
Away at college, Sidney Prescott (Neve Campbell) thought she'd finally put the shocking murders that shattered her life behind her... until a copycat killer begins acting out a real-life sequel. Now, as history eerily repeats itself, ambitious reporter Gale Weathers (Courteney Cox), Deputy Dewey (David Arquette) and other SCREAM survivors find themselves trapped in a terrifyingly clever plotline where no one is safe or beyond suspicion.
"Scream 2" in 4K will be available on digital and Blu-ray on October 4, 2022.