Ridley Scott Drove His Casting Team 'Crazy' Finding The Right Actors For Alien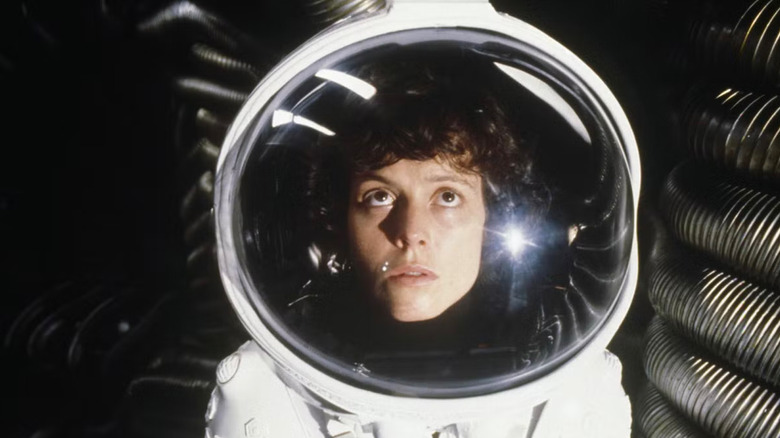 20th Century Fox
Ridley Scott's sci-fi slasher-in-space "Alien" recently celebrated its 40th birthday in 2019. The 1979 classic is not only hailed as one of the scariest films of all time, but boasts one of the most impressive casts in a horror movie. A mishmash of personalities and temperaments were necessary to sell the story of an interstellar freight crew that answers a mysterious signal from a nearby moon. The band of white-and-blue-collar pros include Captain Dallas, Executive Officer Kane, Warrant Officer Ripley, Navigator Lambert, Science Officer Ash, and engineers Parker and Brett, few of whom would make it past the monster promised in the title.
When the time came to cast the crew of the Nostromo, Scott needed an array of non-archetypal performances that departed from the usual sci-fi parameters. He wanted a spectrum of character actors that would reflect a future dominated less by tribalism and more by corporations.
Some actors, like Tom Skerritt, had to read for their parts before Scott joined the project. Yaphet Kotto would go from Paul Schrader's "Blue Collar" to the Nostromo, and Veronica Cartwright had completed another sci-fi classic, "Invasion of the Body Snatchers," only the year prior. Veteran stage actor Ian Holm would soon join the cast as Science Officer Ash, one of the few non-Americans on the cast. According to The Hollywood Reporter, Scott wanted to see as many actors as possible and wanted to know each face up for each role, which was a source of irritation for the casting team. THR quotes Scott:
"If I'm working with a film actor or actress, before I meet them I'll have seen anything or everything worthwhile that they have done, so when they walk through the door, I know who I'm talking to."
One of Scott's biggest casting challenges was still to come.
Casting Ripley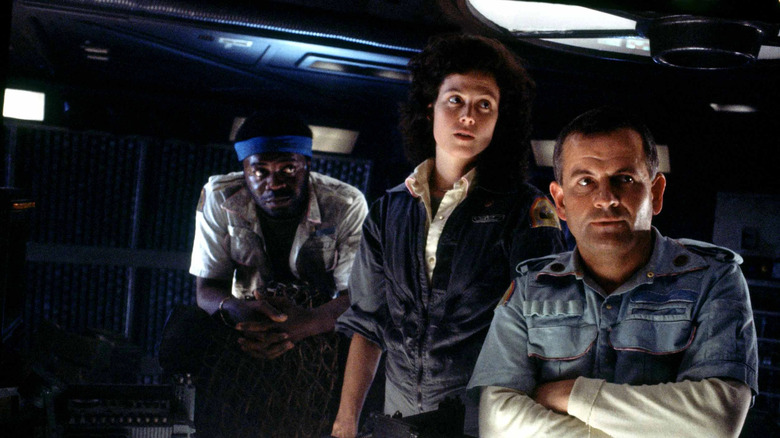 20th Century Fox
Casting the part of Ripley, the warrant officer who would live, was a monumental task for director Scott. The "Alien" production was just three weeks from principal photography, and the final survivor of the Nostromo hadn't yet signed on.
According to Ian Nathan, author of the definitive history "Alien Vault," casting director Mary Goldberg had suggested a pair of names for the lead role. The first was Meryl Streep, whose partner John Cazale had recently died and so producer Gordon Carroll felt it wasn't the right time to approach her. And so attention fell to the second name on the list, an off-Broadway arrival who appears at the tail end of Woody Allen's "Annie Hall." Scott tells the Hollywood Reporter:
"I think I drove them crazy by saying, 'Nah, nah, nah, yes, yes, yes, yes, yeah.' Then one day — I believe I could be wrong, but you can quote it because he'd probably be quite happy — Warren Beatty had called up David Giler and said, 'Listen, I've seen this young woman onstage off-Broadway called Sigourney Weaver, you should see her.' I believe that's what happened. Because then the next thing is I'm going to meet Sigourney and in walks somebody who's got to be at least six foot one and dwarfed me. And that's how I met Sigourney."
After meeting with Scott and casting in Manhattan (in thigh-high boots!), Sigourney Weaver was summoned to a screen test at Shepperton Studios, and the footage lives on today:
Even in the early tests, Weaver clearly owns the role, projecting the sense of doggedness and determination that would come to define Ellen Ripley. The "Alien" franchise would become a prominent part of the "Avatar" star's career, just as Ripley would become one of the sci-fi genre's most revered action stars.