It's Easy To Love The 'Chaotic Good' Energy Of Shin Ultraman [Fantastic Fest]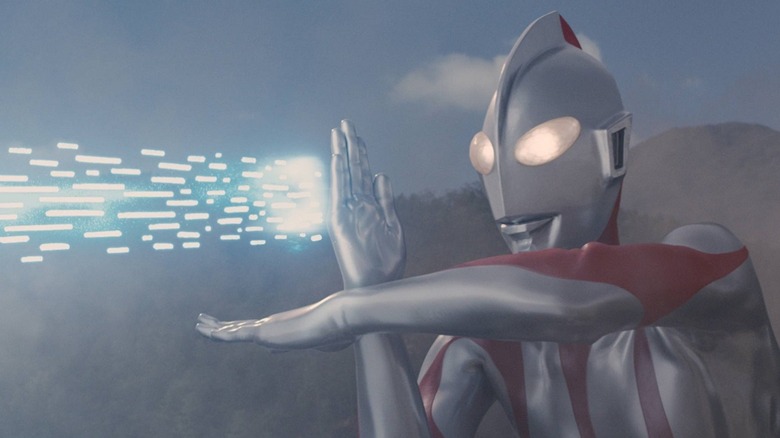 Toho
I knew nothing about Ultraman when I sat down to watch "Shin Ultraman," and I'll be perfectly honest: when the credits rolled, I still didn't know much about Ultraman.
The new film from director Shinji Higuchi is a modernized update of the classic Japanese character, a skyscraper-sized alien who defends the Earth from various threats, both internal (those blasted kaiju just keep emerging from the ground) and external (our planet is apparently on the radar of every scheming alien in the galaxy). When he's not punching giant monsters in the face, Ultraman lives among us as a (regular-sized) blank-faced government bureaucrat. And as the film makes clear, he has many, many problems to deal with — "Shin Ultraman" resets itself with a new evil plot every 30 minutes or so, with each solved problem escalating into a new crisis.
I'd be lying if I said I could follow it all. This is a movie without a minute to breathe, one that jams so much information and exposition into nearly every scene that it spins the head. I'm sure longtime fans will get a lot more out of it. But that's okay. There's something to be said about a movie's gumption, and "Shin Ultraman" has it in spades.
The nicest kind of kaiju movie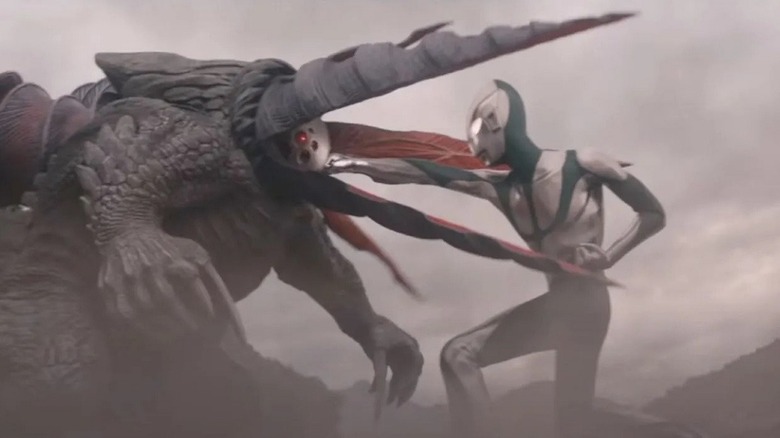 Toho
Unlike its spiritual predecessor "Shin Godzilla," which brought the King of Monsters back with a wave of angry, acidic satire and horror, "Shin Ultraman" is deliberately old-fashioned. Its satire is at the forefront (Japan's leadership is depicted as constant kowtowing to larger powers, whether they be western or extraterrestrial), but it's all softer, window dressing rather than the point of the whole thing. The real focus is on putting Ultraman (delightfully performed via an old-school "man in suit" performance) in action early and often, testing his limits, and letting him serve as a beacon of hope for a world that probably doesn't deserve him. Hideaki Anno, who co-directed "Shin Godzilla" with Higuchi, returns as a writer here, and his script is far more "Rebuild of Evangelion" than original recipe "Evangelion" — we're worth saving, the movie says, even though humanity is predisposed to poor choices. We'll get better.
It's this spirit that kept me wrapped up in "Shin Ultraman" even as it kept spiraling in odd directions that seemed to leave the fans in the audience enthusiastic and me just plain confused. I knew I was watching a love letter, but I could not decipher it. This is simply not as approachable as "Shin Godzilla," a film I would recommend to any kaiju neophyte. This one requires a big-ass asterisk.
But like I said: I cannot bring myself to dislike this movie in the slightest, with its goofball can-do attitude and strong "chaotic good" (pardon the Dungeons & Dragons terminology) energy. Higuchi and Anno are less interested in structure or coherence and more interested in jamming in as much Ultraman stuff as possible, and letting the game supporting cast of mere mortal humans provide able back-up. Even as the film becomes increasingly episodic and scattered, climaxing with colorful, cosmic action that seared my brain, it's all so ... nice.
Time for homework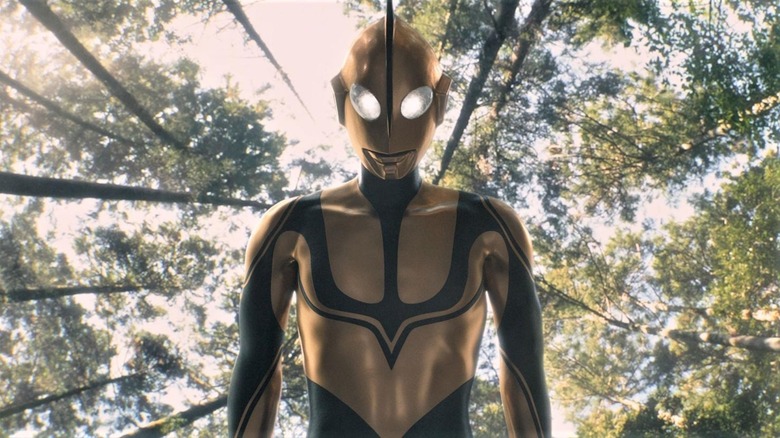 Toho
Ultraman himself is a cipher by design, offering a vibe that's like John Carpenter's Starman or Alan Moore's Swamp Thing — a supernatural being suddenly forced to reckon with human thoughts and feelings. And his mission of galactic non-interference recalls "Star Trek" — he can't save humanity due to his equivalent of the Prime Directive, but he can help humanity save itself.
I break out all these western references because I don't know how much of this is baked into the original Ultraman, or how much of it is kernels of classic ideas reconsidered by the filmmakers through a modern lens. Even as "Shin Ultraman" threatened to lose me, it kept reminding me of things I love, of movies, shows, and comics that are near and dear to me. I left "Shin Ultraman" with a grudging respect. Damn it, if it's reminding me of all these things I love, I should probably love this movie. I am probably a future fan.
So I guess it's time to brush up and do my homework and return when I know a thing or six about this character and its legacy. I want to personally experience the excitement I felt radiating from the crowd around me. I know that warmth well from other screenings, and it's probably worth the trouble.