Slumberland Clip: Jason Momoa Is The Horned Man Of Your Dreams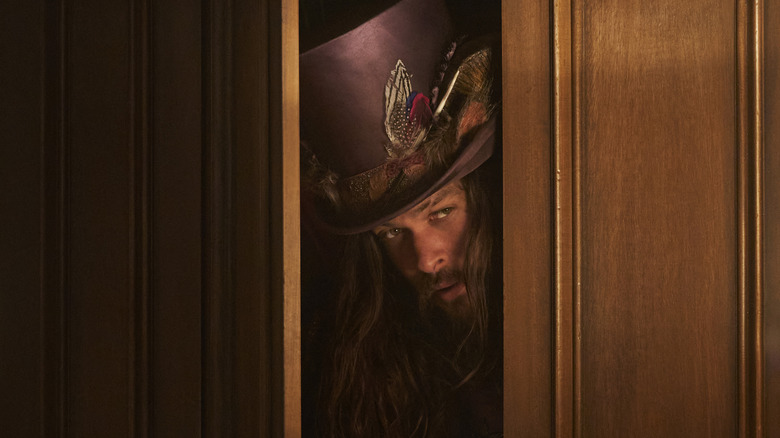 Netflix
Get ready to enter the World of Dreams. During Netflix's TUDUM fan event, which is a smorgasbord of updates for all the things the streamer has on its docket, Jason Momoa introduced a sneak peak clip of the upcoming film "Slumberland." Based on the the acclaimed comic strip "Little Nemo In Slumberland" by Winsor McCay, Momoa portrays the eccentric outlaw Flip. Horns, height, and all!
The sneak peak clip focuses on Marlow Barkley's Nemo and Momoa's Flip as they are about to transition from the Waking World to the Dream World. Serving as an introduction for both Nemo and the audience, Flip breaks down the rules of travel between the realms. In the process, we also see how the world transforms around them. Glittery and gold, the realm (and Flip) go from drab to fab. Try not to be distracted, though. Pay attention to those rules. 
Rule number one, keep a low profile. Rule number two, stay focused. Rule number three, Flip is the boss. Once you break it down, it's simple enough. But, it is in Momoa's and Barkley's back and forth that we start to connect the pieces of the overall story as well as their character dynamics. Oh, and there's an adorable little piggy following them along the way.
Behold the Slumberland sneak peak
Joining Momoa and Barkley are Chris O'Dowd ("The IT Crowd"), Weruche Opia ("I May Destroy You"), India de Beaufort ("One Day at A Time"), and Humberly González ("Ginny & Georgia"). The movie is directed by Francis Lawrence ("Constantine," "The Hunger Games" franchise). The "Slumberland" screenplay was penned by David Guion and Michael Handelman and has a score by Pinar Toprak ("The Lost City," "Justice League").
The updated synopsis is below:
A young girl discovers a secret map to the dreamworld of Slumberland, and with the help of an eccentric outlaw, she traverses dreams and flees nightmares, with the hope that she will be able to see her late father again.
"Slumberland" arrives on Netflix on November 18, 2022. A tale of magic, wonder, and fear, "Slumberland" is likely to be perfect to watch with the kiddos while you're working off that big ol' Thanksgiving dinner.