Adam Sandler's Co-Stars Are His Main Concern When It Comes To Critics Bashing His Movies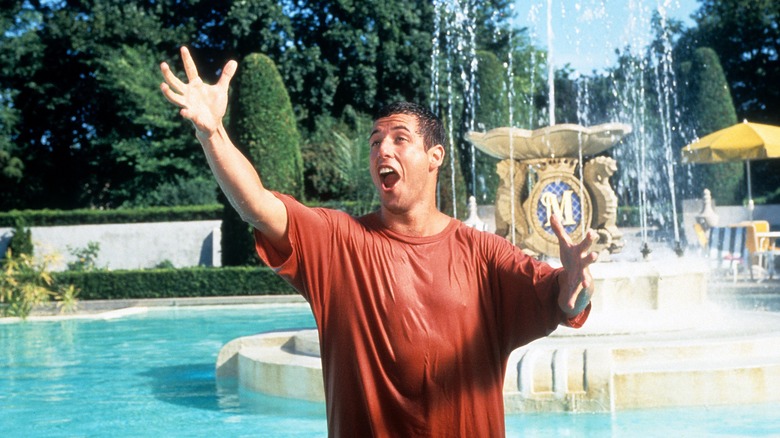 Universal Pictures
Most of Adam Sandler's movies aren't getting added to the Criterion Collection anytime soon. The former "Saturday Night Live" cast member turned comedy movie star has never had a lot of luck when it comes to critical reception. This has been true ever since his first starring role in 1995 with "Billy Madison," which was received as a tepid "Dumb and Dumber" rip-off at the time, and has continued throughout his career.
Sandler has always not really been for everyone. Even after becoming a fan favorite, he was fired from "SNL" in 1995 because NBC executive Don Ohlmeyer simply didn't like him or understand why people found him funny. He also has his loyal fans, as evidenced by his ability to keep making movies and making money. But his films have become a sort of punchline in some circles, the epitome of a half-assed comedy made by a group of rich comedian friends that they can produce cheaply and in a short time span.
Does this criticism bother Sandler? According to an interview he did with AARP, not really. He's learned to let the hate roll off his back. But what does get on his nerves is when the friends he works with have to face the criticism as well.
Work with friends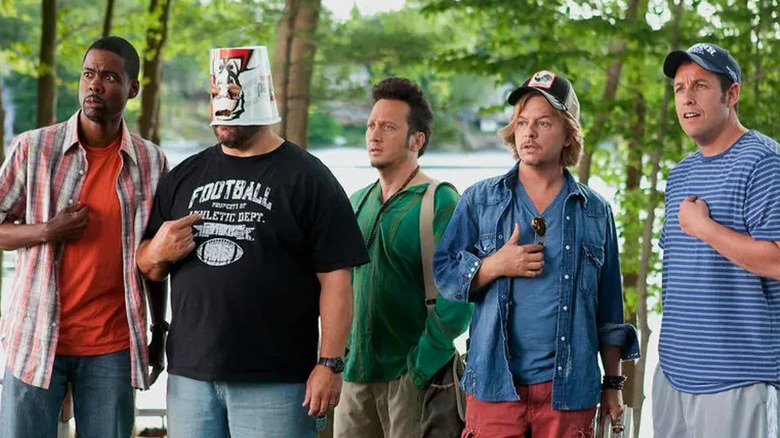 Sony Pictures Releasing
If there's one thing Adam Sandler seems to enjoy, it's making movies with his friends. Take a movie like "Grown Ups" for example, a film that sees Sandler star alongside a group of comedians including Kevin James, Chris Rock, David Spade, and Rob Schneider. The whole main cast of the movie is made up of comedians who Sandler came up in the scene with and is well-documented as being good buddies with.
Sandler isn't afraid to admit that that was part of his motivation for making the movie, either. "The whole idea was about putting together old friends that get to hang out for a weekend," said Sandler in an interview with Collider in 2010, when the film first came out. "These guys are my old friends, so it made total sense. I'm glad they said yes to it."
For Sandler, he isn't very worried about critics going after him. He's used to that. What he doesn't like is when his friends catch a piece of shrapnel. When asked in the AARP interview about the worst part of these bad reviews, Sandler said "Mostly because I invite all these amazing people I care about to make movies with me and I wish they didn't have to read s**t about whatever we've made."
The Sandler-aissance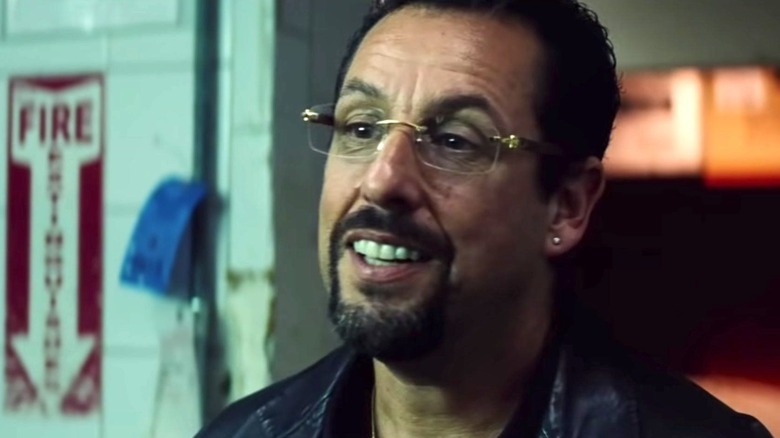 A24
As far as Sandler himself, he remembers his father's advice regarding seeking the approval of others, which he then shares with AARP.
"I recall one time that something didn't go right for me. I bombed onstage or didn't get an audition. I was upset and probably embarrassed. And he said, 'Adam, you can't always be happy. People aren't always going to like you. You're going to fail.' I said, 'But I just want to be happy, man. I don't want all that other crap.' He said, 'You won't actually know you're happy if you don't feel that other stuff.'"
Not only does Sandler have his father's words to fall back on, but his seeming late-career resurgence. Sandler has always had his supporters among acclaimed Hollywood directors, with Paul Thomas Anderson famously casting him in "Punch Drunk Love," in one of Sandler's greatest roles.
Now, following the success of "Uncut Gems," a revelatory performance by Sandler in the eyes of many, Sandler seems to have a great working relationship with the up-and-coming director duo of Josh and Benny Safdie. Sandler is already back on board to do another movie with the brothers.
With Sandler getting more respect than ever before, as well as being rich and famous (which never hurts), I think he'll be happy to ignore the critics for the rest of his life, as long as they leave his friends alone.