Paul Thomas Anderson Thinks Critics Just Don't Understand Adam Sandler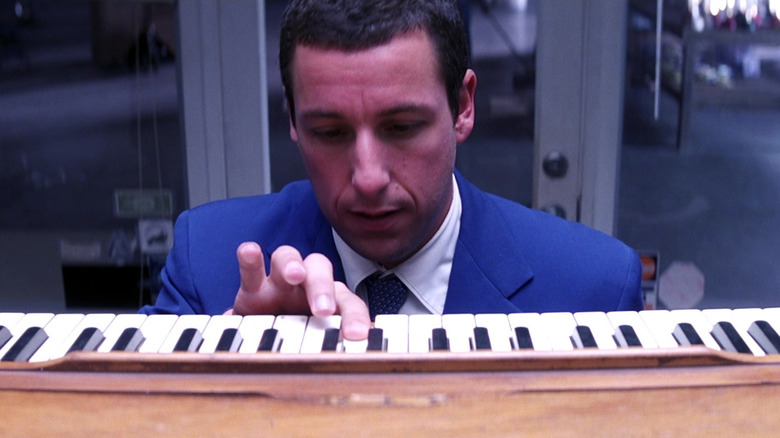 Sony Pictures Releasing
Lots of actors make a living starring in mostly bad movies, but few do it on such a scale and level of success as Adam Sandler. The frustrating thing is, we all know how talented he can be when he feels like it, at least compared to other bad movie regulars like, say, Gerard Butler. You always know what you're going to get with Butler, that steady level of grimacing B-movie badness, and he's never going to suddenly wrong-foot you with an Oscar-worthy performance before going back to stabbing people to death with pencils.
Sandler certainly has the talent, but he just can't be bothered to use it most of the time. Maybe he doesn't feel the need when his special brand of lowbrow humor has earned him a loyal fanbase all over the world. That was something Netflix was keen to get a slice of when they signed him up on a lucrative multi-film deal back in 2014, so Sandler's ratio of good movies to bad is largely beside the point at this stage.
Since his screen debut in "Going Overboard" in 1989, Sandler has appeared in well over 50 movies. By my reckoning, he's tolerable-to-excellent in around eight. He is at least picking up more ticks in the "good" column over the past few years. He probably deserved an Oscar nomination for "Uncut Gems," something I hope the Academy will correct this time around with "Hustle." It's his best performance to date, although it might be a little too lowkey for Academy voters to remember come Awards season.
By most accounts, Sandler is a thoroughly nice, down-to-earth guy, and he inspires devotion from the friends and colleagues he has worked with. He even has a prestigious fan in the unlikely form of Paul Thomas Anderson.
Paul Thomas Anderson gave Sandler his first great role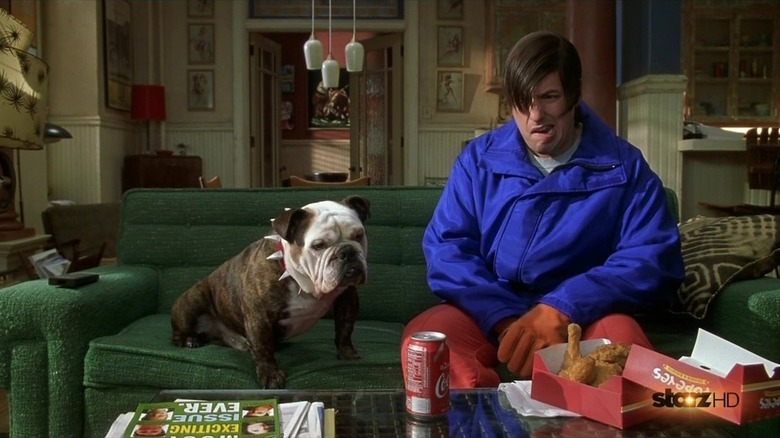 New Line Cinema
If the Adam Sandler comedy is very much a genre of its own these days, so is the Paul Thomas Anderson movie, although the latter has enjoyed far more love from critics. The two intersected in 2002 with the release of "Punch-Drunk Love," an edgy, oddball romantic that really made people pay attention to Sandler as a credible actor.
Roger Ebert, one of Sandler's harshest critics, was dumbfounded by the transformation. He had described the actor's character in his previous film, "Little Nicky" (seen above), as an "infantile grotesque" with a "mush-mouthed lisping whine." On the flip side, Ebert had also speculated that Sandler might be capable of great things in a grown-up role.
Maybe Sandler read the review. "Punch-Drunk Love" saw him build significantly on the promise of "The Wedding Singer," where he had hinted at greater depths behind the usual Sandler shtick. Onscreen for most of the film, Sandler gave a captivatingly stripped-back performance as Barry Egan, a lonely man suffering from social anxiety who tentatively finds love with his sister's awkward co-worker, played wonderfully by Emily Watson.
Talking to Anderson about "Punch-Drunk Love," Ebert suggested it was like the director had "deconstructed the Adam Sandler movies and put them back together again in a new way at a different level." Anderson was quick to defend Sandler (via Roger Ebert):
"He's someone who's taken such a bashing, but still, he was high on my list. In meeting him, it all came clear to me. We have a really similar work ethic. Kind of obsessive and consumed by it. And also, I wanted to learn from him about his attack on stuff. How does he make his movies, what are his concerns? His concerns a lot of times are, what is funny? What will make them laugh?"
Paul Thomas Anderson sure loves Adam Sandler movies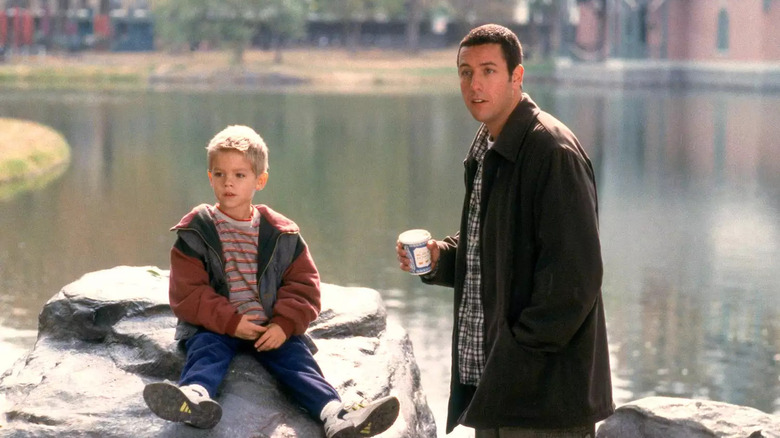 Sony Pictures Releasing
Despite the success of his two previous films, "Boogie Nights" and "Magnolia," Paul Thomas Anderson still had to convince his producer, JoAnne Sellar, that he knew what he was doing by writing "Punch-Drunk Love" specifically for Adam Sandler. She recalled (via Indiewire):
"He was a huge Sandler fan, and I was just befuddled. I just didn't get the whole Adam Sandler thing at that stage. I mean, the 'Saturday Night Live' stuff, yes, but the movies that Adam had done weren't for me. As a British person, I didn't really get the humor. But Paul just kept saying, 'Oh my God, he's so great!' And he completely made me change my mind about Adam."
Anderson's taste in entertainment is pretty wide-ranging. Not only has name-checked directors as varied as Max Ophüls, Steven Spielberg, Robert Altman, and Jonathan Demme as influences on his work, he is an unapologetic and enthusiastic fan of Adam Sandler movies, listing "Big Daddy," "Happy Gilmore," and "The Wedding Singer" among his favorites. He said (via The Playlist):
"I particularly love 'Big Daddy,' more so than 'Billy Madison...I liked 'Billy Madison,' but by the time I got to 'Happy Gilmore' I was like, 'oh, my God.' And then I think I graduated to obsession level with 'Big Daddy.'"
I've been consistently knocked out by Anderson's films over the past 25 years, so who am I to argue? In Anderson's world, Adam Sandler can put in a performance as eye-opening as Tom Cruise, Philip Seymour Hoffmann, Joaquin Phoenix, or Daniel Day-Lewis. Come to think of it, maybe I'll give "Big Daddy" another shot.