Takashi Miike Auditioned Eihi Shiina For Audition Without Her Even Realizing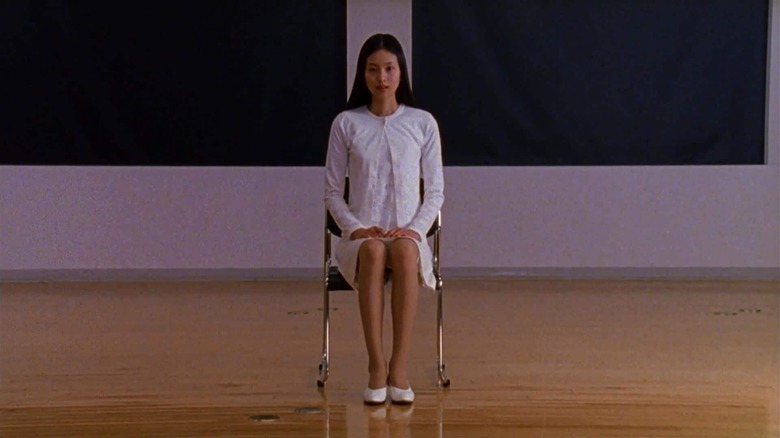 Tartan Video
Takashi Miike's 1999 Japanese horror film "Audition" recently earned the title of the scariest foreign horror movie of all time. The film tells the story of a faux audition held to find a new bride for a widower, and stars Eihi Shiina as the mysterious potential wife. Speaking with Asian Movie Pulse (AMP), Shiina credits "Audition" as "an extremely" important role for me." Indeed it was —  prior to, Shiina's sole film credit was Isao Yukisada's 1998 drama "Open House," but the role of the psychotic Asami earned her international recognition. AMP reveals that the former Benetton model's road to "Audition" was similar to Asami's, sans the torture. What she thought was a simple meeting and deep conversation turned out to be a tryout for the lead role, much to her surprise. She tells AMP:
"I heard that Miike wanted to see me, so I thought to myself that I want to meet him. When we met and talked, it was nothing like the experience of the audition. He asked me what I think about love between men and women. It was, in a way, a philosophical conversation. I simply spoke my mind, without really paying any attention to any of what I said. Before I realized it, a few hours had passed. Suddenly, the person in charge of the audition interrupted our conversation and said that we ran out of time. I concluded that the audition seems to be a lot of fun and I went back home without even thinking that I would end up in the film. The next day, I received a message from the director, saying that he wants me to play Asami. I did not even think that it was possible. I was really surprised."
Shiina, thankfully, handled the news better than her onscreen counterpart did.
After all, my job is to express a certain form.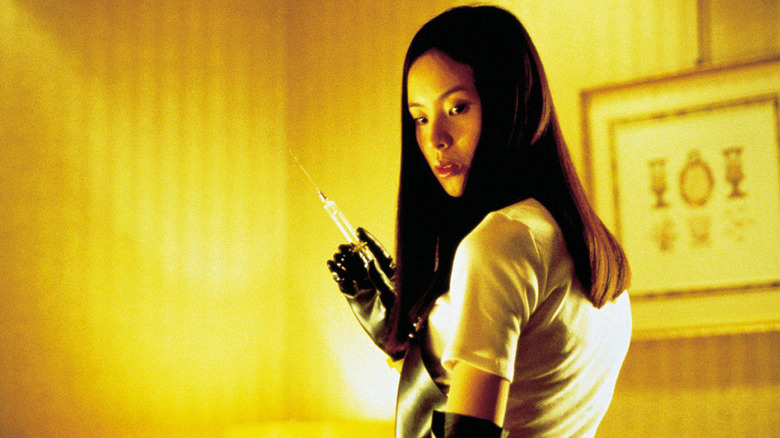 Tartan Video
This article contains spoilers for the film "Audition."
In Miike's adaptation of Ryu Murakami's 1997 novel of the same name, the role of Asami Yuzumaki is a memorable one. A young, aspiring actress whose beauty and mystique enthrall widower Aoyama, she hints at a dark past that emerges in jealousy and violence. Starting as a potential romance story and quickly descending into a male nightmare of a seductive, retaliatory woman, the movie contains the sort of form of destruction Miike would revel in with past works like his 2001 surrealist horror-musical "The Happiness of the Katakuris" and the hyperviolent manga adaptation "Ichi the Killer."
Following "Audition's" success at film festivals in Vancouver and Rotterdam, it became one of the first of Miike's extensive filmography to get far-reaching Western distribution and word of mouth further cemented it as one of the most frightening features ever, even ranking at #11 on Bravo's 100 Scariest Movie Moments for the jump-scare spectacular scene depicting a large burlap sack in Asami's apartment – you know the one. Sinister devil woman to some, retributive angel to others depending on whom you ask, Asami's rage towards mostly men is in part the product of a devastating abusive childhood, from which she still bears the burn scars on her inner thighs. 
In the same AMP interview, Shiina considers her job as an actor to be "to express a certain form," similar to sporting designer brands as a fashion model. In "Audition," that form is a controlled rage, balancing the scales in her personal landscape of justice and making lying men atone for any transgression that falls under her rather wide umbrella definition of dishonesty and betrayal.