The Scariest Foreign Horror Film Of All Time According To Science
We may receive a commission on purchases made from links.
If you consider yourself a horror movie enthusiast, it is likely you've gone through multiple lists that feature the most frightening movies of all time. Fear is after all, a universal language — and when administered accurately, it can creep under your skin and make for an unsettling experience. Throw in a popped eyeball, a few jump scares, and you're good. 
Maybe "The Conjuring" and "Hereditary" kept you up at night. You've probably also dabbled your way through lesser-known gems such as "The Blackcoat's Daughter" (2015) and "The Wailing" (2016), but have you watched the J-horror film "Audition"? 
Helmed by Japanese filmmaker Takashi Miike, "Audition" features an abundance of violence and depravity that isn't for the faint of heart. It's also how the movie earned the title of the "the scariest foreign horror film of all time." And there's science to back it up!
What Science Has To Say About Takashi Miike's Audition
Takashi Miike is a prolific auteur who has helmed over 100 movies since 1991. He is well-known for the treatment of violence in his films and his exploration of myriad genres. 
But his work can be pretty brutal. Miike has dived into every possible genre — his samurai film "13 Assassins" features intricate historical details, and his horror project "Audition" is gory and perhaps one of the most unnerving films you'll ever watch. It's also the scariest foreign horror film of all time, per a scientific experiment conducted in 2020. 
Last year, Forbes reported that broadbandchoices, a comparison tool for broadband deals, performed an experiment known as the "Science of Scare Project," during which they tracked the heart rates of 50 people from different age groups. The participants watched over 100 hours of horror movies, which helped the platform narrow down a list of the scariest 35 movies ever made. "Audition" was revealed to be the scariest foreign horror film of all time.
Though you wouldn't know it based on the extremely vague synopsis for the film. Here's the synopsis for "Audition."
 "A widower accepts his friend's offer to audition girls in order to search for his new wife. However, the girl he likes does not appear to be the one she claims to be."
Not for the Faint of Heart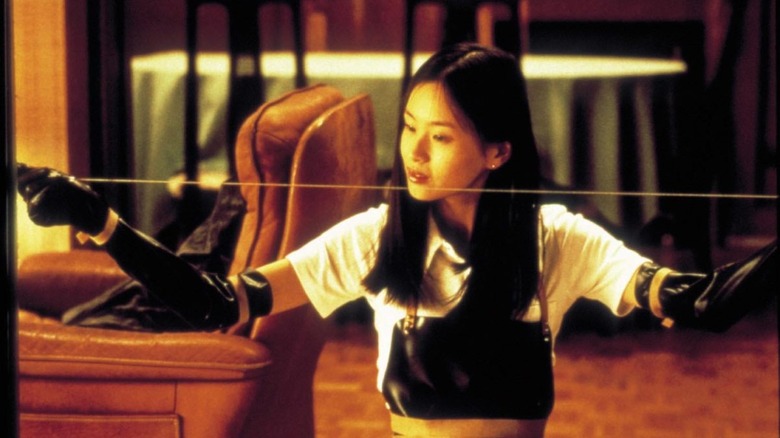 Omega Project
"Audition" is an adaptation of Japanese author Ryu Murakami's 1997 novel of the same name. If you've read Murakami's work — "Coin Locker Babies" and "In The Miso Soup" — you have a fair idea of the atrocities that unravel within the pages of his novels.
Though "Audition" was released in 1999, the book did not receive an English translation until a decade later, in 2009.
Described as a classic of modern J-horror, "Audition" starts off slowly before transforming into an intense expression of the power play between men and women. There's brutality, extreme violence, and the protagonist is unforgiving, so basically — it's a scare-fest. And hey, science agrees!
The torture sequences aren't for the faint of heart, and in the movie, piano wires become deadly weapons. Those who've watched "Audition" will always ask you not to watch its trailer or read about it before going in — so that's what I am going to do, too!
You can buy "Audition" on Amazon Prime Video.