Shadow And Bone Season 2 Teaser: Time To Go Back Into The Fold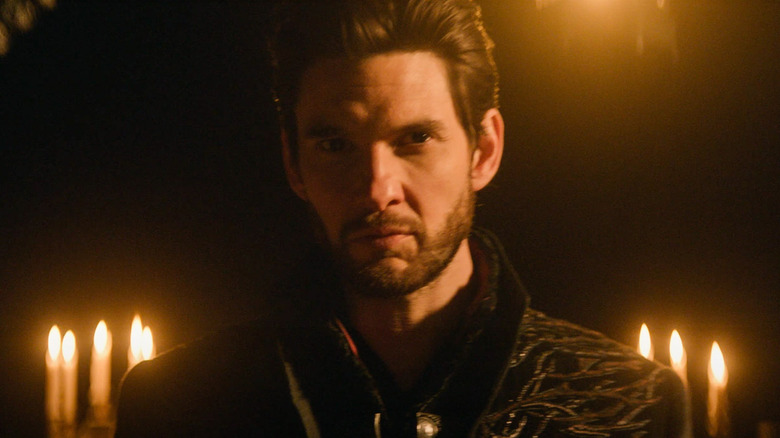 Netflix
The wait for season 2 of "Shadow and Bone" has been long and excruciating, but prepare to thank the saints, because our patience has finally been awarded! Okay, fine, the series hasn't actually been gone for an insane period of time — the first season premiered back in 2021 and got the official green light to continue just a few months later. But when a show is this addictive, the wait starts to feel eternal. In case you missed out on the fantastical fun the first time around, "Shadow and Bone" is YA fantasy at its finest: a chosen-one protagonist realizes her untapped potential and must navigate life with her new abilities while also solving matters of the heart. Yes, magic and a love triangle!
Based on a set of novels from Leigh Bardugo, the story takes place in a war-torn fantasy world where a subset of people (known as Grisha) are able to manipulate matter. Young orphan Alina Starkov (Jessie Mei Li) discovers that she is a Grisha later than most, and also learns that she is the fabled Sun Summoner, giving her the ability to manipulate light. As the only one of her kind, Alina has the potential to tear down the Shadow Fold, a region of darkness that divides the continent in two. Where we last left her, Alina still has a long way to go before she can actually take down the Fold, but she's well on her way to figuring out her abilities.
Overall, Netflix has been pretty quiet about the upcoming second season, revealing very few plot details beyond what we can glean from various casting announcements. We do know that the season will consist of eight hour-long episodes and now, our first sneak peek at the future of the series comes courtesy of the Netflix fan event Tudum.
Watch the Shadow and Bone season 2 teaser
Ever since the YA boom of the 2010s, movies and shows in this subgenre tend to be pretty hit or miss, but "Shadow and Bone" was a rousing success. When Netflix announced the renewal news, the streamer revealed that 55 million member households watched the series in its first 28 days. In typical Netflix fashion, those numbers are pretty vague (how many of these folks watched the series to completion?) but their confidence in the series is easy to understand. "Shadow and Bone" delve into the very rich world first penned by Bardugo and make it twice as entertaining by merging multiple novels together. No offense to Alina and her hero's journey, but one of the biggest highlights is the addition of the Crows — a group of young criminals with a penchant for pulling off heists.
In season 2, the Crows are expected to spend even more time in the spotlight. They'll be joined by the newest addition to their ranks, Wylan Hendriks (Jack Wolfe) — a demolitions expert and newbie to their seedy underground world. Calahan Skogman and Danielle Galligan have also been promoted to series regulars in their roles as future Crows, Nina Zenik and Matthias Helvar. You'll remember them as the Heartrender and Drüskelle whose epic enemies-to-lovers romance ended in absolute disaster when Nina betrayed Matthias to save his life. Also returning for the second season, expect to see Jessie Mei Li as Alina Starkov, Archie Renaux as Mal Oretsev, Freddy Carter as Kaz Brekker, Amita Suman as Inej Ghafa, Kit Young as Jesper Fahey, Ben Barnes as The Darkling, and Daisy Head as Genya Safin.