Shadow And Bone Season 2 Begins Production, Adds New Cast Members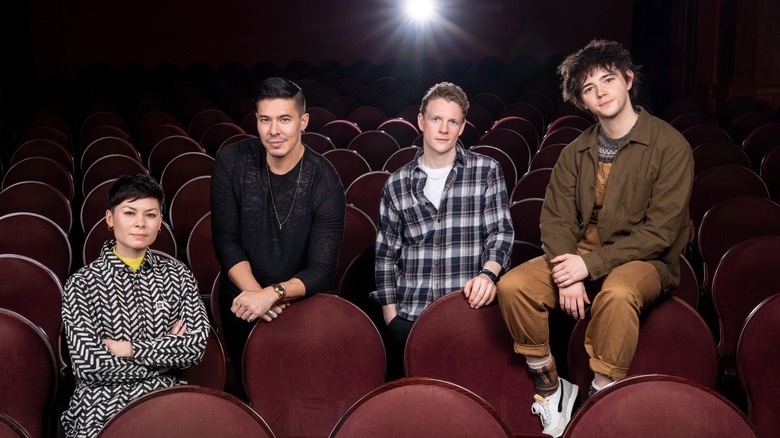 Lewis Tan, Anna Leong Brophy, Patrick Gibson and Jack Wolfe
After hiding out in the shadows for nearly a year, Netflix has finally returned to "Shadow and Bones" fans with an abundance of good news. The second season of the Grishaverse saga is officially in production, with more perilous journeys to come from Leigh Bardugo's fantasy series. Not only does this promise the return of beloved cast members like Jessie Mei Li as Alina Starkov and Ben Barnes as the perfectly-named villain, The Darkling — we've also got some newbies coming along for the magical ride.
Among the exciting slew of new characters cast, fans of the Grishaverse will be especially thrilled to learn that the Crows are finally complete! "Shadow and Bone" has found its Wylan Hendriks, and Netflix didn't even wander too far to snag him. Jack Wolfe is joining the cast as Wylan, a member of the Crows who uses his mother's maiden name while hiding out in the barrel. A fan-favorite character from the "Six of Crows" duology, Wylan was missed during the debut season but it sounds like the naive newbie to the Dregs is finally ready to be corrupted. Wolfe has previously been seen on "The Witcher" and is also set to star in Roland Emmerich's "The Magic Flute."
Other "Shadow and Bone" newcomers include Lewis Tan ("Wu Assassins," "Mortal Kombat") as Tolya Yul-Bataar, a Grisha Heartrender and big fan of epic poetry; and Anna Leong Brophy ("Back," "Traces") as Tamar Kir-Bataar, his twin sister. Also a heartrender, Tamar will befriend Alina as they all sail together. Patrick Gibson ("The OA") joins the cast as Nikolai Lanstov, aka Sturmhond. He's the captain of his own fleet of pirate ships and also happens to be hiding a complicated secret.
To keep the excitement high, the casting announcements also came with a celebratory video from the cast — featuring old faces and new.
New season. New cast. We'll see you all in the shadows. pic.twitter.com/8B4AdhZrJE

— Shadow And Bone (@shadowandbone_) January 13, 2022
Shadow and Bone Season 2 is A-Go!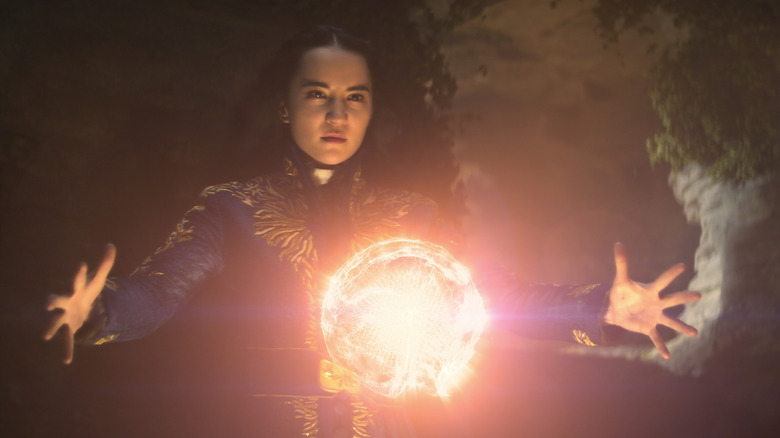 Netflix
Thank the Saints, because the good news doesn't stop there. As production on season 2 officially begins, a few familiar cast members have been promoted to series regulars. Expect to see a lot more of the Crows; along with the addition of Wylan, Calahan Skogman and Danielle Galligan have been promoted in their roles as Nina Zenik and Matthias Helvar. You'll remember them as the Heartrender and Drüskelle who engaged in an epic tale of enemies-to-lovers romance after being shipwrecked and surviving a snowy journey back to civilization. The season finale ended with a complicated betrayal as Nina's plan to save Matthias' life had the unfortunate side effect of landing him in Ketterdam's prison, Hellgate. Also promoted to series regular is Daisy Head as Genya Safin, the Queen's tailor who conspired to spy on Alina.
This tale of YA fantasy is clearly going strong as it heads into its next chapter: the hype is real after the great season 1 debut helped the series explode via word-of-mouth popularity. The second season will also span eight 1-hour episodes, this time with episodes directed by Bola Ogun, Laura Belsey, Karen Gaviola and Mairzee Almas. If you aren't already all-in on this fantasy tale, here's a quick synopsis to get you hooked:
Based on Leigh Bardugo's worldwide bestselling Grishaverse novels, Shadow and Bone finds us in a war-torn world where lowly soldier and orphan Alina Starkov has just unleashed an extraordinary power that could be the key to setting her country free. With the monstrous threat of the Shadow Fold looming, Alina is torn from everything she knows to train as part of an elite army of magical soldiers known as Grisha. But as she struggles to hone her power, she finds that allies and enemies can be one and the same and that nothing in this lavish world is what it seems. There are dangerous forces at play, including a crew of charismatic criminals, and it will take more than magic to survive.