Could We Get A Musical Sequel To Billy Eichner's Bros?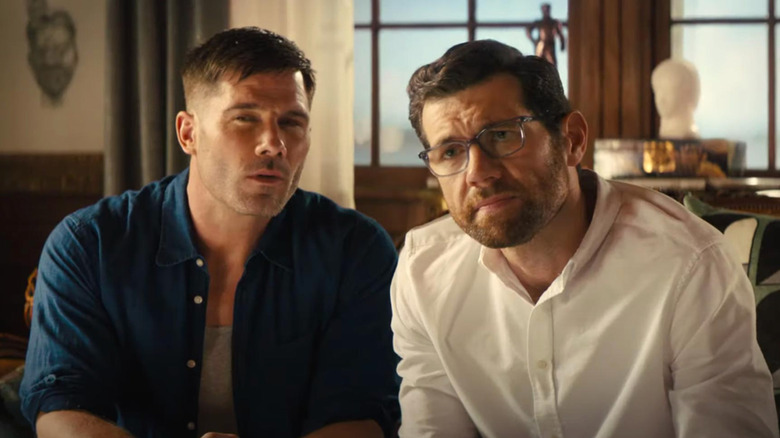 Universal Pictures
Billy Eichner made history with his gay rom-com "Bros" from Universal Pictures, but if co-star Luke Macfarlane has his way, the stereotype-smashing comedy won't be the only venture in this world. While not yet available in theaters, "Bros" recently screened at the Toronto International Film Festival to rave reviews, which had journalists on the scene already asking the cast and creative team about the possibility of a sequel. Following the film's red carpet premiere event in New York City, Variety spoke with Macfarlane about the future of "Bros" and learned that a sequel is certainly not off the table.
"Billy and I've been joking about [the possible sequel], I'm not sure what it would be," Macfarlane said. "The truth is, in any relationship, those early months are the best, and then the reality of life sets in and you got to figure out how you're going to spend all that time with somebody."
Eichner co-wrote the script for "Bros" with director Nicholas Stoller ("Forgetting Sarah Marshall," "Neighbors"), but it's clear that "Bros" is Billy's baby. "I trust the brilliance of Billy Eichner to come up with something clever for three years down the road," said Macfarlane. To make the sound of a sequel even sweeter, Macfarlane also let it slip that he's been pushing for musical scenes if there are future installments. "The only thing I told Billy is, 'I want an opportunity to sing, too,' So he's gotta find an opportunity for me to sing a song. [Billy] sings beautifully!"
Give us the Eichner Macfarlane duet we deserve!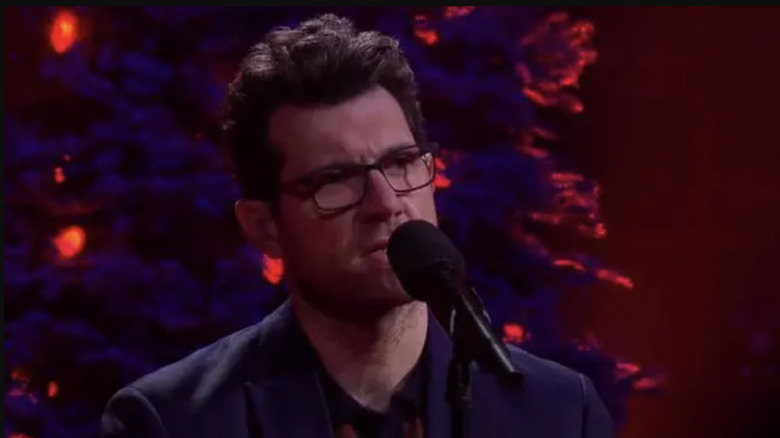 NBC
As for Eichner, many know him from his comedic singing roles like in "The Lion King" or the show "Friends from College," but Billy Eichner has a shockingly lovely singing voice. He wrote a fake Taylor Swift song called "Glitter and Ritz" for a performance on "Conan," and whenever he's singing a line that isn't meant to be a joke, his talent pops through. The same could be said for his appearance on "Carpool Karaoke: The Series," when he sings "Part of Your World" from "The Little Mermaid" with Metallica. 
Don't let all the screaming into a microphone from "Billy on the Street" fool you, Eichner's got pipes! Here's his rendition of "Miss You Most (At Christmas Time)" below for proof.
Made my TV musical debut singing @MariahCarey's beautiful Miss You Most (At Christmas Time) on Corden last night. ❤️ pic.twitter.com/S76xDnVBWk

— billy eichner (@billyeichner) December 9, 2020
In addition to acting on screen, Macfarlane has performed on Broadway and was the lead singer and songwriter for the band Fellow Nameless. He's also a gifted trumpet and cello player, with his skills put on display in the Hallmark movie "Chateau Christmas." Macfarlane has quite a lovely voice and can pull off a variety of styles including rock country. All this proves is that "Bros" should absolutely have a sequel and it will not be complete without a rousing duet between Eichner and Macfarlane. LET'S MAKE IT HAPPEN, PEOPLE!!!