The Boys Season 4 Could Be A 'Defining' Moment For Erin Moriarty's Starlight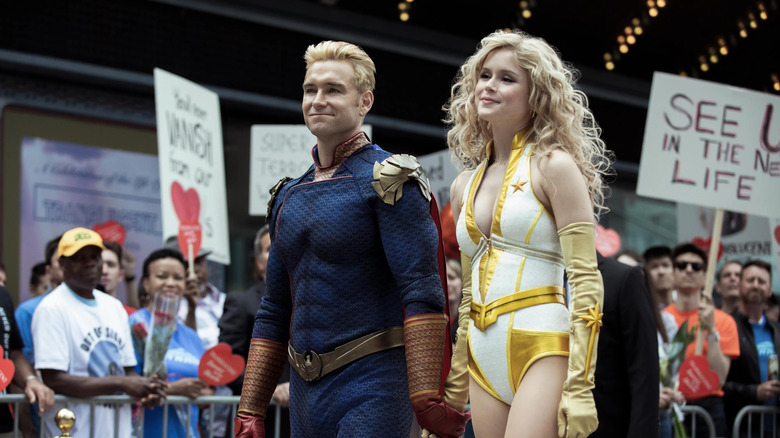 Prime Video
There's a lot to look forward to with season 4 of "The Boys," which likely won't air until sometime in 2023. Will Soldier Boy (Jensen Ackles) make a return? How will Butcher (Karl Urban) deal with his declining health? Will Homelander (Antony Starr) ever overcome his mommy issues? We'll just have to wait and see.
For Erin Moriarty, the big question she's wondering is where her character Annie goes from here. Annie left the Seven for good in the finale, saying goodbye to her Starlight persona once and for all. "I loved throwing that cape down a trash chute symbolically," Moriarty told Newsweek. "I think that she's realized that wearing a mask is not the way that she's gonna go about seeking justice, fighting crime, doing all the things that she wants to do."
If you could define Annie's core internal conflict throughout the first few seasons, it would be her deciding between trying to change the system from within or fighting the system from the outside. Both decisions have their pros and cons (fighting from within is certainly safer), but season 3 had Annie decide that she's sick of all the compromises. First she publicly speaks out against Homelander, and now she's officially a member of the Boys. No longer will she have to smile for the camera if she doesn't want to. As Moriarty put it: "I feel like the release of that façade and that mask is going to be very defining for her and liberating for her."
Has Annie been given her due yet?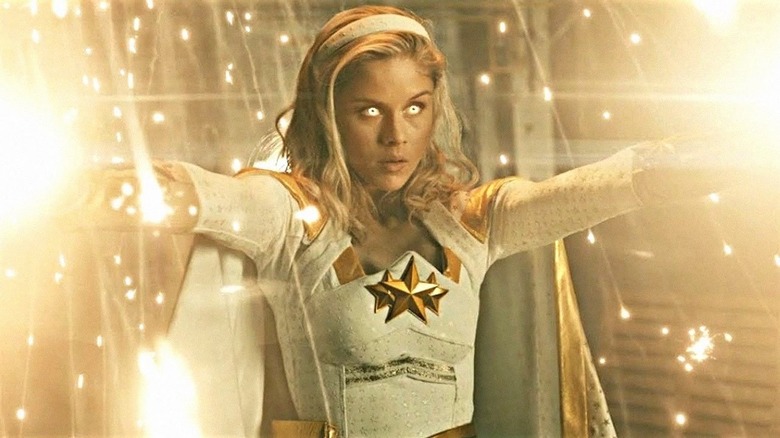 Prime Video
Moriarty's talk about this new season being a defining one for Annie makes us look back at season 3 and wonder if there were any missing opportunities for a defining moment there. A lot of her storyline revolved around her frustration with Hughie (Jack Quaid), who wanted to be strong as a supe like her. After the couple seem on the verge of breaking up, Hughie realizes that he doesn't need to be a supe to be strong. Instead, he learns to lean into the strengths he already has and embrace his status as a normal dude.
This all culminates in the big supe battle in the finale where Hughie sees Annie losing a fight with Soldier Boy. He briefly considers taking the temporary Compound V to save her, but instead chooses to help her out in a healthier way: by turning up the lights in the room and giving Annie an unprecedented amount of strength to draw upon.
It's a nice way to wrap up the storyline, except for the fact that Annie's big attack on Soldier Boy is ... kind of underwhelming. The show builds it up as if Annie's about to unleash some new power we've never seen before, but all she does is knock Soldier Boy over. All he has to do is dust himself off a little, and he's fine. Considering that Soldier Boy gets written out of the story a few minutes later anyway, the writers could've at least let Annie do a little more damage than she does here. 
What happens next?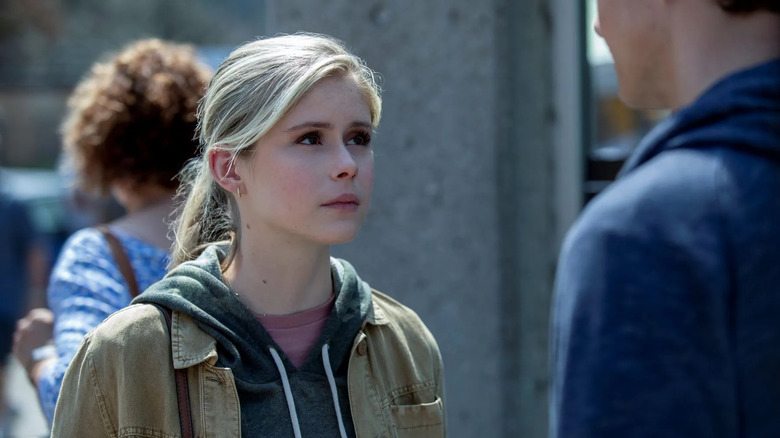 Prime Video
One of the last things Maeve (Dominique McElligott) says to Annie in her goodbye is, "You don't need me anymore. I could jump, but you can f***ing fly." But the thing is, can Annie fly? We know she can hover if she's near a particularly strong power source, but that's kind of it so far, isn't it? This line from Maeve rings a little hollow because as much as the show seems to want us to think Annie's power-up against Soldier Boy was cool, all it actually did was remind us how physically weak she is compared to the other supes. Maeve was able to casually tackle Soldier Boy out a window, whereas it took all of Annie's strength to merely knock Soldier Boy down.
Then again, Annie's powers have always seemed secondary to her general kindness and bravery. From the beginning, a large part of the character's appeal was how much of an underdog she is. She may be powerful but we know she doesn't stand a chance in a one-on-one fight against Homelander, which only makes her decision to keep fighting him more inspiring. 
As she goes into season 4, Annie won't have any sort of protection from Vought, nor will she have Maeve or a suped-up Butcher to help her out either. She's more vulnerable than we've ever seen her so far, which will give her plenty of opportunities for an exciting, character-defining journey. Maybe her powers will meaningfully improve next season or maybe they won't, but as long as she's fighting the good fight we'll be rooting for her either way.