Raid71 Debuts Four Hilarious Peanuts Halloween Horror Prints [Exclusive]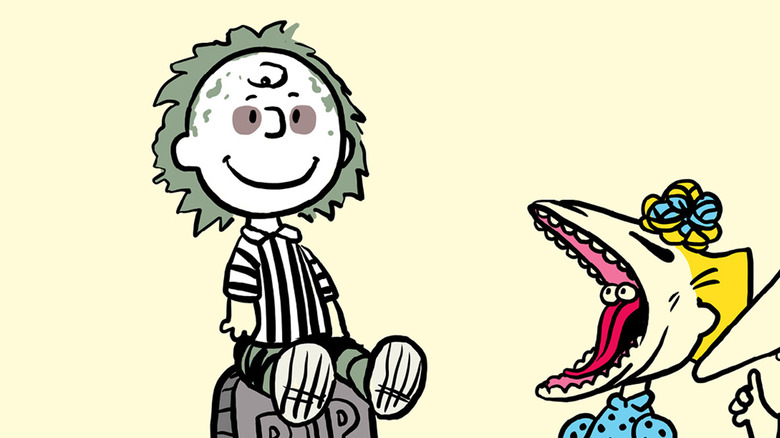 Raid71
Artist Chris Thornley (aka Raid71) has made it a spooky tradition to transform Charlie Brown's "good grief" into a good scare with his previous parody prints that combine Charles Schultz's beloved comic strip "Peanuts" with some of the most iconic horror movies of all time. Now Raid71 is back with four new terrifyingly funny takes on classic fright flicks with a "Peanuts"-twist, and /Film has the exclusive reveal.
The four 5″x5″ prints will be a timed edition set to run from Thursday, September 22, 2022 to Sunday, September 25 beginning at 1 p.m. EST. Sets of the four prints will be signed and numbered at approximately $29, and will be available to view on Raid71's official site soon along with limited edition sticker sets of some of the characters as well as a glow-in-the-dark pin. To add more enticement, one of the original sketches will be randomly dropped in to four lucky orders. Our readers can even type "slashfilm" in the discount code box at checkout for a random postcard and sticker to be added to the order! Check out the full reveals of all four prints below.
Peanuts Halloween Horror Prints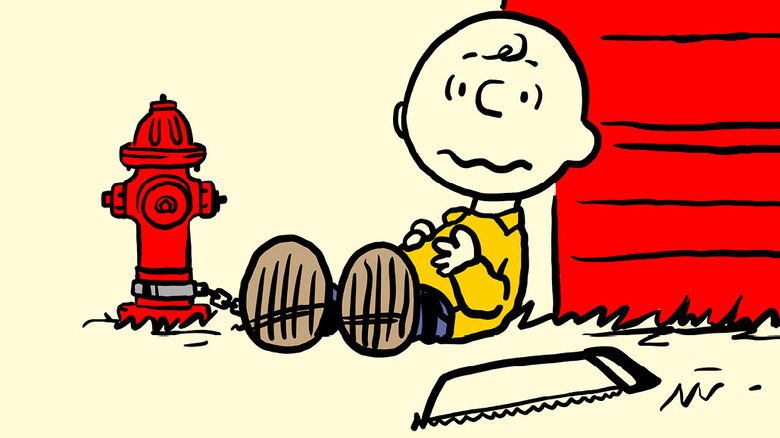 Raid71
When given the choice of trick or treat, Raid71 was kind enough to treat us to four descriptions of each Halloween Charlie Brown print.
Saw (2004)
"Charlie awakes ankle chained and a hacksaw is just in reach, he's now a pawn in a deadly games by the infamous Jigsaw Killer. What will he do?"
"The Fly" (1986)
"Charlie is the eccentric scientist (one of the best pre-'Jurassic Park' Goldblum films) and steps into the telepod for the first time, unaware that a housefly will have unintended consequences."
"Beetlejuice" (1988)
"Beetlejuice, Beetlejuice, Beetlejuice ... (nothings happened). Fantasy, horror, or comedy: only the genius of Tim Burton can blend all three. Charlie takes on the role of the future Batman, Michael Keaton."
"Child's Play" (1988)
"Finally, it's 'Child's Play' Charlie Brown meeting a notorious serial killer who's transferred his soul into this loveable cartoon character."
All four of these pieces are, of course, delightful. Like all the best parody they find the perfect way to make something pure like "Peanuts" into its polar opposite, and that's why we can't wait to see what Raid71 has in store for us during next year's spooky season. What could it be? Seeing his twist on "It's the Great Pumpkinhead, Charlie Brown" would be pretty gnarly.