How Parks And Recreation Led To Andy Samberg's Leading Role In Brooklyn Nine-Nine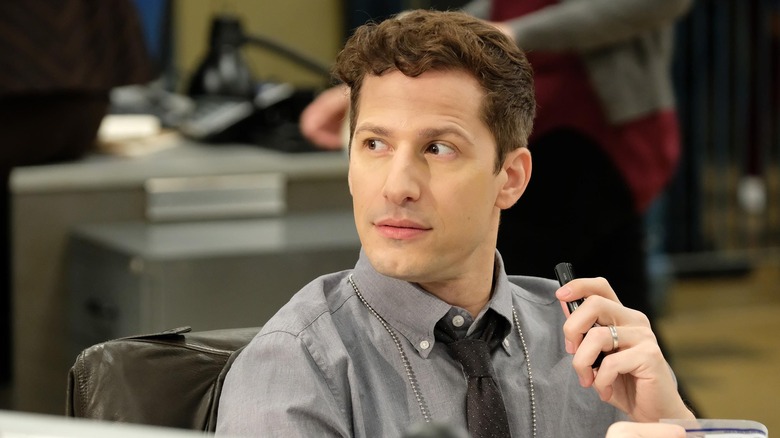 Fox
When Andy Samberg wrapped up his run on "Saturday Night Live," he figured he was off to go be a comedy movie star like many of his predecessors. He was one of the standouts on his era of "SNL," known for his hilarious rap parodies with his three-man group "The Lonely Island." His fans were excited to see him make the jump to the silver screen, although the transition from television star to film star is not always smooth.
Samberg already had some experience starring in feature films, but they hadn't been extremely successful. His first film, 2007's "Hot Rod," was largely panned at the time, although it has managed to garner a bit of a cult following in recent years for its humor and surprisingly dangerous stunts.
Upon jumping fully into films after his "SNL" exit in 2012, Samberg was once again performing a bit inconsistently. "Celeste and Jesse Forever" was generally well-received, but "That's My Boy," which he starred in alongside Adam Sandler, was considered a pretty huge flop. Samberg himself admits he didn't really have a plan after his exit from TV, until he was approached by "Parks and Recreation" executive producers Dan Goor and Mike Schur with an idea for a show starring Samberg.
A return to television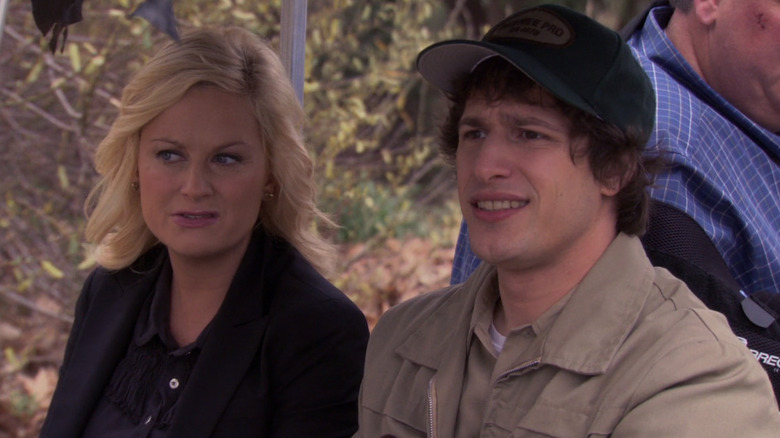 NBC
Samberg had appeared as a guest star on "Parks and Recreation" once, during its second season. He'd played an extremely loud-talking and incompetent animal control guy. He fit in perfectly in the goofy world of Pawnee, and surely his performance in that role helped Goor and Schur decide to approach him.
According to a 2013 piece by TV Guide, Samberg discussed his feelings upon being approached by the two producers. "I was not looking to do a TV series at all," said Samberg. It made sense, after spending seven years grinding away in the "Saturday Night Live" sausage factory. "But I was a huge fan of 'Parks' and I saw what these guys had done with Amy [Poehler], who is basically my hero."
Ultimately, Samberg would become the star of "Brooklyn Nine-Nine," which would run for eight seasons. The police comedy would be critically acclaimed and, despite some bouncing between networks, a great success.
The trajectory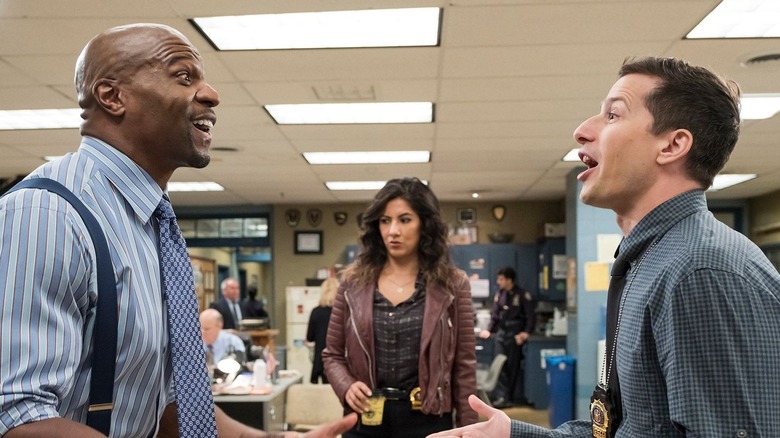 NBC
Eight seasons on network television is nothing to sneeze at, but Samberg also knew at a certain point that it was time for "Brooklyn Nine-Nine" to end. With issues of police brutality and discrimination coming more and more into the public consciousness, a show about a bunch of well-meaning and goofy cops just didn't seem in good taste anymore.
Samberg himself admitted the challenge of trying to address these issues on the show on Variety's "Awards Circuit" podcast in 2020. "The challenge is going to be being honest about what's happening in the world and not shying away from the fact that there are serious problems and also not punishing viewers who like our show and care about our characters."
The show came to an end in 2021. It may seem like another dip in the career of Samberg, who may have to delve into films again. But, as he said in the 2013 interview, he doesn't want to focus too hard on his long-term career path. "I don't generally try to think about trajectory because every time I have tried that it has backfired miserably for me, so I just try to do whatever feels right," said Samberg. And with recent film success in "Palm Springs," I think Andy's going to do just fine.