George Clooney Didn't Have To Look Far To Find Inspiration For Ides Of March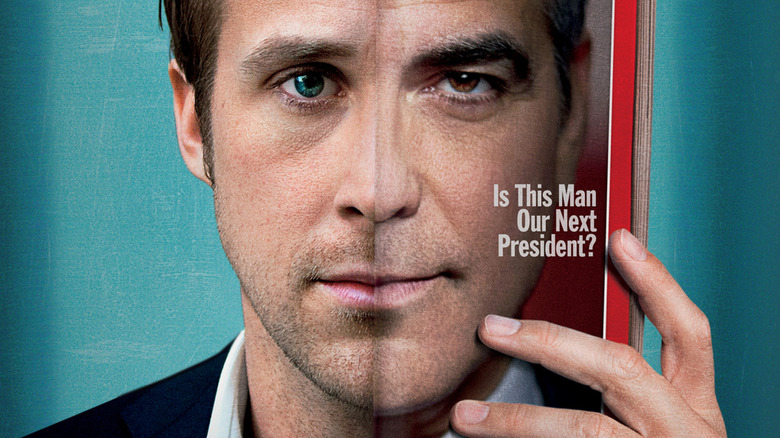 Sony Pictures Releasing
"Liberal Hollywood" is a common refrain in conservative media these days; some Americans can't stand that their favorite movie stars don't agree with them politically. And one of the most out-and-proud Hollywood Democrats is George Clooney.
Clooney regularly supports Democratic candidates and co-founded the Clooney Foundation for Justice alongside his wife, human rights lawyer Amal Clooney. The actor is a member of the think tank The Council on Foreign Relations and much of his activism tilts towards international issues: he was arrested in a 2012 protest outside the Sudanese embassy and co-authored the op-ed "The Key to Making Peace in Africa" with human rights activist John Pendergrast.
He doesn't keep his politics separate from his career, either. The second film he directed, "Good Night and Good Luck," tells the true story of journalist Edward R. Murrow (David Strathairn) and his conflict with the infamous Senator Joseph McCarthy. The film is a treatise on the importance of civil liberties and a free press, while warning about the dangers of authoritarians like McCarthy.
With the 2011 film "The Ides of March," Clooney turned his focus to electoral politics and adapted the play "Farragut North." Written by former political staffer and future "House of Cards" creator Beau Willimon, the play was inspired by the 2004 Democratic Primary. The centerpiece of the film is Mike Morris, the governor of Pennsylvania running for the Democratic presidential nomination. Clooney appears in the film as Morris, but the star is Ryan Gosling as staffer Stephen Meyers, who stumbles on some of the skeletons in Morris' closet.
When it came to depicting a political campaign, Clooney had some firsthand experience: his father Nick Clooney ran for a U.S. House seat in Kentucky during the 2004 election, losing to Republican Jeff Davis by 44% to 54%.
The Clooney family's politics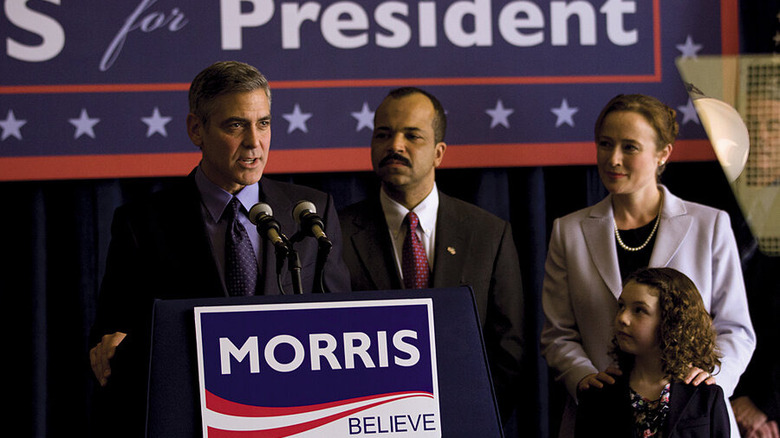 Sony Pictures Releasing
Clooney was born into a political family; his mother Nina was a City Councilwoman while his father was a local broadcast journalist. His family's political roots stretch back further — they're distant relatives of Abraham Lincoln. According to Clooney, being raised as a Democrat in the mostly Republican Kentucky endowed him with a fighting political spirit and made him realize that in democracy, one loss isn't the end.
Interviewed at the London Film Festival in 2011, Clooney said his films and politics have also been shaped by how tumultuous America was when he was growing up in the 1960s:
"You had civil rights, the anti-war and women's rights movement, and the drug counterculture, and they were reflected later in film. I think there are a lot of things going on in the world right now that are started to be reflected in film too."
Clooney prefers to view "The Ides of March" as more of a "timeless" morality tale about "power and hubris," versus a specific political commentary. However, he still drew on American political history. For one, he recommended his actors watch documentaries such as "The War Room," about Bill Clinton's 1992 presidential run, to prepare. For a scene between Morris and his wife (Jennifer Ehle), he drew on a personal anecdote:
"That [dialogue] comes almost directly from a conversation I had with my father about how there are hands you have to shake that you wouldn't normally shake during an election. It's unfortunate, but that's the way it is."
By the end of the film, it's revealed that Morris' own hands aren't so clean either.
Moral compromises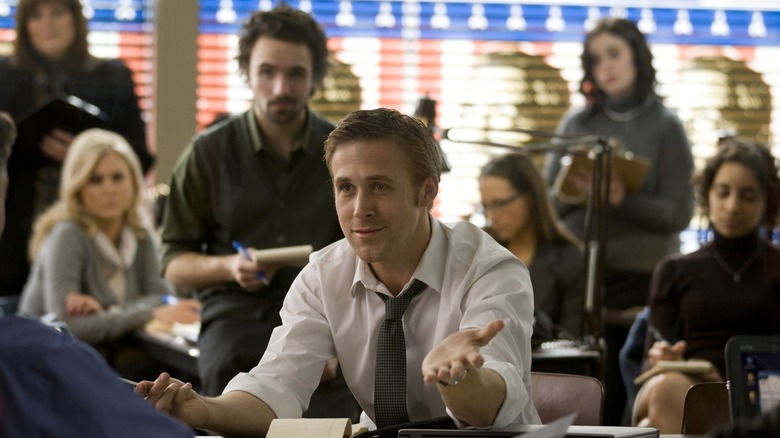 Sony Pictures Releasing
Interviewed by the New York Times in 2011, Clooney touched on his feelings about his father's congressional loss and how they shaped "The Ides of March." In particular, he wondered if his father paid the price for not playing dirty and found himself asking: "Would I have made the easier choices and gotten a lot farther ahead?" In the film, Gosling's Stephen decides "Yes."
Stephen discovers that Morris slept with his girlfriend, campaign intern Molly (Evan Rachel Wood). The pregnant Molly turns to Stephen for help to get an abortion, but ultimately dies by suicide when she feels abandoned by both men. Stephen, who's on the outs with campaign manager Paul Zara (Philip Seymour Hoffman), blackmails Morris into giving him Paul's job. In politics, playing dirty does win; there's no true good guys so you might as well just do whatever you can to get ahead.
A problem with "The Ides of March" is that, for all its cynicism, it's actually rather quaint. Politicians and their staffers being two-faced, the visual motif at the heart of the film's poster, is far from a revelatory idea. Morris' conduct isn't that far removed from Bill Clinton's or John Edwards', the latter of which Clooney acknowledged but downplayed as a coincidence. More than 10 years on, Stephen's advice to Morris that "If you want to be President, you can't f*** the interns" feels downright naive, since it's now been proven you can do a lot worse and win the White House.
If Clooney was out to make a truly timeless film, maybe he should have looked a little further and dug a little deeper.