The Woman King Leads The Charge At The Weekend Box Office With Estimated $18 Million Debut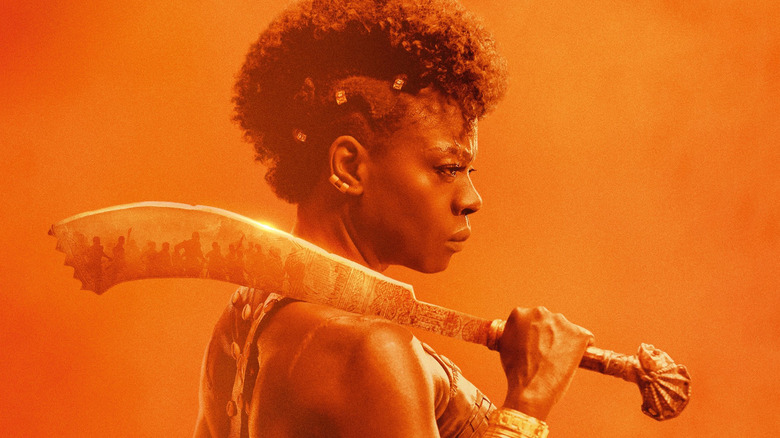 Sony Pictures
The weekend box office has been a bust for the past few weeks, even with the boost of the newly-named National Cinema Day on September 3. This weekend is looking a bit better, thanks mostly to one movie: "The Woman King." Inspired by true events, the film stars Viola Davis as a general of the Agojie, an all-female military that protects the West African kingdom of Dahomey. 
"The Woman King" was described by /Film's Chris Evangelista as a "rousing historical epic" and has earned mostly positive critical reviews, but unless movies have Tom Cruise hanging off an aircraft in them, people just haven't been willing to spend the last few weeks of decent weather sitting in a theater. 
According to Variety, "The Woman King" is going to be the winner this weekend, taking the crown from last week's surprise horror champion, "Barbarian." Though dedicated horror fans are still turning out to see the shocking treat from writer and director Zach Cregger, the box office totals for "Barbarian" this week just weren't enough to beat Davis' star power and the positive buzz for "The Woman King." 
A bit of thunder on a quiet weekend
Sony Pictures
Variety reports that "The Woman King" is has a projected $18 million opening from 3,765 locations, some of which are premium format like IMAX and bring the added bonus of increased ticket prices. While that's not Marvel or "Top Gun" numbers, it's not bad for a standalone action film without any ties to other franchises. It's also pretty impressive for a historical epic, which tend to bring out dads and teachers but not huge crowds. With a $50 million production budget, the opening points to "The Woman King" likely earning a profit. 
The movie was directed by Gina Prince-Bythewood ("The Old Guard"), who aimed for authenticity with the warrior women's performances by having the actors do the fight scenes themselves, rather than relying on stunt doubles. The end result seems to be playing well with audiences and critics alike. In addition to the always-incredible Davis, the cast of "The Woman King" also includes Lashana Lynch, Sheila Atim, Thuso Mbedu, and John Boyega. 
Unless you're a horror fan or a comedy fan in search of nostalgia, the theatrical line-up is otherwise slim pickings. Along with the returning "Barbarian," Ti West's "Pearl" debuted from A24, giving horror fans something to check out this weekend. On the comedy side there's "Confess, Fletch" with Jon Hamm and Kevin Smith's "Clerks III," both of which had limited releases and mixed reviews. Also playing are the Sam Rockwell-Saoirse Ronan mystery "See How They Run," a faith-based drama called "Running the Bases," Thandiwe Newton's western "God's Country," and Brad Pitt's "Bullet Train."