Monster: The Jeffrey Dahmer Story Trailer: Evan Peters Invites You To Eat A Terrifying Sandwich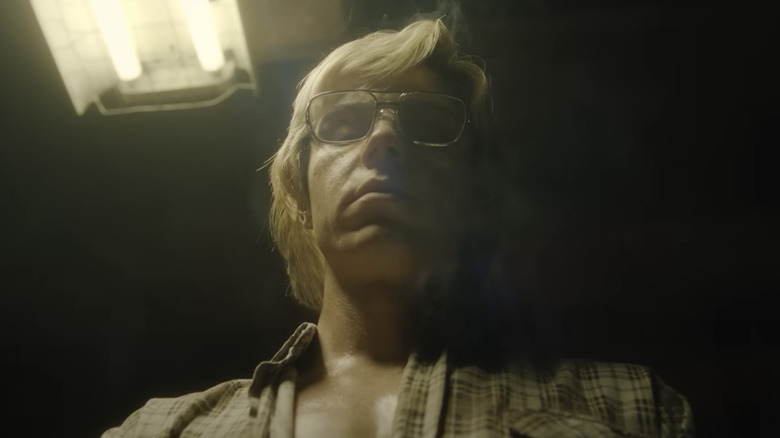 Netflix
Ryan Murphy has built his TV brand on stories of American horror and crime, and it doesn't get much more horrifying than the crimes of Jeffrey Dahmer. In "Monster: The Jeffrey Dahmer Story," Murphy and co-creator Ian Brennan have turned their gaze on the infamous real-life serial killer who murdered 17 men and boys over a 13-year period from 1978 to 1991. Evan Peters, who has appeared in almost every season of "American Horror Story," plays Dahmer in the upcoming Netflix miniseries, which has just released its first trailer.
We've seen Murphy lend his name as an executive producer and director to "American Crime Story" as it tackled the O. J. Simpson trial, the assassination of fashion designer Gianni Versace, and most recently, the Bill Clinton–Monica Lewinsky impeachment scandal. But "Monster: The Jeffrey Dahmer Story" takes things to a new level where subject matter is concerned. Dahmer's crimes involved cannibalism and necrophilia, stuff that's not for the faint of heart, and his victims were predominantly people of color, with nine of his victims being Black. Needless to say, when Peters as Dahmer walks a Black man into his apartment and locks the door behind him in the trailer below, it could be triggering for some.
Monster: The Jeffrey Dahmer Story trailer
No, your eyes aren't deceiving you: that is Niecy Nash from "Reno 911" in that trailer. She's not playing a cop this time around, and in fact, the cops aren't very helpful to her character, a Black woman who lives next-door to Dahmer and tries to warn the police about his ongoing crimes. 
"Monster: The Jeffrey Dahmer Story" looks to be coming at this story from the perspective of people who were victimized both by Dahmer and by an apathetic, institutionally racist system. The first episode of the series is helmed by Carl Franklin, director of "One False Move," "Devil in a Blue Dress," and four episodes of "Mindhunter" season 2, which dealt with the Atlanta child murders of 1979–1981, a similar and contemporaneous case where multiple Black victims and their families were failed by the system.
Here's the official synopsis for "Monster: The Jeffrey Dahmer Story" courtesy of Netflix:
From the Emmy award winning creator of American Crime Story comes Dahmer – Monster: the Jeffrey Dahmer Story. The series examines the gruesome and horrific true crimes of Jeffrey Dahmer and the systemic failures that enabled one of America's most notorious serial killers to continue his murderous spree in plain sight for over a decade.
All 10 episodes of "Monster: The Jeffrey Dahmer Story" hit Netflix on September 21, 2022.