Quentin Tarantino Put Uma Thurman's Life On The Line With A Reckless Kill Bill Stunt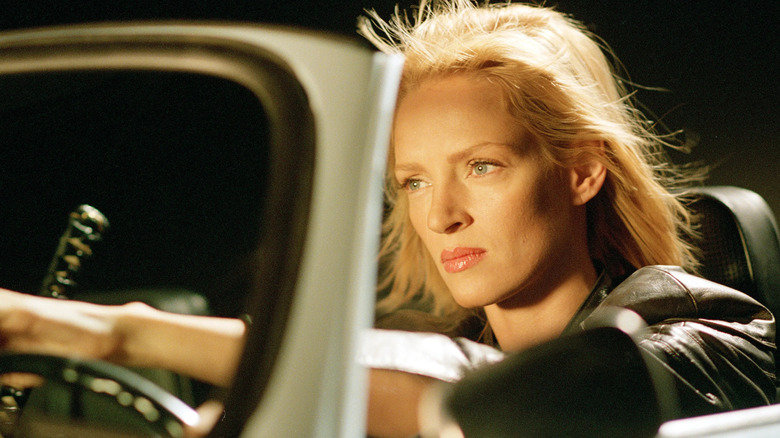 Miramax Films
Film directors tend to be control freaks. It makes sense. They want their exact vision to be put onto the screen, the exact pictures and sounds that pop up when they close their eyes and envision their movie. They have something in mind, and anything less than that simply won't be good enough.
Quentin Tarantino is one of these cinematic tyrants. He's known for being very particular with his actors, making demands and ultimatums. It shows on screen. Tarantino has one of the most singular and unique filmmaking styles today. All of his movies absolutely ooze of his voice, his influence, and his vision.
Tarantino even admits to his controlling nature, at a talk at the Jerusalem Cinematheque from 2016. "I am the captain of the ship, and they have to follow my orders as far as that's concerned," said the director, before pivoting to pointing out how he's willing to work with his actors. "But when it comes to getting the best out of them in any given scene or performance, then I'm at their disposal. Because it's not about getting my way, it's about making them comfortable and getting the best out of them."
Despite his claims that he is sensitive to the desires of the performers, these demands for perfection can sometimes cause issues with cast members. One time, Tarantino's uncompromising attitude even put Uma Thurman, the star of "Kill Bill" with whom Tarantino had worked many times before, in grave physical danger, an incident that permanently marred the pair's relationship.
A dangerous proposal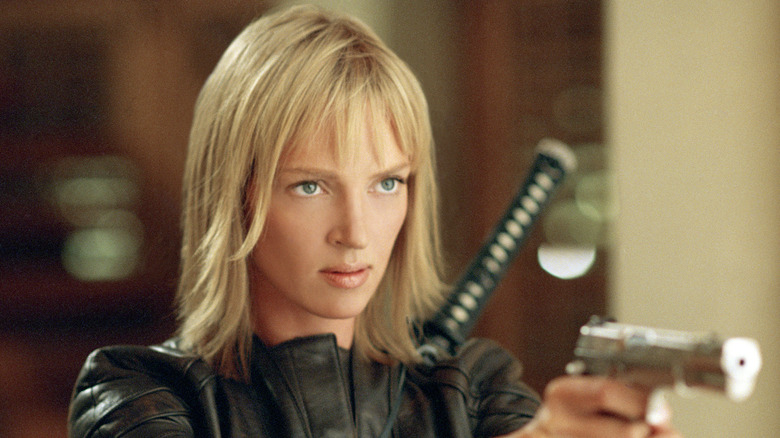 Miramax Films
In the two "Kill Bill" films, Thurman stars as the nameless Bride, who swears revenge on an elite team of assassins she used to be a member of after they attempt to kill her at her wedding. The films are light on plot, heavy on wall-to-wall gory action. Thurman had already been through plenty in preparing for her role, including some brutal martial arts training.
This particular scene was far more harrowing than any of Thurman's early experiences, however. During the filming of "Kill Bill: Volume 2," Thurman's character has a scene where she drives a Volkswagon Karmann Ghia, and Tarantino asked her to perform the stunt driving herself.
According to a New York Times profile of Thurman, Tarantino would not take no for an answer. "He was furious because I'd cost them a lot of time," said Thurman, in her very personal interview. "But I was scared. He said: 'I promise you the car is fine. It's a straight piece of road.'" Tarantino told her she needed to hit 40 miles per hour, so that her hair would blow in the wind, threatening to make her do it again if she didn't. A terrified Thurman agreed to do it, but knew she felt extremely unsafe. "That was a deathbox that I was in. The seat wasn't screwed down properly. It was a sand road and it was not a straight road."
A fateful crash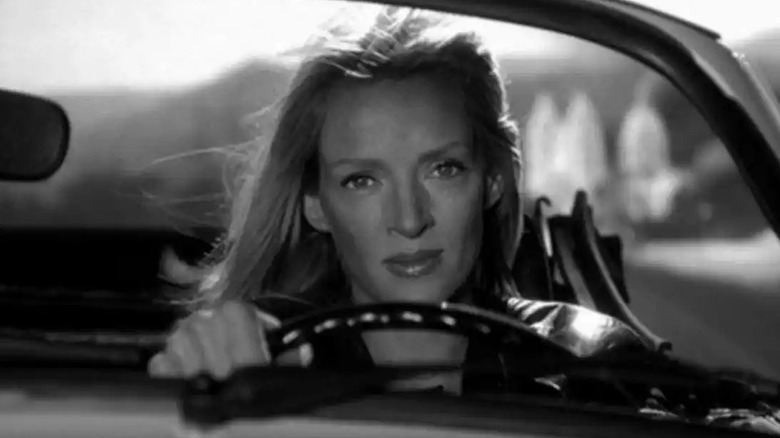 Miramax Films
The resulting crash was brutal, as Thurman drifted off the road and hit a tree. "The steering wheel was at my belly and my legs were jammed under me," said Thurman. "I felt this searing pain and thought, 'Oh my God, I'm never going to walk again."
The crash led to a massive fight between Thurman and Tarantino. "When I came back from the hospital in a neck brace with my knees damaged and a large massive egg on my head and a concussion, I wanted to see the car and I was very upset. Quentin and I had an enormous fight, and I accused him of trying to kill me."
Thurman's husband at the time, Ethan Hawke, rushed to be at her side, saying he confronted Tarantino, who was "very upset with himself" and asked for forgiveness.
Thurman wanted to see the footage of the crash, but Miramax, the film's distributor, would not let her unless she signed off that she wouldn't hold them responsible for damages. She didn't sign, and she didn't see the footage for 15 years.
Uma Thurman was lucky that day. She walked again, she fully recovered. Her and Tarantino's relationship and trust was thrown away, but her life wasn't. One can only wonder why Tarantino was so insistent that she be the one driving the car. Wanting to manifest his vision for the movie isn't an adequate excuse.