Rosario Dawson Knows Her Clerks 3 Role Is 'Traumatizing' [Exclusive]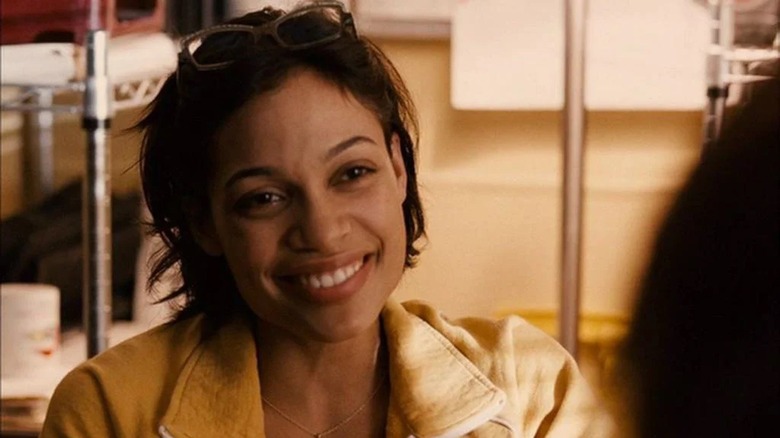 Lionsgate
(This post contains major spoilers for "Clerks III." Please proceed with caution.)
After establishing the View Askewniverse with "Clerks" back in 1994, Kevin Smith has explored a number of relatively deep topics with his filmography. In his own foul-mouthed, pop culture reference-filled way, he touched on sexuality, religion, race, and parenthood over the years. But he has never tackled anything more heart-wrenching (both literally and figuratively) than "Clerks III."
As the trailers reveal, tragedy strikes the Quick Stop when Randal Graves suffers a heart attack. However, that negative is turned into a positive when he decides to start making a movie instead of just watching them. However, what we learn when the film finally debuts in theaters is that this isn't the first hardship that the iconic New Jersey convenience store suffered since we last saw it in "Clerks II."
Shortly after the events of the last film, Dante Hicks' partner Becky Scott (played by Rosario Dawson) and their unborn child were killed by a drunk driver. Brian O'Halloran's Dante struggles throughout the threequel as Randal's film forces his friend to relive the trauma that robbed him of a happily ever after. It's definitely the heaviest, most tragic storyline Smith has ever come up with. Dawson fully embraced it as she returned to play a Becky that lives on in Dante's mind. And she got to discuss that while speaking to our very own Ethan Anderton recently.
I'm disgusted, I'm repulsed... And I can't look away.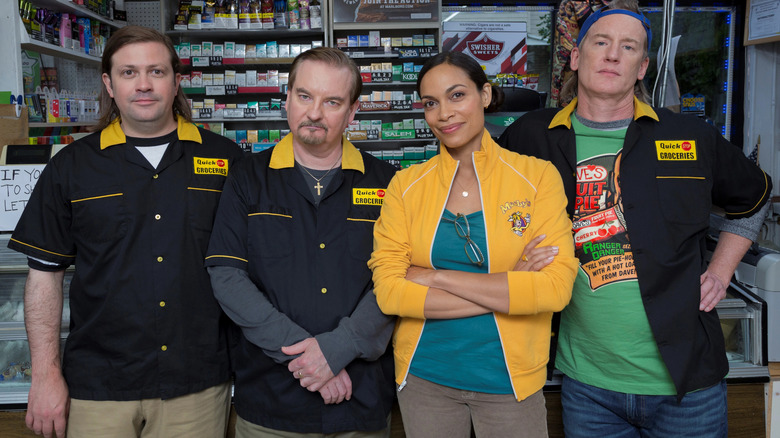 Lionsgate
In an interview with /Film, Rosario Dawson talked about her return to the world of Jay and Silent Bob. While her brief appearance in the film still manages to produce some laughs thanks to another ass-to-mouth reference, Becky is mostly seen as a specter haunting Dante from the past. Her presence stirs up some powerful emotions, especially during Dante's incredible speech during the movie's climax. But Dawson was more than happy to reprise her role and approach the character in this way.
"It's traumatizing, it's triggering. Some of those flashback moments, it's gruesome. It's pretty devastating and also just super real. We lose people that we love, when we think of them, we love them. That's how I feel about Becky, I love her. It's sad, but also it gave such a richness to these characters and the things that they've lived through. And you get it. You're really understanding those breakdowns that they have, and some of these conversations, like Brian's monologue of what he's going through, is just so powerful. He had to bear the brunt of the emotional weight of expressing the loss of Becky, you know what I mean?"
You're not even supposed to be here today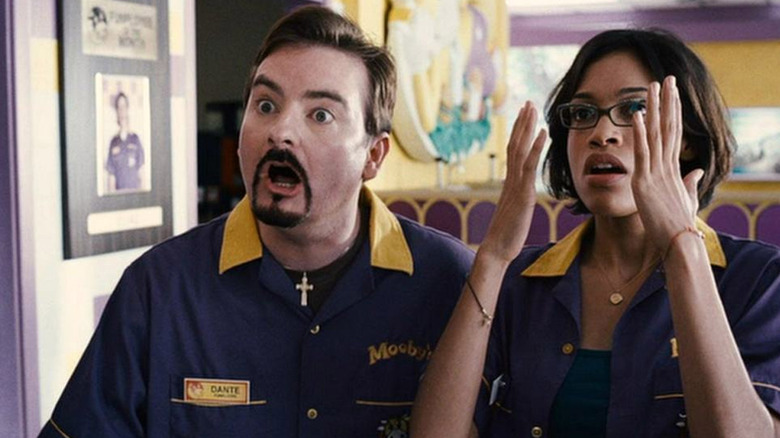 Lionsgate
Initially, the actor had some concerns since her quick two days on set consisted of showing up, teasing Dante, and jumping out. "I was so excited to do it, but I remember when I was watching the film, just wondering like, 'Oh my God, is it going to feel like her?' But I think it does."
After seeing the film, as much at Becky's fate (and ultimately Dante's fate) tear me up inside, Dawson's performance is definitely in line with the Becky that we've come to know and love. Her death hurts so much because of how much she meant to Dante and the audience. So while it's a bummer that we likely won't see her again like we do with so many other Kevin Smith characters, it feels like, in a way, Dante and Becky finally got that happy ending they were looking for.
"Clerks III" is playing in theaters until September 18, 2022 thanks to Fathom Events, but you can catch it on tour this fall with a Q&A featuring Smith himself in a city near you.