Disney's Animated Little Mermaid Almost Didn't Have Its Most Beloved Song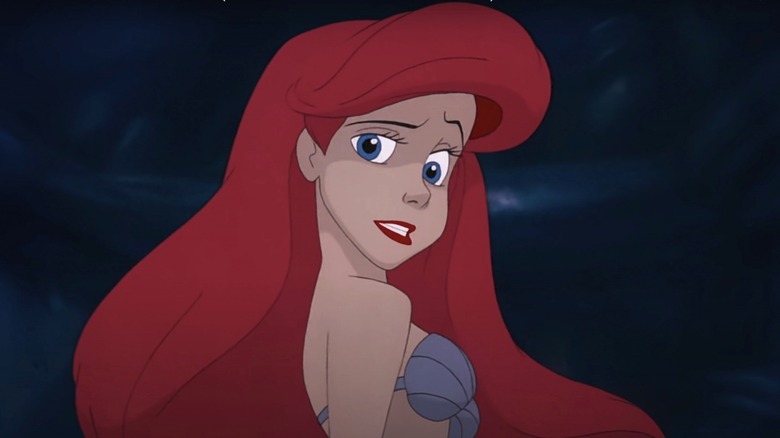 Disney
I'll start this with a confession: I'm not a huge fan of Pixar films. As a cinema lover, I appreciate all the beautiful artwork that goes into them. However, I don't feel the emotional connection to these stories that others do. Of course, I'm always relieved when Woody and the gang find their way back to Andy or when Nemo and his dad finally reunite. But none of the animated films are on my binge-watch or favorites list. However, I am a complete and total sucker for all the old-school Disney animated movies.
I love "Mulan," "Beauty and the Beast," and, my absolute favorite, "The Little Mermaid." I'm sure my affinity for these movies is somewhat dependent on nostalgia, but I feel a connection to them that I don't for Pixar's newer and flashier films. Those who grew up in the late-'80s to early-'90s can recite lines and the catchy lyrics of Disney's animated classics. But did you know that a Disney executive almost cut the most beloved song, "Part of Your World," from "The Little Mermaid?"
'Part of your world'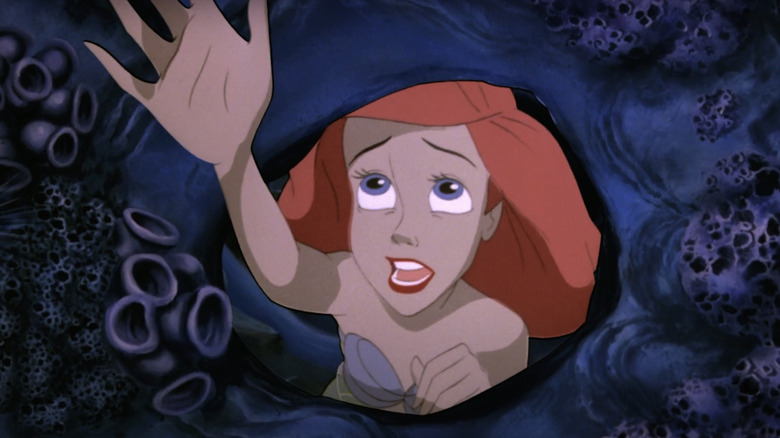 Disney
When "The Little Mermaid" debuted, children fell in love with the story of a sheltered mermaid named Ariel (Jodi Benson), stuck in an underwater world. She dreamed of walking on a land full of whosits and whatsits. Her father, King Triton (Kenneth Mars), does everything he can to keep Ariel under the sea. Of course, Ariel rebels and makes her way to land, convincing Daddy Triton to let her go.
Unsurprisingly, many kids connected with Ariel's story. Apart from the tail, fish friends, and the ability to breathe underwater, the fiery-haired mermaid wanted independence, adventure, and freedom from an overprotective parent. Most kids feel stuck in the world of school, chores, and rules, but we could watch Ariel escape, explore a whole new world, achieve her dream, and sing her heart out!
Aside from her bright red hair, Ariel is known for communicating her feelings through song. In "A Part of Your World," we learn Ariel is endlessly curious about life on land, and she doesn't know the proper name for anything in the human world. Most importantly, we hear how Ariel desires to be a part of the human world. Despite revealing the protagonist's motivation and goals — what every screenwriter knows are vital story requirements — a former Disney brass worried the song would bore kids (via Insider).
'Dropping popcorn in the aisles'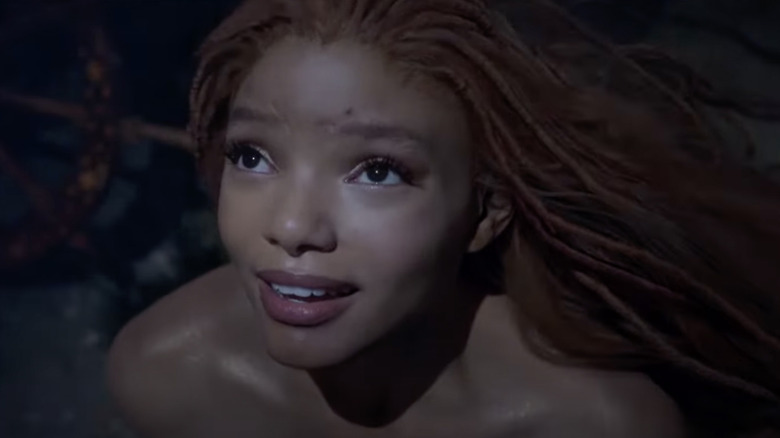 Disney
Former Disney chairman Jeffrey Katzenberg didn't think the film's main demographic enjoyed the song. Jodi Benson told Insider, "The song was going to be possibly cut because kids were getting restless during the testing of the movie and dropping popcorn in the aisles and stuff like that."
Hollywood executives put a lot of stock in screen tests for films, even though the data they gather there isn't always correct — like how someone once said Fred Astaire "can't act" during one.  Clearly, "The Little Mermaid" screen test wasn't accurate because most kids love all "The Little Mermaid" songs  — especially "Part of Your World." Did Katzenberg consider kids generally get antsy and spill food everywhere?
Luckily, lyricist Howard Ashman, who also wrote the songs for "Aladdin" and "Beauty and the Beast," fought to keep the song in the final cut. Ashman knew a thing or two about story development. Benson recalled:
"Howard was like, 'No,' kind of over my dead body. 'We've got to have this song to be able to set up the whole story as to what she's trying to achieve.'... I can't imagine. Had that song been cut, I wouldn't be here today."
Of course, Disney kept the song, and the movie became a classic. Recently, The teaser trailer for 2023's "The Little Mermaid" remake features all the things that made the original film a success: gorgeous underwater views, an angsty Ariel (Halle Bailey), and its memorable song, "Part of Your World."