Robert Pattinson Kept A Surprise In Store For His First Day On The Devil All The Time Set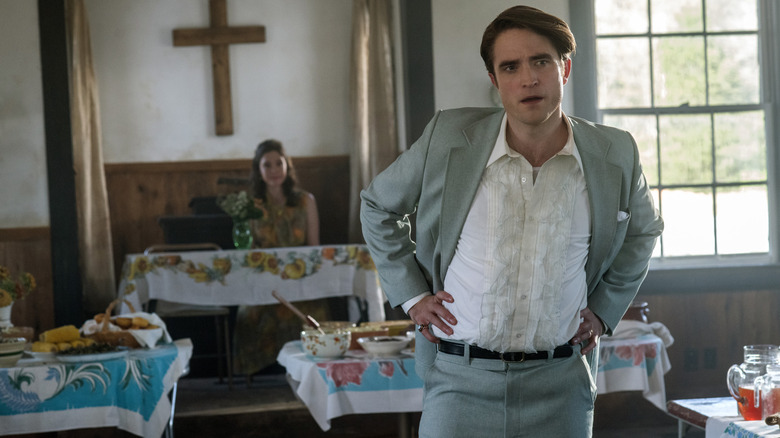 Netflix
Robert Pattinson has been on a tear since his "Twilight" days, going from the likes of the Safdie brothers' "Good Time," to Robert Eggers' "The Lighthouse." After spending time on the indie scene, Pattinson would eventually make a return to blockbuster franchises as Bruce Wayne/Batman in Matt Reeves' "The Batman" from earlier this year. But one of the overlooked roles of Pattinson's recent resurgence was in Antonio Campos' 2020 thriller, "The Devil All the Time," released on Netflix in 2020.
Campos' gothic thriller gave Pattinson a large sandbox to play in as a corrupt preacher. His performance perfectly toes the line between over-the-top and genuinely freaky. A big part of that may be the dialect that Pattinson speaks with throughout. To put it lightly, his role in "The Devil All the Time" required a bit more than switching to a standard American accent like in "The Batman." Not only did Pattinson take a unique approach to mold his accent in the film but he maintained a major surprise for his castmates and crew members until he arrived on set.
Who did Pattinson play?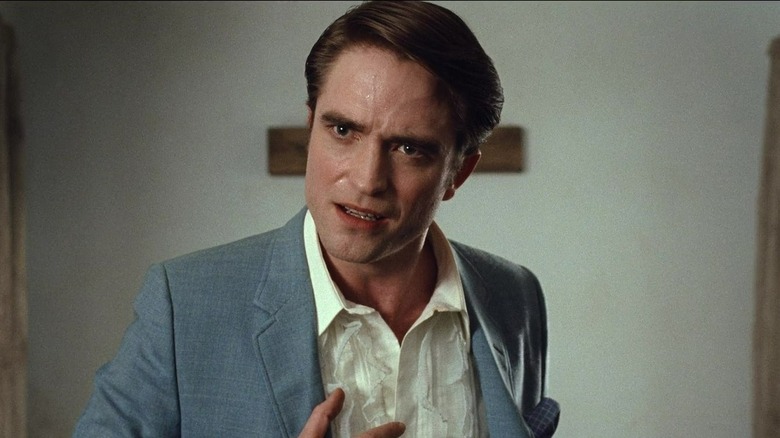 Netflix
"The Devil All the Time" allowed all of its actors to put their talents on full display. For example, up to that point, star Tom Holland hadn't been given many opportunities to show his dramatic acting chops off (we'll ignore 2021's "Cherry"). Juxtaposed with the Spider-Man actor was the future Caped Crusader, Pattinson, who holds the film together with his performance.
In "The Devil All the Time," Pattinson's corrupt preacher is named Preston Teagardin. From fiery sermons that would make the hairs on your neck stand up, to seducing a young congregant, Pattinson delivers one of his most chilling performances. The performance is very physical, with Pattinson's movements being vital to enhancing his vivid sermons, but the accent is the cherry on top. Both Holland and Pattinson had to take on a new dialect, but the latter took it a step further in his preparation. Believe it or not, the cast and crew didn't even know what to expect from Pattinson until the cameras started rolling.
Pattinson's secret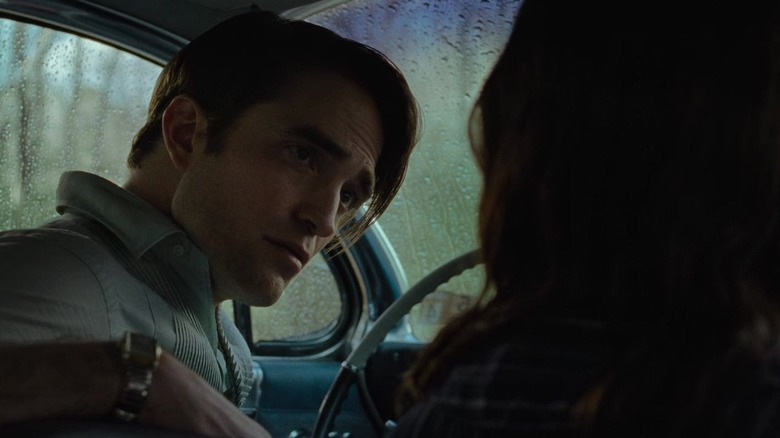 When you first hear Teagardin's high-pitched Southern accent, it's likely jarring for anyone that knows Pattinson from just about any other role of his. But regardless of what you may have expected going into "The Devil All the Time," put yourself in the shoes of the cast and crew and imagine not having a clue as to what Pattinson is going to sound like. That's exactly what happened as director Campos revealed while speaking to Insider.
"Rob was impossible to get dialect coaching. He just didn't want to do it. He was just adamant about figuring it out on his own."
The first day of shooting for Pattinson consisted of one of the most intense scenes he has. In the scene, Teagardin seduces a young congregant from his church. And it was in that scene that Pattinson unveiled his very unique accent to Campos and the entire crew. 
"That was the first time I heard his voice and saw the character in person," Campos said.
While not having an idea of what the star of your film's accent is like sounds like an accident waiting to happen, Campos stayed cool, calm and collected. "I don't get worried about those things," said Campos. He continued:
"There was no way in my mind that he wasn't going to come on set with something bad. I might not have dug it, but it wasn't going to be bad. I'd rather have someone come with something weird that's a choice than something that isn't thought out."