A Friend Of The Family Trailer: The Real-Life Tale Of A Wolf In Sheep's Clothing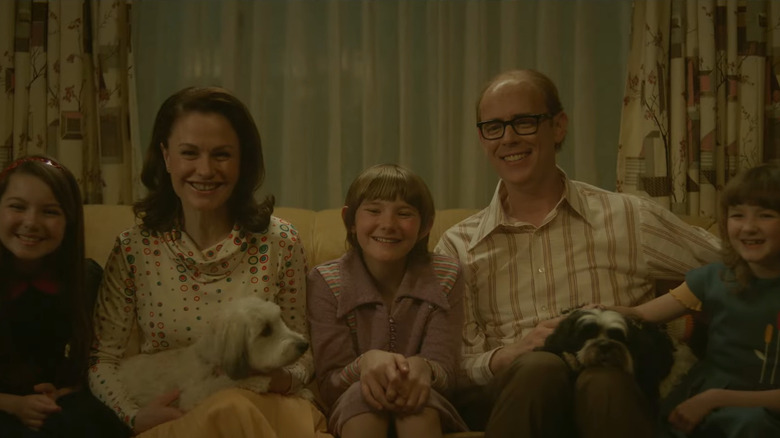 Peacock
Peacock has released a new trailer for the upcoming limited series "A Friend of the Family." It's based on the true story of the manipulation of the Broberg family in the 1970s and the grooming and multiple kidnappings of Jan Broberg by child predator Robert Berchtold. 
If the names sound familiar, there's a reason for that. Not only did the real-life case get a book treatment from Mary Anne Broberg and Jan Broberg entitled "Stolen Innocence: The Jan Broberg Story," but it was made into the 2019 true crime documentary "Abducted in Plain Sight" that aired on Netflix.  
The series follows the Brobergs through the relationship each of the parents and Jan had with Berchtold, the grooming, the wild stories he told her, and the kidnappings. I'm warning you now; it's hard to watch if you know what's coming.
"A Friend of the Family" stars Academy Award-winner Anna Paquin as Mary Anne Broberg, Emmy Award-nominee Jake Lacy as Robert Berchtold, Emmy Award-nominee Colin Hanks as Bob Broberg, Emmy Award-nominee Mckenna Grace as Jan Broberg, and Lio Tipton as Gail Berchtold. 
Watch the trailer for A Friend of the Family
There have been dozens of films and series over the years about kidnappings, but the idea of it happening more than once by the same "family friend" is chilling. I was only vaguely familiar with this case before the trailer. After learning exactly how Berchtold manipulated both parents and groomed Jan in an interview she did with "The View" when the documentary came out, I'm horrified. The lengths this man went to are incredibly upsetting. This story isn't for the faint of heart. 
The trailer definitely has an ominous feel to it. Visually, even the colors give the impression of old photographs from the 1970s that have yellowed and fallen apart with age. It's going to take me a while to get this out of my head. 
Here is the official synopsis for the series: 
"A Friend of the Family" is based on the harrowing true story of the Broberg family, whose daughter Jan was kidnapped multiple times over a period of years by a charismatic, obsessed family "friend." The Brobergs — devoted to their faith, family, and community — were utterly unprepared for the sophisticated tactics their neighbor used to exploit their vulnerabilities, drive them apart, and turn their daughter against them. This is the story of how their lives were permanently altered — and how they survived.
"A Friend of the Family" will begin streaming on Peacock on October 6, 2022. 
If you or someone you know may be the victim of child abuse, please contact the Childhelp National Child Abuse Hotline at 1-800-4-A-Child (1-800-422-4453) or contact their live chat services.