Cool Stuff: Top Gun: Maverick Takes To The Sky With A 4K Steelbook Collector's Set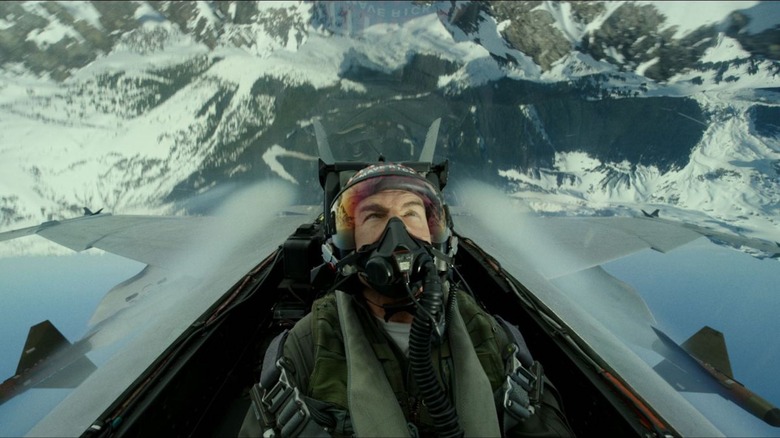 Paramount Pictures
I never in a million years would have predicted "Top Gun: Maverick" to be one of the highest-grossing pictures of the year. It's a legitimate old-school four-quadrant success story, a minor miracle even under normal circumstances in a blockbuster world obsessed with superheroes and lightsabers, and a hands-down praise-Jesus miracle in pandemic times.
It makes sense, then, that if this old-school type of blockbuster is going to blow the doors off of movie theater attendance numbers that the studio would go similarly old school when it comes to the film's second life on the home video market.
Pull up a rocking chair, youngins. Grandpa Vespe wants to spin a yarn about the good old days when DVDs and Blu-Rays were sold by the millions and all was right in the world. This was a time of bonus discs filled with special features and a physical copy of your favorite movie that was always on your shelf no matter what rights issues popped up. What we lacked in instant streaming availability we more than made up for in superior picture, sound, and behind-the-scenes information. Money flowed from movie fans directly to the studios who in turn pumped out newer and better physical media packages with in-depth commentaries and hours of nitty-gritty docs on the making of the movies. 
Then Netflix had to come along with its low prices and convenience and the physical media world has never recovered. But Maverick, and Paramount Home Video, are bucking the trend and going back to offering something special for physical media collectors.
Feel the need ... the need for 4K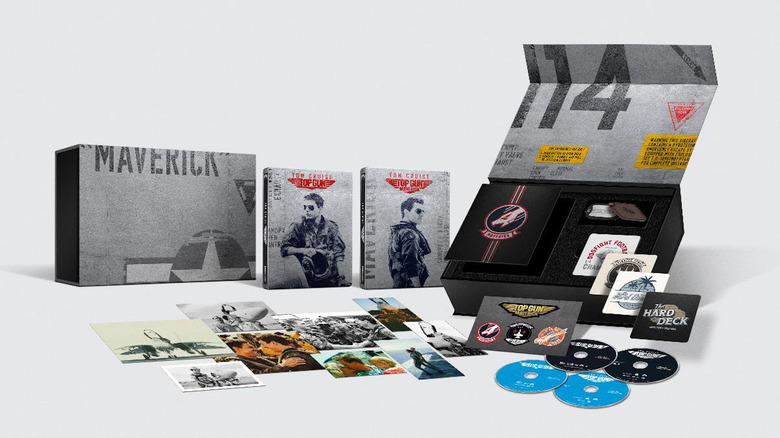 Paramount Home Entertainment
"Top Gun" is getting a physical media collector's set that packages both the original 1986 film and its 2022 sequel together in one 4K steelbook package. Each steelbook comes with 4K and standard Blu-Ray copies of the movies as well as digital codes, a bevy of special features, and tons of "Top Gun" related nicknacks, like "Top Gun" dog tags, a leather "Maverick" keyring, magnetic decals, coasters, and photos.
The original movie gets the lion's share of bonus features, thanks in no small part to a previous home video release, that includes a huge commentary with Tony Scott, Jerry Bruckheimer, Jack Epps Jr, and some naval experts to weigh in on the film's authenticity. There are a bunch of docs on the making of the movie and even the original music video.
"Top Gun: Maverick" is a little lighter on the bonus features, but does include a Tom Cruise Masterclass from the Cannes Film Festival, and at least four behind-the-scenes docs. I'd love a commentary with director Joseph Kosinski, screenwriter Christopher McQuarrie, and Tom Cruise, but like the Stones sang, you can't always get what you want.
If "Top Gun" works the same kind of magic on the home video market as it did in theaters, who knows? Maybe the studios will start supporting these big, cheesy, tchotchke-filled home video releases again.
The "Top Gun 2-Movie 4K Steelbook Superfan Collection" will be out in time for Christmas with a scheduled December 6, 2022 release date.