House Of The Dragon Didn't 'Click' For Emily Carey Until She Put On Her Costume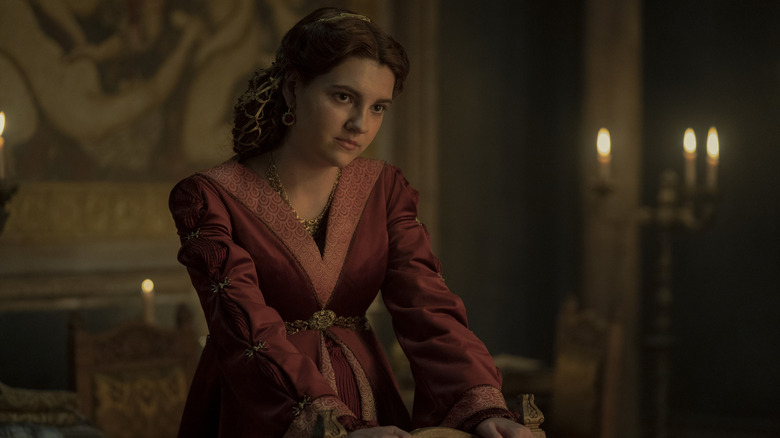 HBO
At the heart of "House of the Dragon," there's much more going on than scheming, warfare, and oversized egos — though there's plenty of that to go around. But before the inevitable storm, we got a taste of the peace: when princess Rhaenyra Targaryen (Milly Alcock) and her best friend Alicent Hightower (Emily Carey) could peacefully lay in the Godswood, talking about cake and their favorite warrior princesses. Now, several episodes in, the Targaryen civil war we've been promised has yet to begin, but the seeds of it have certainly been planted. There's tension between Alicent, Rhaenyra and so many more, meaning it won't be long before anger and jealousy envelop everything else.
The other element that doesn't bode well for their relationship is how quickly "House of the Dragon" moves through time. In just a few more episodes, the younger actresses will step away from their roles to be replaced by Emma D'Arcy (as Rhaenyra) and Olivia Cooke (as Alicent). What will such a significant time jump mean for their relationship? So far, things aren't looking great. Alicent's already gone through quite the transformation. Once an anxious teen, she's now considered an adult in the eyes of the realm: she has a husband and son, with another child on the way. Oh yeah, and she's the Queen of Westeros — thanks to marrying Rhaenyra's father, Viserys (Paddy Considine).
For Carey, Alicent Hightower was a daunting role to tackle — especially since the series is a followup to the massively popular "Game of Thrones."
How Alicent's costume changed everything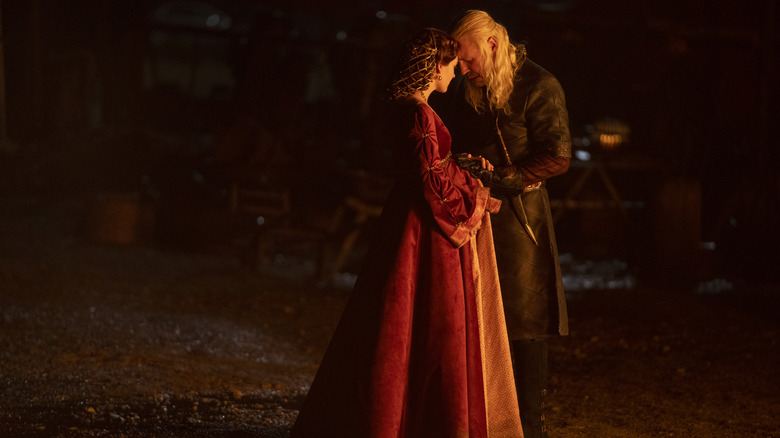 HBO
Understandably, bringing Alicent to the screen meant tangling with her own nerves, but thankfully, the immersive experience of filming "House of the Dragon" helped her truly get into character. During a chat with Collider, Emily Carey explained that her costume made the biggest difference:
"I remember stepping onto set in my costume, and for a camera test, you don't get any dialogue. You just are put in front of a camera and have to walk around a little bit. I remember that I was itching to just do it. I'd stepped on set and it was so immersive. The costumes pull your shoulders back and they change the way you walk."
Actors have often expressed this sentiment when it comes to costume dramas: donning the outfit can be transformative. This seems especially true when it comes to a character like Alicent, whose costumes speak volumes about her actions. As early as in the first episode, Alicent is instructed to wear her mother's dresses, because her father wants her to look older and more desirable for the king. For Carey, that physical change made the camera test feel very real and in-the-moment:
"I was there with Milly. It was just the two of us. And I remember looking at her like, "This is it. What do I say? Come on, give me something to do now." It suddenly became very real, and it felt so right. Suddenly, a lot of my nervousness had gone away because I was there and everything clicked. I was, "Right, I don't have to be scared anymore. This feels good."
Will Rhaenyra and Alicent's friendship survive?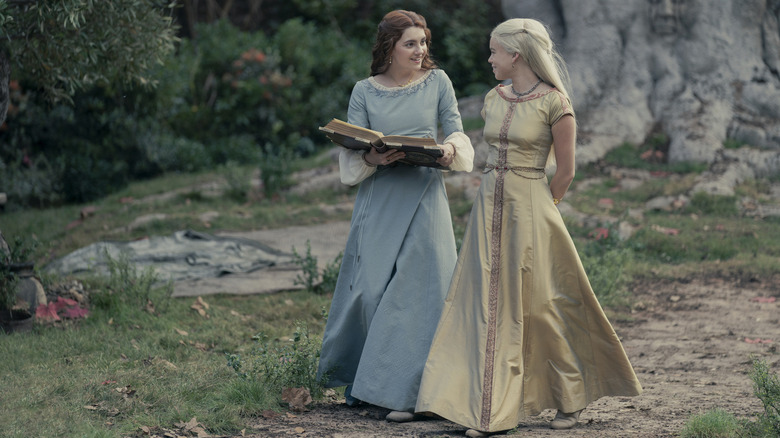 HBO
While there's no doubt that the D'Arcy and Cooke will blow us away by tackling older versions of the two girls, it'll be a shame to see Carey and Alcock go. The young actresses have poured a lot into the teenage characters and essentially built the foundations of the conflict to come. In the same interview, Carey discussed their complex dynamic and revealed more about how she and Alcock conceptualized the relationship:
"When you're 14, especially when you're a girl, the relationship that you have with your best friend is a closeness like no other. It toes the line between platonic and romantic. I don't think you even know what those words mean at 14. You don't know what the feelings mean. It's just this need to be with that person. You love them with your whole being, and you just adore them. I think that's the case for Alicent and Rhaenyra, which is what makes it so heartbreaking when their relationship starts to demise."
This will be a crucial sentiment as "House of the Dragon" approaches a major time jump and gears up for its next chapter: is there any hope that Rhaenyra and Alicent will remember what they once meant to one another? Only time will tell.
"House of the Dragon" airs new episodes weekly on Sundays on HBO and HBO Max.