Superhero Bits: The Marvel Studios Booth At D23, Secret She-Hulk Cameos & More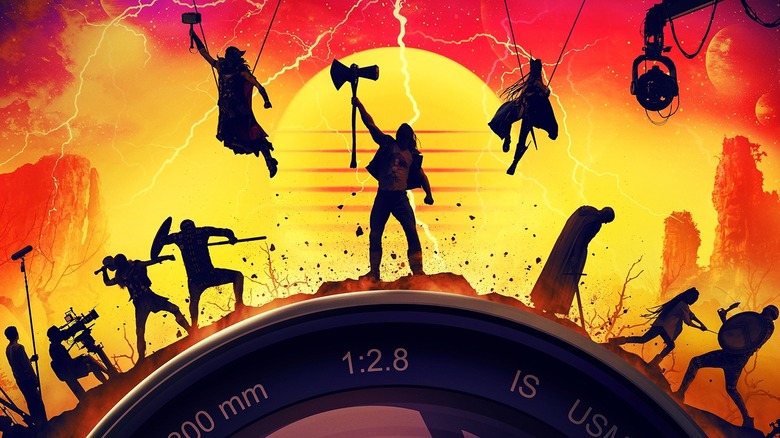 Marvel Studios
(Superhero Bits is a collection of stories, updates, and videos about anything and everything inspired by the comics of Marvel, DC, and more. For comic book movies, TV shows, merchandise, events, and whatever catches our eye, this is the place to find anything that falls through the cracks.)
In this edition of Superhero Bits:
The making of "Thor: Love and Thunder" on Disney+.
A tour of the Marvel Studios booth at D23.
More "She-Hulk" cameos are coming.
A new era for Superman is coming from DC Comics.
Action Comics #1050 ushers in a new era for Superman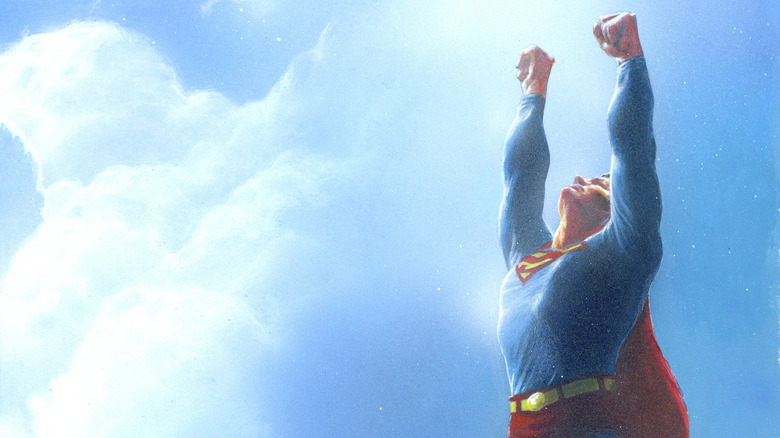 DC Comics
A new era for the Man of Steel is upon us. DC Comics has revealed that the upcoming, oversized "Action Comics" #1050 is set to be the dawn of a new era for Superman, with a big team of A-list creatives set to usher it in. The teams consist of Phillip Kennedy Johnson and Mike Perkins, Tom Taylor and Clayton Henry, and Joshua Williamson and Nick Dragotta. Johnson had this to say about it:
"Writing Action Comics for the past two years has been one of the most rewarding writing experiences I've ever had, and everything that's happened in that time—Future State, Superman: Son of Kal-El, The Warworld Saga, and Kal-El Returns—has all been building to Action Comics #1050. Clark Kent has returned to Earth stronger than ever, Jon has fully come into his own, and the Superfamily is poised to make Metropolis the true City of Tomorrow. It's no overstatement to say Action Comics #1050 is a NEW BEGINNING for Superman, and the era that's about to begin is as bright and fun and exciting as anything fans have ever seen at DC Comics."
The book is set to hit shelves on December 27. Full details on the variant covers that will be available for the issue can be found by clicking here.
It's Jeff season 2 trailer brings the comic back to Marvel Unlimited
Jeff the Landshark is one of those adorable characters in the Marvel Comics universe that lots of people love but (at least not yet) he still hasn't crossed over into the Marvel Cinematic Universe. Maybe one day! In any case, those who would like some landshark goodness can check out "It's Jeff," the Infinity Comics series that is exclusive to Marvel Unlimited, the company's comic book subscription service. The above trailer offers a glimpse at what's coming in the second season of the comic. (Spoilers: it is full of shark goodness.)
D23 exclusive Avengers Campus Spider-Man figure by Hot Toys
The folks at Hot Toys will have a presence at Disney's D23 Expo this weekend and they have brought some exclusive goods. As seen above, the Avengers Campus Spider-Man 1/6 scale figure will be the company's big exclusive figure available to those who are at the convention this year. This is the version of Spidey that those who visit Avengers Campus will see and now, you can own one. For those not at D23, it may be tough to get one, save for the secondary market on eBay, which can be brutal. But you can check out the photos of the figure above.
Batman: Hush 20th anniversary edition will feature a new story
"Batman: Hush" has become one of the truly defining stories in the character's history, so DC is giving the storyline's 20th anniversary a new release in the form of the above hardcover special edition. But what's particularly important is, per IGN, original series writer Jeph Loeb and artist Jim Lee are going to be including a 5-page story set just after the events of the original run. That alone could be worth the price tag. The "Batman: Hush 20th Anniversary Edition" is set to hit shelves on October 18.
Marvel's Ironheart series adds GLOW star Shakira Barrera to cast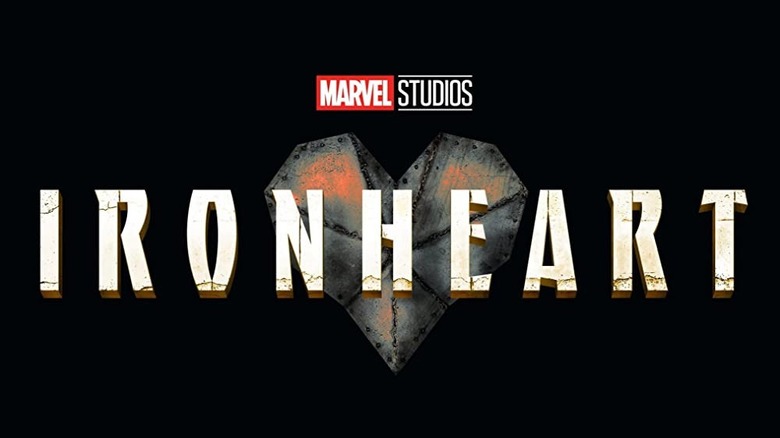 Marvel Studios
The latest live-action MCU series for Disney+, "Ironheart," is currently filming but that doesn't mean it's done adding cast members. As reported by Deadline, Shakira Barrera ("GLOW") is the latest to join the growing ensemble for the show. Barrera's role is being kept tightly under wraps for the time being. She will star alongside Dominique Throne in the title role. The rest of the cast includes Anthony Ramos, Manny Montana, Alden Ehrenreich, Regan Aliyah, Shea Couleé, and Zoe Terakes. "Ironheart" does not yet have a release date but it is expected to arrive in 2023. Meanwhile, we'll see Thorne's Riri Williams in "Black Panther: Wakanda Forever" in theaters this November.
Check out the Marvel Studios booth at Disney's D23 Expo
Unsurprisingly, Marvel Studios is going to have a major presence at the D23 Expo this weekend, with a big showcase expected from Kevin Feige and co. on Saturday morning. We'll be bringing you all of the big news as it breaks, but in the meantime the company has uploaded a tour of its booth from the showroom floor for all to see. Since we can't all actually be in California to experience it ourselves, this is a nice way to get a taste of what Marvel has to offer this weekend. Check out the full tour for yourself in the video above and keep your eyes peeled for news from the Studio Showcase featuring Marvel Studios, Lucasfilm, and 20th Century Studios on Saturday.
She-Hulk: Attorney at Law still has other secret cameos up its sleeve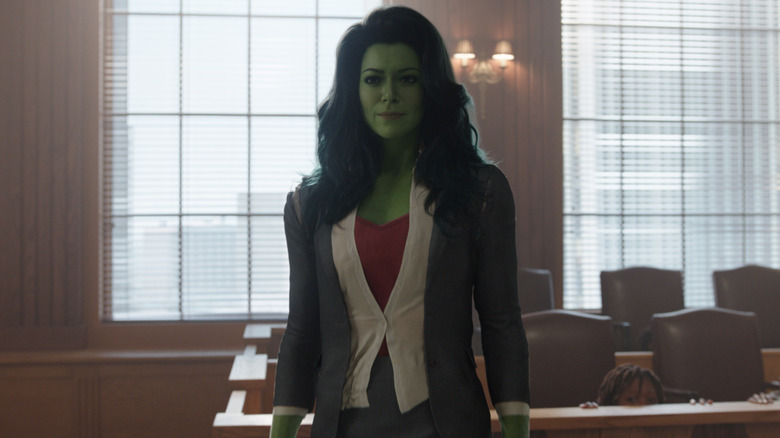 Disney+
We've already seen some pretty impressive cameos and character debuts through four episodes of "She-Hulk: Attorney at Law," but there are still some secrets being kept. And no, we're not talking about Daredevil's forthcoming appearance. According to star Ginger Gonzaga in a conversation with TVLine, there are still some cameos that have been kept under wraps that we have to look forward to.
"The thing about working in a superhuman law division is we can represent anyone, so we get comic book characters that haven't entered the Marvel Universe yet, that you haven't seen in any of the trailers. And you get to see the idiocy of the ridiculously fun superheroes who have legal trouble and may or may not listen to their attorneys. I'm really excited for people to see these guest stars that are in the comic books."
So, who might she be referring to? All we can do for the time being is speculate wildly. Do so amongst yourselves if you feel so compelled. "She-Hulk" returns with new episodes Thursdays on Disney+.
Assembled: The Making of Thor: Love and Thunder is now on Disney+
Lastly, "Thor: Love and Thunder" has officially made its way to Disney+ as of yesterday in honor of Disney+ Day. But that's not all! As the above trailer indicates, "Assembled: The Making of Thor: Love and Thunder" is also available on the streaming service as well, which offers fans a behind-the-scenes look at the making of the latest MCU epic. These "Assembled" documentaries have become standard practice for all of the MCU shows and movies and they essentially work like Blu-ray bonus features. While stuff like that is less common in the streaming era, Disney+ has done a damn decent job of keeping the spirit alive. You can stream the special now and, in addition to the trailer, we've got a poster for it to check out below.
Check out the new poster for Marvel Studios Assembled: The Making of #ThorLoveAndThunder, now streaming only on @DisneyPlus: https://t.co/mp1YWgV0qe pic.twitter.com/mJeXPUZEoD

— Marvel Entertainment (@Marvel) September 8, 2022