Indiana Jones Footage Description: Old Friends, New Threats, And One Last Ride [D23]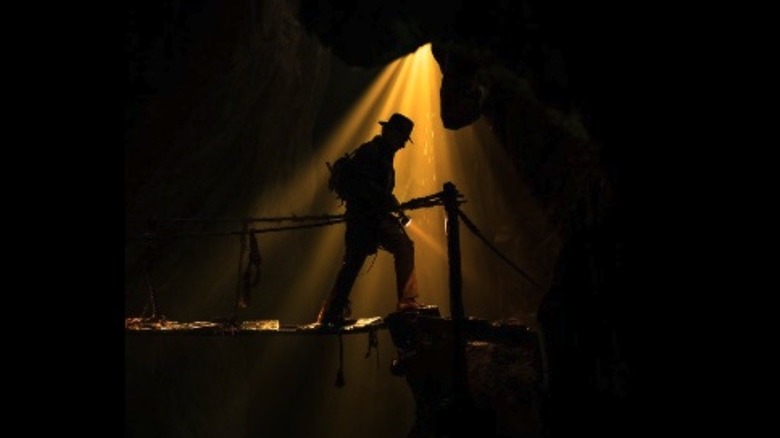 Disney
Disney's D23 Expo is happening in Anaheim, California, this weekend, showing new footage and releasing information about upcoming films and TV series. One of the big titles that fans are excited about is "Indiana Jones 5." In addition to the trailer, new footage was shown during the film panel, giving us more details about the fifth film in the series that started back in 1981 with "Raiders of the Lost Ark." 
/Film's Ethan Anderton was on site at D23 Expo today, where Harrison Ford got emotional while thanking the audience after first footage from the film premiered. "I'm proud to say this one is fantastic. And this is one of the reasons," the actor said, pointing to co-star Phoebe Waller-Bridge.
Ford also seemed to officially confirm that this is the last time he'll be reprising the role. "This is it. I will not fall down for you again," he told audiences, after praising the film for its mystery, adventure, heart, and "a human story ... as well as a movie that will kick your a**."
One last ride for Harrison Ford's Indiana Jones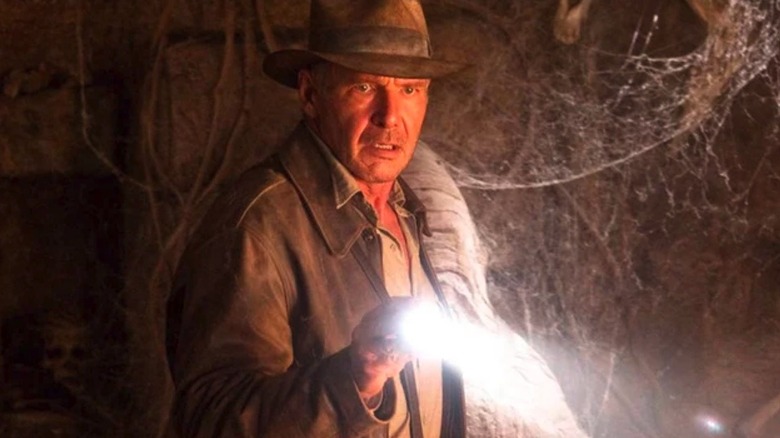 Paramount Pictures
The preview footage itself lives up to the hype. It begins with the sun glowing over a desert city, then cuts to a rickshaw chase through the street. Audiences see Indy (Ford) walking across a bridge like the one in the first look photo, then running across the top of a train at night, chasing a plane on a motorcycle, riding a horse, and more. It's an action-packed first look full of chase sequences, but it also features some flashbacks of a younger Indy as well as at least one major character reprisal. Sallah, played by John Rhys Davies, makes an appearance in the footage
Finally, the footage sheds light on the relationship between Indiana Jones and Waller-Bridge's Helena, revealing she's his goddaughter. Ford gets some great hero moments here, grabbing his hat as he leans into a motorcycle sidecar and cracking his whip at a room full of bad guys with guns.
"I've come to believe it's not so much what you believe, it's how hard you believe," he says in voiceover, before the sneak peek ends.
What else we know about Indiana Jones 5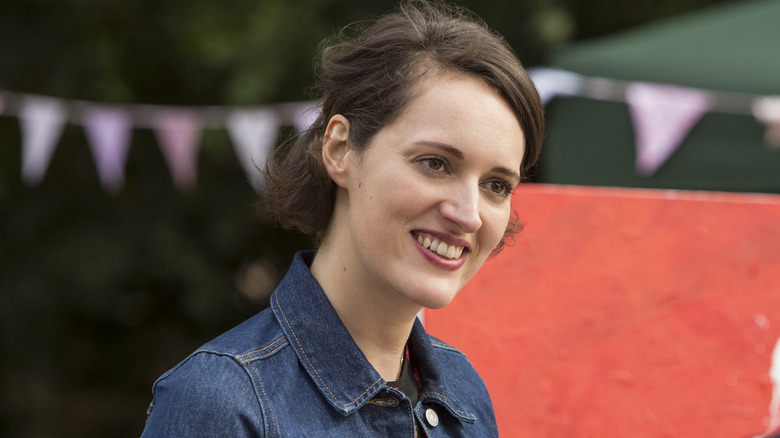 Prime Video
In addition to the footage and the trailer, here are the other things we know about the film. According to some set photos, there is a parade celebrating the safe return of the crew of Apollo 11 moon landing mission. We also know that there will be a digitally de-aged version of Indiana Jones, with actors in Nazi costumes spotted on set. There are a number of writers involved in the script for the film, though the final script was co-written by Mangold with Jez and John-Henry Butterworth ("Edge of Tomorrow"). Frank Marshall, Kathleen Kennedy, and Simon Emanuel are producing. John Williams is returning to provide the score.
"Indiana Jones 5" once again stars Harrison Ford as the titular hero. This time around, James Mangold ("Ford vs. Ferrari," "Logan") is taking the directing reins from Steven Spielberg, who will executive produce. Along with Ford, for whom this will be the final Indy appearance, cast members include Mads Mikkelsen ("Casino Royale"), Phoebe Waller-Bridge ("Fleabag"), Thomas Kretschmann ("Avengers: Age of Ultron"), Boyd Holbrook ("Logan"), Shaunette Renée Wilson ("The Resident"), Toby Jones ("Captain America: The First Avenger"), and Antonio Banderas ("The Mask of Zorro").
"Indiana Jones 5" will hit theaters on June 30, 2023.