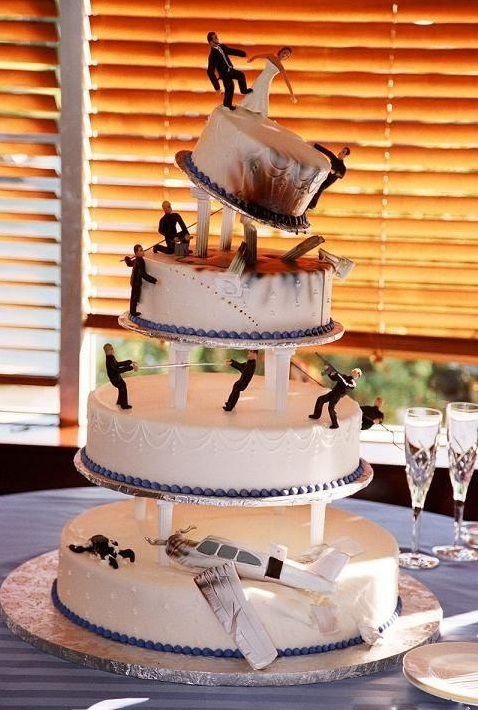 What is Page 2? Page 2 is a compilation of stories and news tidbits, which for whatever reason, didn't make the front page of /Film. After the jump we've included 46 different items, fun images, videos, casting tidbits, articles of interest and more. It's like a mystery grab bag of movie web related goodness. If you have any interesting items that we might've missed that you think should go in /Film's Page 2 – email us!
Header Photo: Action Movie Wedding Cake
THR lists 15 Movies That Made The Grade: A+ CinemaScore Posse.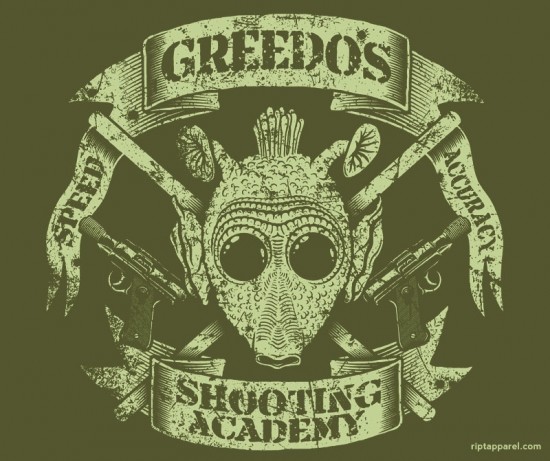 Today's t-shirt of RIPT Apparel is a Star Wars -inspired design "Greedo's Shooting Academy".
Mini Geek Deal: Best Buy has Dexter Seasons 1, 2, 3, or 4 on DVD for $14.99 per season. If you purchase all 4 Seasons, you will receive a bonus $10 Best Buy Gift Card.
/Film reader Robert G recorded his entire trip to the 2011 San Diego Comic Con from a first person camera, and edited it into a 3-minute video.
AV Club lists 17 film franchises that took strange left turns in space.
A fan-made Star Wars re-design of the co-op board game Pandemic allows you to play as the Empire. (thanks to Jeff Cannata)
Transformers: Dark of the Moon has hit another milestone, with a $1071.2 million total, the film is now fifth in the worldwide all-time box office moving past Pirates 4 ($1066.2M) and Toy Story 3 ($1063.2M).
Chris Sarandon and Roddy McDowall perform "Amy, Awake!" from Fright Night: The Musical.
Someone has started a humorous fake twitter account for an AMC executive.
Due to the amount of graphics and images included in Page 2, we have to split this post over a BUNCH of pages. Click the link above to continue the second page of Page 2.
Cool Posts From Around the Web: