Darren Aronofsky Fought The Studio To Keep Mickey Rourke In The Wrestler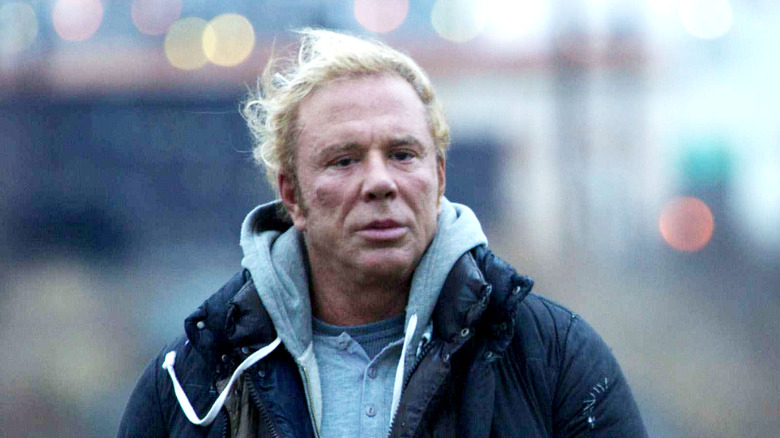 Fox Searchlight Pictures
Darren Aronofsky is a director known for his ambition. Starting with his incredibly risky debut film, "Pi," he's known for going all-out in telling layered and metaphysical stories such as "Black Swan" and "Mother!" But following "The Fountain," one of his more shakily reviewed films, Aronofsky decided to scale back his storytelling for his next project.
He decided upon the topic of an aging professional wrestler, whose obsession with his craft severely damages not only his personal life, but his health and well-being. "The Wrestler," which starred Mickey Rourke in one of his greatest roles, is my personal favorite of Aronofsky's movies because it's such a departure from his other films. Compared to the grand ambition of some of his other work, "The Wrestler" is a small-scale piece that uses the showmanship and cheaply produced flash of the wrestling industry as a replacement for his usual upscale ideas. The world of independent pro wrestling is grimy, and so is the movie. The movie's representation of the seedy underbelly of the wrestling business has been praised by real life wrestlers and fans alike, and even been reflected recently by the 73-year-old Ric Flair insisting on wrestling one last match.
Despite Aronofsky scaling back his ambition, he maintained his refusal to compromise on his vision. When the studio wanted to fire Rourke from the film, Aronofsky pushed to keep the actor, according to an interview with Rourke (via Collider).
The man for the job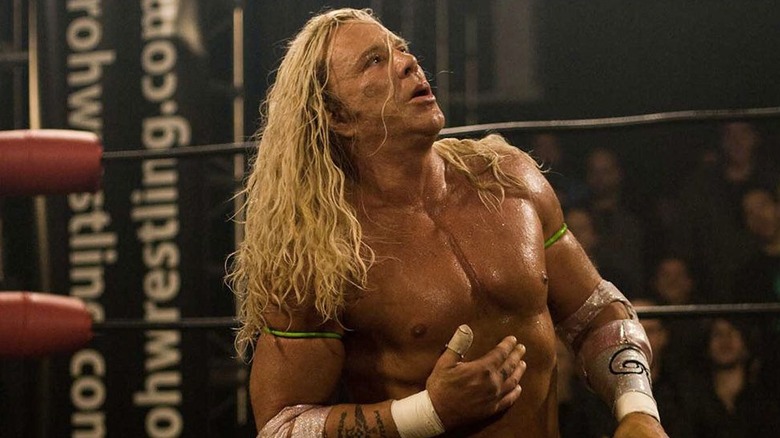 Fox Searchlight Pictures
Mickey Rourke's performance in the movie is a standout, with him managing to embody the character both emotionally and physically, gaining an impressive 27 pounds of muscle for the film. Rourke's portrayal of the emotionally stunted former wrestling star Randy "The Ram" Robinson is nuanced and dark, while still managing to play humorously in multiple scenes.
According to Rourke, working with Aronofsky in itself was a dream of his. "I think the main thing that attracted me to the piece was the fact that I had an opportunity to work with a really special director," said Rourke in his Collider interview. "In the years I've been working, I can count them on maybe four or five fingers, and I could put him right there right at the top of the list with Coppola and the rest of them, Cimino, Adrian Lyne."
Including Aronofsky in the same list as those legendary directors is high praise, but not a ridiculous take whatsoever. The respect Rourke had for Aronofsky was returned by the director during the filming process, when Aronofsky fought for Rourke to remain in the film. "He's very uncompromising. He has a lot of integrity, and he's smarter than the rest of us. I knew why he wanted me to do this part. I mean, it didn't take a rocket scientist to figure that out," said Rourke, himself a former boxer. "But he really fought for me to do this role when he had a lot of resistance, and he kept fighting for me to do it. And then finally, I lost the part, and I guess even when I lost it, he kept fighting for me to do it. And it worked out."
Revitalization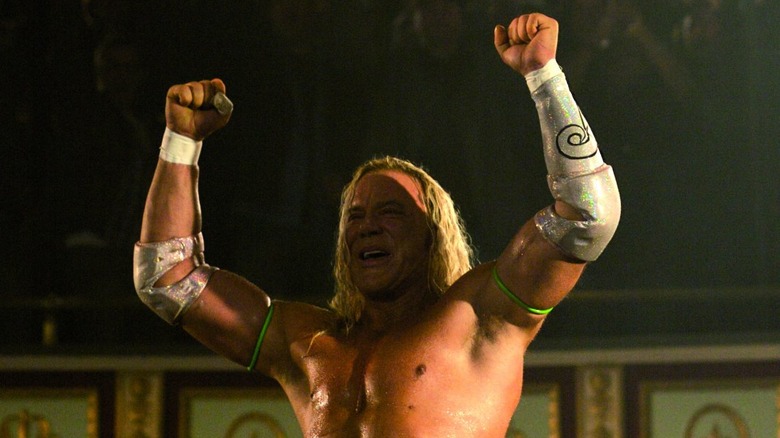 Fox Searchlight Pictures
It did indeed work out, as "The Wrestler" was a huge critical success for Aronofsky, getting his filmography back on track following a the box office misfire of "The Fountain." The film netted Aronofsky the Golden Lion award at the Venice Film Festival, the award given to the festival's best director. It solidified Aronofsky's place in the upper echelon of modern directors, and allowed him to go back to creating his weirdo movies again (ahem, "Mother!").
It was a triumph for Mickey Rourke as well, who won multiple awards for his acting in the movie. His performance was seen as the beginning of his "acting comeback" by some, though the momentum wasn't followed through. To give the laziest performance in "The Expendables," a film full of old men sleepwalking through flashbacks of their youth, is an impressive feat in a very negative sense.
Aronofsky saw Rourke, who hadn't had much work of late at the time, and knew he was the man to be in his movie. In doing so, he resurrected Rourke's career and bolstered his own. Aronofsky continues to use his uncompromising vision to produce great films to this day, with his most recent effort "The Whale" acting as the reclamation project for Brendan Frasier. That surely took some courage as well, and a stern rebuff of likely hesitant movie producers, but when an artist as singular like Aronofsky has demands, you can bet on his taste.