Willow Trailer: The Fantasy Epic Returns As Christian Slater Joins The Cast [D23]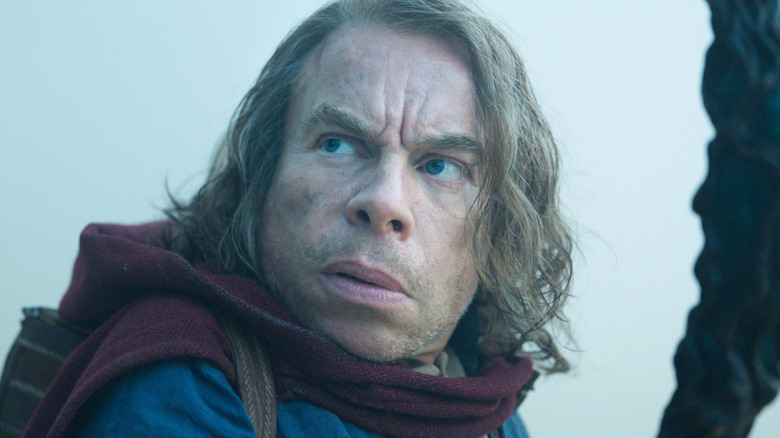 Disney+/Lucasfilm
Director Ron Howard's "Willow" is quite blatantly his and co-writer/producer George Lucas' attempt to make "The Lord of the Rings" by way of "Star Wars." But derivative as it is, the 1988 fantasy-adventure movie is also a pretty good time. That's largely thanks to Warwick Davis' endearing turn as Willow Ufgood, a kind-hearted Nelwyn (little people) farmer and sorcerer-in-training who's also a genuinely caring husband and loving father to his wife and kids.
It took more than 30 years to happen, but Willow's story will finally continue on-screen in a followup series called, er, "Willow" (yes, the trend of legacy sequels going by the same title as the movies that started the franchise has reared its head yet again). The show has Davis returning as an older Willow, who serves as a mentor of sorts to a young new hero named Kit (Ruby Cruz), a princess who undertakes a quest to protect her world. Joanne Whalley is also reprising her role as Sorsha, the warrior who turned against her mother, the evil Queen Bavmorda, and helped save the day in the 1988 film. And a new cast member just announced at D23 is Christian Slater, who will be playing an old friend of Mad Martigan.
Naturally, with the show's premiere date coming up in just over two months, Disney debuted a new trailer for "Willow" at its D23 Expo. You can check it out below.
Watch the Willow trailer
Unlike a lot of '80s fantasy films ("The Dark Crystal," "Labyrinth," "Legend," "Return to Oz"), the movie "Willow" wasn't a flop-turned cult title. Rather, it was a modest success across the board, winning praise for its then-cutting edge visual effects — while also being criticized for its rehashed narrative tropes — and doing well enough at the box office, but not so much as to get an automatic green-light for a sequel. That helps to explain the approach taken by the "Willow" TV series, which is clearly meant to act as an entry point for newcomers to this IP while also tapping into longtime fans' nostalgia for the 1988 film.
Helping its cause in that regard is a cast that includes young familiar faces like Erin Kellyman ("The Falcon and the Winter Soldier") and the Marvel Cinematic Universe's "Spider-Man" trilogy star Tony Revolori, as well as up-and-comers like "The Serpent" star Ellie Bamber and "The Wheel of Time" alum Amer Chadha-Patel. Executive producer Jonathan Kasdan ("Solo: A Star Wars Story") also told Yahoo! Entertainment Val Kilmer's scoundrel swordsman Madmartigan from the "Willow" film is part of the sequel show "in a big way," despite Kilmer being unable to work on the series due to the pandemic and his battle with throat cancer in recent years.
"Willow" will begin streaming on Disney+ on November 30, 2022.