Strange World Footage Description: Disney Takes A Page Out Of Sci-Fi Pulp [D23]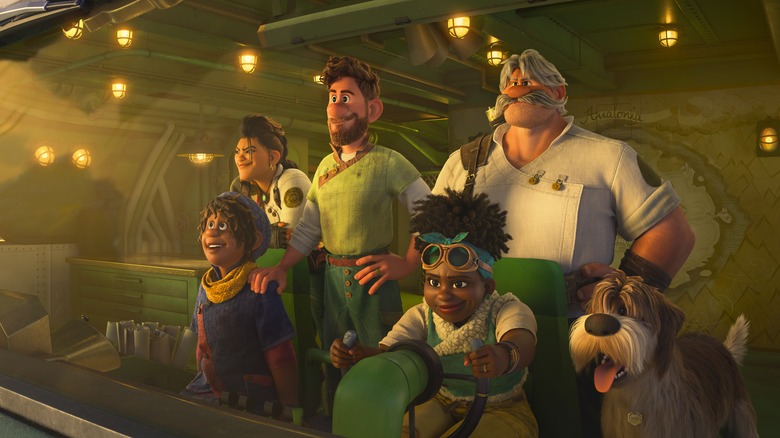 Walt Disney Animation Studios
Disney's D23 Expo is currently underway in Anaheim, California, and /Film's very own Ethan Anderton is on the ground, collecting all the breaking news and exclusive clips and trailers. The latest offering from Walt Disney Animation Studios, "Strange World," had a special trailer and clip to share with audiences attending the expo.
This animated film is inspired by pulp sci-fi epics of old and has a group of explorers searching for new lands and creatures. The earlier teaser gave us a glimpse of just how strange this world actually is. There are seemingly inanimate objects that can get up and walk around. There is some kind of goo that appears to be sentient. There are fish-looking creatures that fly through the air in schools. Is anyone up for a field trip to wherever this is?
A new trailer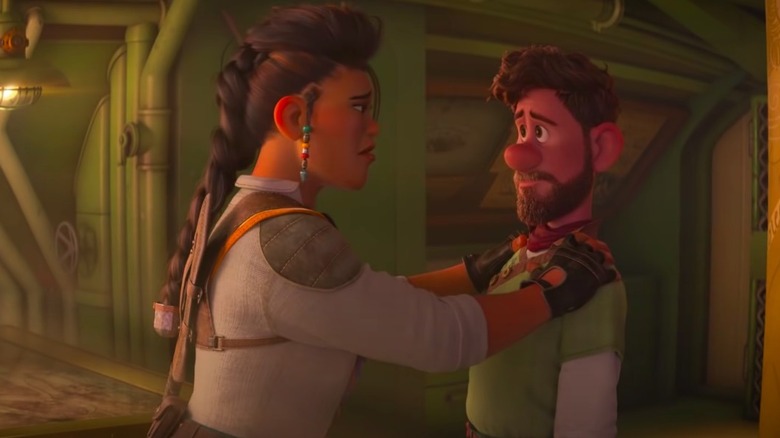 Walt Disney Animation Studios
The first footage shown at D23 was a new trailer that feels like a mixture of "Lost in Space" with a Jules Verne twist. We see a family working on a farm, when a ship shows up, manned by a pilot, President Callisto Mal (voiced by Lucy Liu) who tells them that the world is in grave danger. She invites them to join her expedition, and our intrepid protagonist Searcher Clade (voiced by Jake Gyllenhaal), who yearns to find his famous explorer father who went missing when he was a kid, agrees. 
They land on a world full of wild creatures and spore-like monsters, and there, they run into Searcher's father, Jaeger Clade (voiced by Dennis Quaid), a swaggering, grizzled, dirty explorer. There's a tense, confrontational relationship between Searcher and Jaeger, which the trailer intercuts with glimpses of a cute little blue goop they call Splat, and a creature that smashes through the window of the ship and grabs the pilot.
Like we saw in the first trailer, "Strange World" is full of adventure and a classic sci-fi feel, harkening back to the pulpy sci-fi serials of the 1920s and '30s that influence the movie. And the second clip doubles down on the pulp thrills even more.
A thrilling chase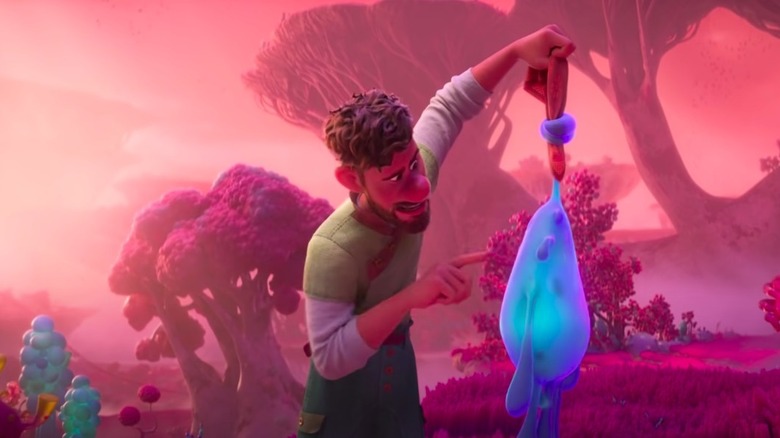 Walt Disney Animation
In the second clip, the team has crash landed on the "Strange World" and are separated. They need to find each other before something bad happens. Searcher's teen son Ethan Clade (voiced by Jaboukie Young-White) sees some big rolling orbs with little spindles sticking out of them, which leaves Splat concerned. Suddenly, big tentacles pop out. Just as suddenly, Jaeger Clade shows up looking like a "dirty hobo with a flamethrower" or "Hagrid but a badass," as Ethan describes.
Jaeger leads them away from the monsters, blasting flames behind them, grabbing Searcher and Ethan as they jump off the cliff and fall onto a stream of flowing creatures that look like blood cells. But they're not! They're more like big tadpoles, translucent red and sentient. As Searcher, Ethan, and Jaeger run across the tadpole creatures, the tentacles keep trying t grab at them. Jaeger urges them to hurry, and Searcher pleads for his father to stop embarrassing him. Jaeger blasts one final flame and separates the stream so they can't be chased anymore. Ethan falls, but Splat grabs him and brings him back up to the stream of the tadpole creatures.
"Can you not show off while we're running for our lives?" Searcher asks Jeager. "How are you my Dad?"
But the tentacled orbs are still in pursuit, and when Jaeger tries to blast them with fire again, he runs out of gas. Just then, two more team members fly in on hover bikes that look like bumper cars mixed with motorcycles. They trap the orb creatures in a net and one of the team members lets their hoverbike fly into a wall, where it explodes. The other hhoverbike is stuck with evyerone on it, but with a quick push they make an escape.
Travel to a place of infinite mystery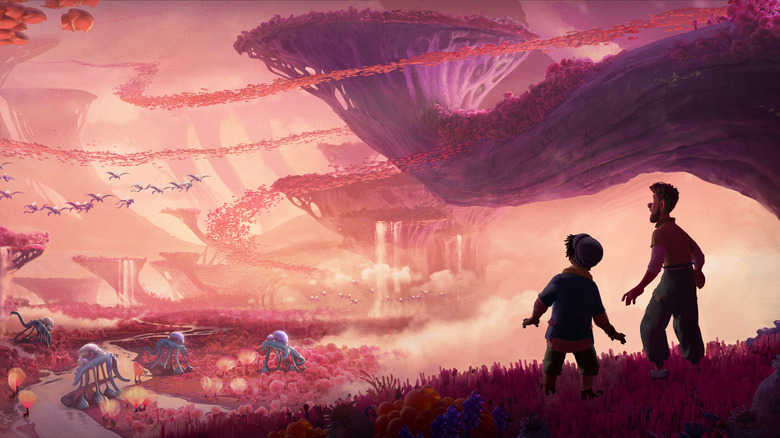 Walt Disney Animation Studios
This seems like the perfect story for animation. What would you do if you could create a world from scratch where anything can be drawn or created?
"Strange World" is directed by Don Hall ("Big Hero 6," "Raya and the Last Dragon") with co-director and Emmy Award-winning writer Qui Nguyen ("Raya and the Last Dragon"). Jake Gyllenhaal voices the main character, Searcher Clade. The cast also includes Dennis Quaid (Jaeger Clade), Jaboukie Young-White (Ethan Clade), Lucy Liu (Callisto Mal), and Gabrielle Union (Meridian Clade). It has also been reported that Alan Tudyk will play a role. Considering his past work for Disney, like Tuk Tuk in "Raya and the Last Dragon" and King Candy in "Wreck-It Ralph," he could be voicing anyone or anything that shows up in the film.
Here is the official "Strange World" synopsis:
Jake Gyllenhaal ("The Guilty," "Spider-Man: Far from Home") lends his voice to Searcher Clade, the son of a steadfast explorer. The original action-adventure journeys deep into an uncharted and treacherous land where fantastical creatures await the legendary Clades, a family of explorers whose differences threaten to topple their latest—and by far— most crucial mission.
"Strange World" will be released on November 23, 2022. We'll update you as soon as we know if this will be in theaters and/or a Disney+ release.