Samara Weaving To Star In '90s-Set Comedy Thriller Borderline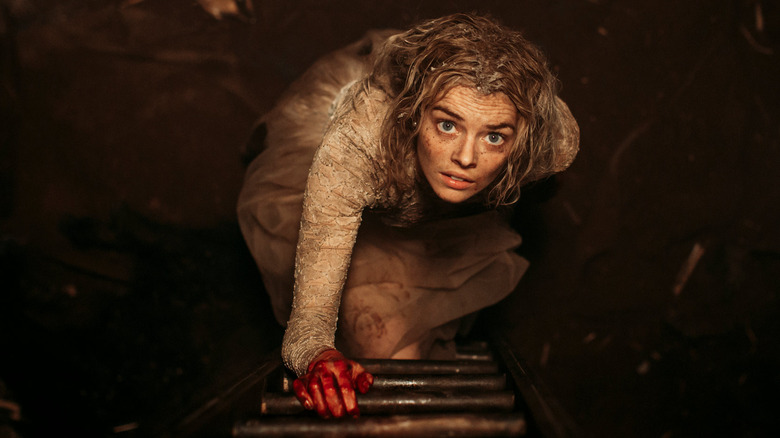 Fox Searchlight Pictures
Samara Weaving has lined up her latest genre project, and hopefully, it'll be less of a bloodbath than 2019's "Ready Or Not." No, actually, I take that back — Samara Weaving kicked butt in that hilarious horror flick, and it would be great to see her gear up for another fight to the death. Weaving is already set to appear in the upcoming sixth "Scream" movie, which will reunite her with "Ready Or Not" directors Tyler Gillett and Mat Bettinelli-Olpin, so why not double down and put her survivalist skills to the test? While her upcoming film isn't quite ticking the horror box, it certainly veers into very familiar territory by telling the story of a woman just barely evading tense circumstances to survive.
Variety reports that Weaving will take center stage in a new comedic thriller, currently in production in Vancouver. Titled "Borderline," the film follows a "helplessly romantic sociopath who escapes from a mental institution and invades the home of a '90s pop superstar." Hopefully Weaving's fictional popstar status comes with lots of commentary on fame and a catchy tune to break the tension. The very promising logline also adds, "He just wants to be loved; she just wants to survive." As for the script, it comes fresh off The Black List from Jimmy Warden ("The Babysitter: Killer Queen") who will make his directorial debut with this feature.
Get a first look at Borderline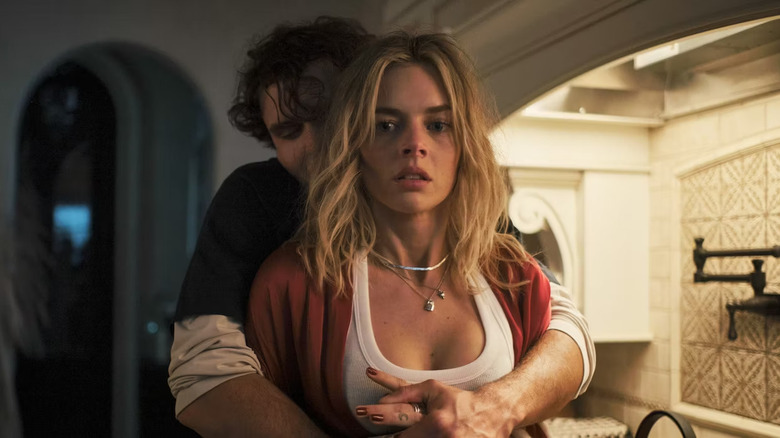 LuckyChap
Along with Weaving,  the film will star Eric Dane ("Grey's Anatomy," "Euphoria"), Ray Nicholson ("Panic," "Licorice Pizza"), Alba Baptista ("Mrs. Harris Goes to Paris"), and Jimmie Fails ("The Last Black Man in San Francisco"). 
All in all, "Borderline" has a lot of cards in its favor: a fun premise, a writer-director on the rise, a solid cast led by Samara Weaving, and the backing of a very promising production company. The film is produced by LuckyChap Entertainment, the company founded by Margot Robbie, Tom Ackerley, Sophia Kerr, and Josey McNamara back in 2014. Since then, LuckyChap has garnered a reputation for producing high profile female-led projects, which have collectively earned 8 Academy Award and 11 BAFTA nominations. Past titles include "Promising Young Woman," "I, Tonya" and "Birds of Prey." As for what's to come, the LuckyChap lineup includes Greta Gerwig's "Barbie," Yorgos Kanthimos' "My Year of Rest and Relaxation" and Emerald Fennell's "Saltburn."
Along with the announcement, executive producer Mimi Steinbauer (of Radiant Films International) said the following:
"From 'I, Tonya' to 'Promising Young Woman,' our friends at LuckyChap have produced some of the most critically lauded and commercially successful female-led films of the last five years, so we're honored they've chosen us to represent this special new project. Samara, Dane and Ray are the perfect cast to lead Jimmy's whip-smart, edge-of-your-seat comedic-thriller through all its twists and turns."
Ahead of "Borderline," Warden's original screenplay "Cocaine Bear" is currently in post-production and set for a 2023 release. The Phil Lord and Christopher Miller-produced film is directed by Elizabeth Banks and includes an ensemble cast with Keri Russell, Ray Liotta, O'Shea Jackson Jr., and Alden Ehrenreich. It is set for a 2023 release. As for "Borderline," the release date has yet to be announced, so stay tuned.