Arnold Schwarzenegger Created Chaos In A Restaurant By Appearing In Battle Damaged Terminator Makeup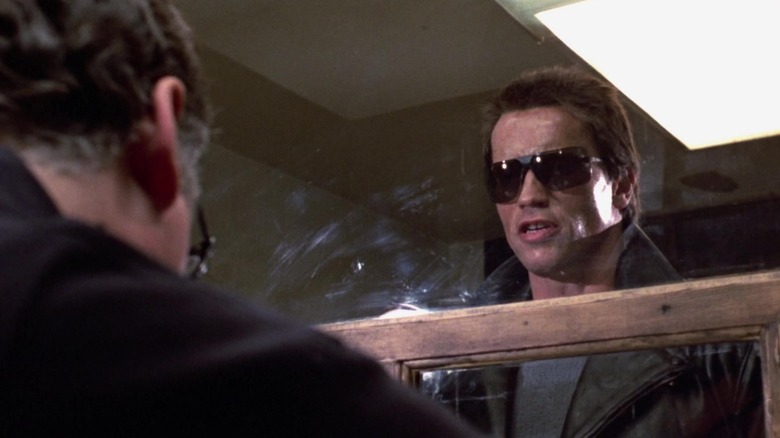 Orion Pictures
One of the most endearing qualities of Arnold Schwarzenegger as an actor is that despite embodying all of the time-honored cliches of the '80s action star, he can twist his bodybuilder persona into a number of memorable and distinct characters. He can annihilate an army of soldiers in a nanosecond through his hyper-masculinity in one movie ("Commando") while becoming the object in another ("Predator").
Schwarzenegger is a man of many talents with so many memorable films under his belt, but the impact of playing "The Terminator" is still felt to this day. It's very telling that the "Terminator" film series has lived and breathed through Schwarzenegger playing some sort of role, whether he's a repurposed tool for the resistance or an all-out robot supervillain. The makeup in both of James Cameron's films shows how truly intimidating the "Terminator" can be, especially when it shows the layering of human flesh covering up the internal mechanical skeleton we see later on. While on location, Schwarzenegger thought it would be funny to use his makeup to scare some folks.
I need your table, your menu, and your wine recommendation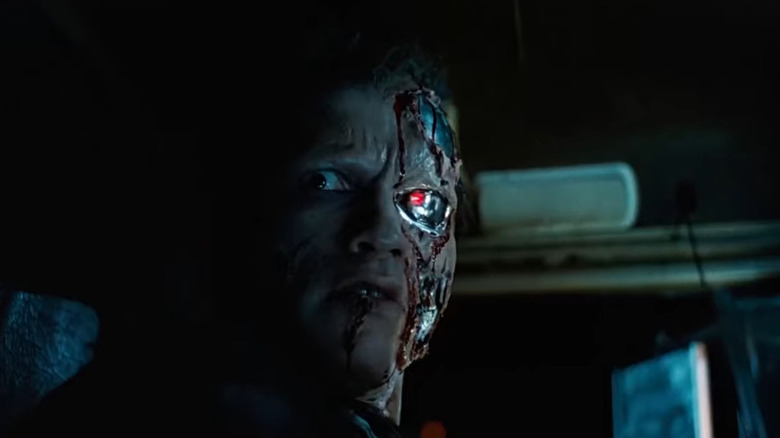 Orion Pictures
While promoting the release of "The Terminator" on "The Tonight Show," Schwarzenegger told Johnny Carson that while on the way to the shooting location, he took a little detour. His makeup resembled that of when the T-800 gets run over by a truck, so naturally, he looked like a lumbering bloody mess. A fancy fine dining restaurant was nearby, so Schwarzenegger decided to go in while still wearing all of his makeup.
Upon approaching the restaurant, he went up to the host and asked for a table as if he were the "Terminator." The funny thing about all of this is that no one knew who this character was yet, so the shock on the host's face when he looked up was understandably that of horror. Apparently, everyone else in the restaurant started freaking out as well, with a lot of them screaming out of the place. "It was the greatest reaction because the makeup was stunning," said a laughing Schwarzenegger.
The "Total Recall" star must have gained a taste for this, because it wouldn't be the last time Schwarzenegger startled unsuspecting folks while dressed in his Terminator garb, albeit under different circumstances.
"The Terminator" is currently streaming on Amazon Prime.