Star Trek: Strange New Worlds Star Ethan Peck Nearly Played Captain America In The MCU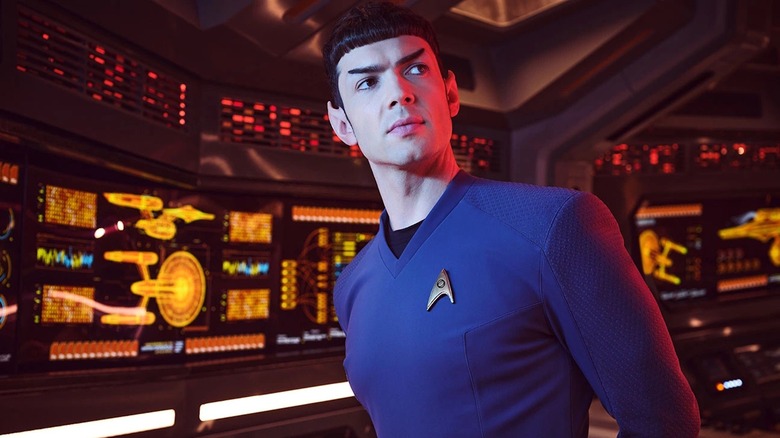 Paramount
Ethan Peck's first professional acting credit came in 1995 with an appearance on the short-lived ABC crime drama "Charlie Grace" with Mark Harmon and Leelee Sobieski. He was nine. At age 13, he appeared in the Olson Twins vehicle "Passport to Paris" before landing a notable gig as the young Kelso in flashback scenes on "That '70s Show." This would only be the first time Peck would play a "legacy" character. In addition to Kelso, Peck inherited the role of Patrick Verona from Heath Ledger in the TV adaptation of "10 Things I Hate About You."
The most notable legacy character in Peck's career to date has, of course, been Spock from "Star Trek," a role he inherited from Leonard Nimoy. Peck's version of Spock fills out the character's backstory for the decade immediately prior to the events of the original series, wherein audiences learned that he had a long lost adopted sister in Michael Burnham (Sonequa Martin-Green), and was briefly on the lam. The second season of "Star Trek: Discovery" was devoted to Spock and other members of Burnham's family, with Captain Pike (and other characters from the original "Trek" pilot) leading the investigation from the bridge of the U.S.S. Discovery. The legacy characters proved to be so popular that Paramount gave them their own series in "Star Trek: Strange New Worlds," a excellent show that just completed its first season. 
Prior to playing Spock, however, Peck revealed at the 2022 Atlanta Dragon Con — as reported in The Direct – that he was also once in line to play Captain America in "Captain America: The First Avenger," a gig that would have carried him to the center of the Marvel Cinematic Universe.
Captain to Commander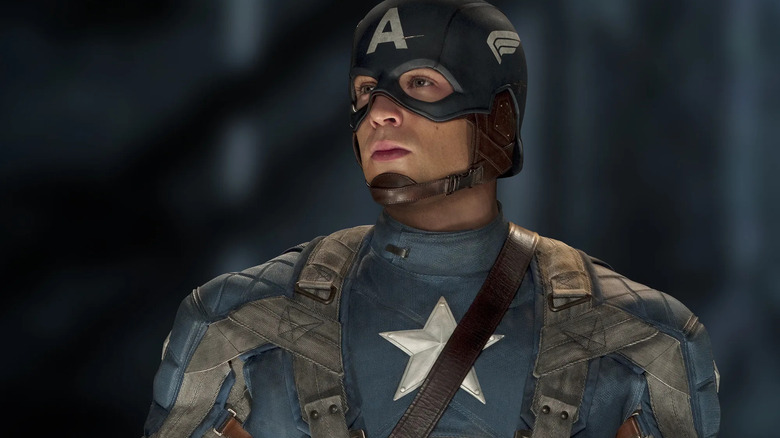 Disney
Back in 2010, the MCU was not yet the ultra-structured machine it has become, and its success wasn't assumed. "Iron Man" and "The Incredible Hulk," while possessed of cutesy interconnected cameos, weren't necessarily meant to be part of a larger tapestry, and "Iron Man" director Jon Favreau once said that the film's Nick Fury appearance was nothing more than "a bit of a lark." When Disney bought Marvel in 2009, they began linking up films in earnest and introducing new characters for the express purpose of including them in future crossover events. One of those characters was Captain America (created by Joe Simon and Jack Kirby), who was to star in a film immediately prior to "The Avengers." 
The role of Steve Rogers would ultimately be filled by a handsome block of wood named Chris Evans (who had previously played the Human Torch in a pair of unrelated "Fantastic Four" movies), but there was a moment when Captain American could have been played by any number of young hopefuls. In a 2010 interview with MTV, Ryan Philippe revealed that he auditioned for the role, as did John Krasinski (who would, many years later, have a cameo in the MCU as an alternate universe Mr. Fantastic). 
Peck, in Atlanta, talked about some of the roles he had auditioned for that he did not get. Peck, it seems, not only auditioned for Captain America, but came pretty close to landing the role. He said: 
"I've had a lot of bad ones and some good ones, I guess. But some memorable ones, I was of a smaller few to be considered for Captain America many years ago, which stands out. And also, I came pretty close to the role of The Deep in 'The Boys.'"
Planet X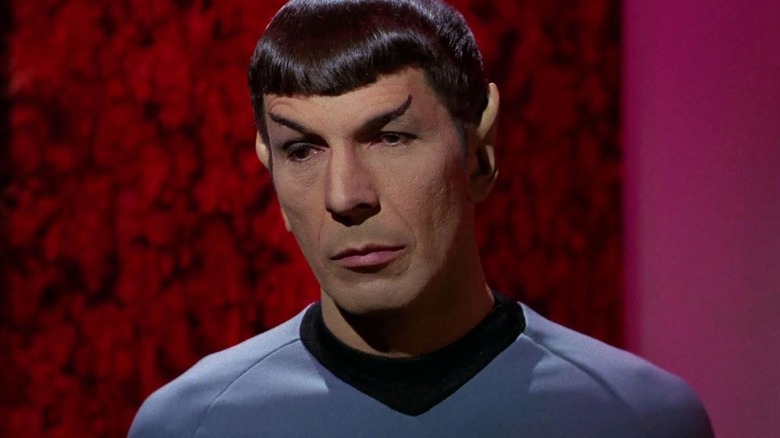 Paramount
When certain roles become popular, the actor playing them can become inextricably associated with it. This is especially true of "Star Trek," which has found multiple actors unable to break out of their singular TV appearances. In a 1994 issue of TV Guide, Brent Spiner, who played Data on "Star Trek: The Next Generation" (and other rleated roles in newer "Trek" shows) openly acknowledged the franchise's unfortunate tendency to swallow up actors. Spiner said:
"If the history of hit TV shows tells us anything, I'll most likely be on the first train to Has-Been City. And that's just a quick stop on the way to Oblivion. There's no getting around it — for the rest of my life I'm Data. I would love to think the audience will instantly accept me as another character. But, in reality. the best I can hope for is that they'll see me in future parts and say, 'Oh, my God, that's Data!' and then forget about it 10 minutes later."
Nimoy, while a successful director and photographer, was acknowledged as Spock first in obituaries. 
Thanks to the 2009 "Star Trek" feature film, which recast characters from the '60s TV series as younger, hipper, modern versions of themselves, audiences proved they were willing to watch new actors in familiar parts. Eventually, superheroes would be rapidly rebooted with notable expediency; there were multiple Batmen and Spiders-Men operating simultaneously throughout the 2010s. By the time "Strange New Worlds" debuted in 2022, many audiences had come to accept new versions of old characters.
Peck may now be forever associated with Spock, but he is also openly accepted as Spock. It certainly helps that he plays the role well.