She-Hulk Star Tim Roth Still Hasn't Seen His Abomination Cameo In Shang-Chi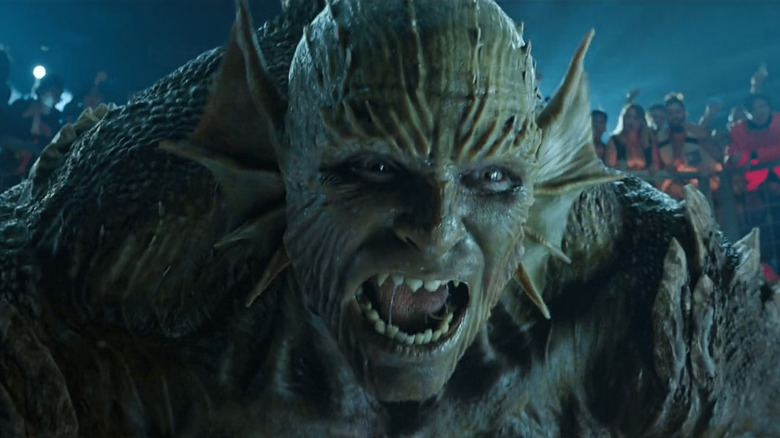 Marvel Studios
The calm, cool, and collected Abomination in "She-Hulk" made his highly-anticipated return to the MCU in "Shang-Chi and the Legend of the Ten Rings," but Tim Roth has yet to see it. The actor behind Emil Blonsky has been relishing his more light-hearted characterization of the Hulk villain on the Disney+ series, but Abomination had a pretty seismic (and exciting) cameo in the Simu Liu-led picture. Blonsky, who now remains in control of his monstrous self, can be seen fighting the Sorcerer Supreme, Wong (Benedict Wong), in an underground arena. Still incarcerated for his crimes in "The Incredible Hulk," Blonsky returned to the cell he resides in (for the time being) on "She-Hulk."
Make no mistake, Roth's brief appearance in "Shang-Chi" is no coincidence. Ever since development started on that show, Marvel planned out Abomination's long-awaited return. The events of the series more than justify his inclusion in the movie, but it seems Roth still hasn't felt the overwhelming need to catch up on the MCU.
'I still haven't seen it'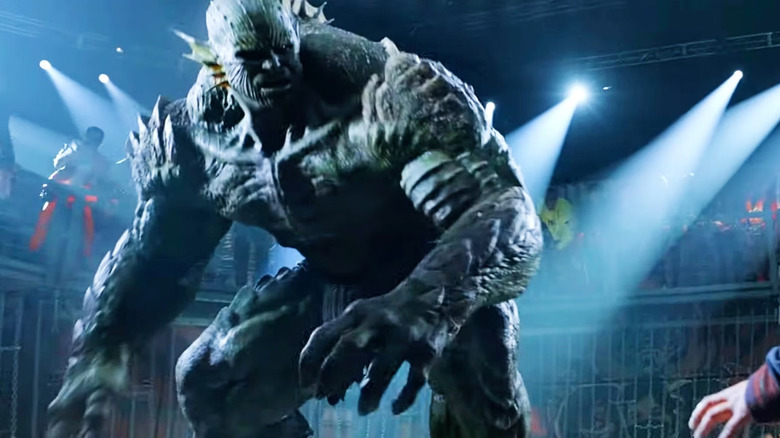 Marvel Studios
Roth talked to Screen Rant about not watching his cameo in the MCU film, before revealing Marvel Studios first approached him about "Shang-Chi" before "She-Hulk."
"It's a weird one. What happened was they asked me if I'd come in and do some voice stuff. I didn't know anything about Shang-Chi. I still haven't seen it; I'm terrible. But I know people loved it. They said, 'We want to have the Abomination in there; the monster version. Would you come in and do the scene?' I think that's the order it went in.'"
It's unfortunate that Roth has not seen the excellent and action-packed "Shang-Chi," but at least he has committed to the further development of the once-villain. Fortunately, Abomination would return on "She-Hulk" and explain why exactly he was fighting in that underground brawl with the very powerful sorcerer. Now a self-proclaimed reformed man, Emil Blonsky has turned a new leaf since destroying a good chunk of Harlem during the events of "The Incredible Hulk."
And as a big fan of the character since his on-screen debut, it is exciting to know Roth is closely involved in the future of Abomination.
Rejoining the MCU for good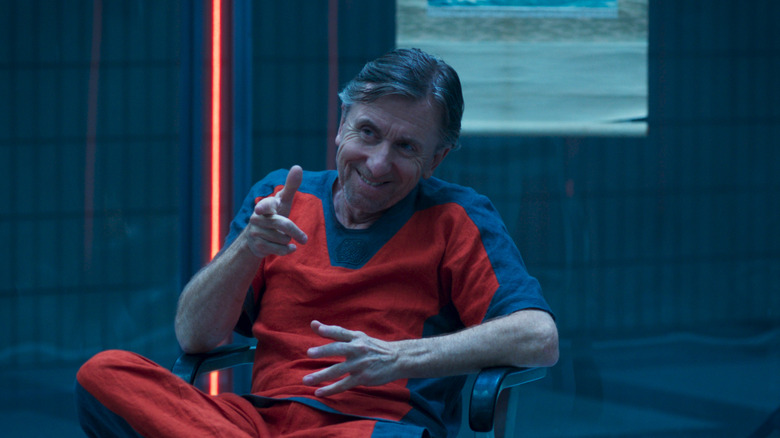 Marvel Studios
The pipeline for Roth's involvement in the MCU is certainly irregular, but that hasn't stopped him from returning to the role indefinitely. Furthermore, it seems as if Marvel already knew what they wanted to do with the character before Roth signed on. The actor elaborated:
"And then they said, 'Can we can we talk?" I said, '...Okay.' I went to speak with Kevin Feige and Wendy [Jacobson] over at Marvel. They told me what they had in mind [for She-Hulk], and they gave me a stack of comic books. It was such fun. They told me what the journey was that they wanted my character to go on, and how it would different, which I thought was such fun. And they kept me involved in it from quite an early stage; we started getting scripts, we would chat, and we would get on Zoom thing."
It's unclear why Marvel Studios waited until after his appearance in "Shang-Chi" to discuss his future in the MCU, but I'm glad to see Roth dug deep into Abomination almost 15 years after "The Incredible Hulk." As long as Abomination continues to evolve — both physically and mentally — they can consider this fan a happy camper. Especially if he remains as suspicious as ever.