Star Wars Bits: John Boyega, Rian Johnson, Rogue One, Andor, Ahsoka, Light And Magic, Obi-Wan Kenobi, Boba Fett, And More!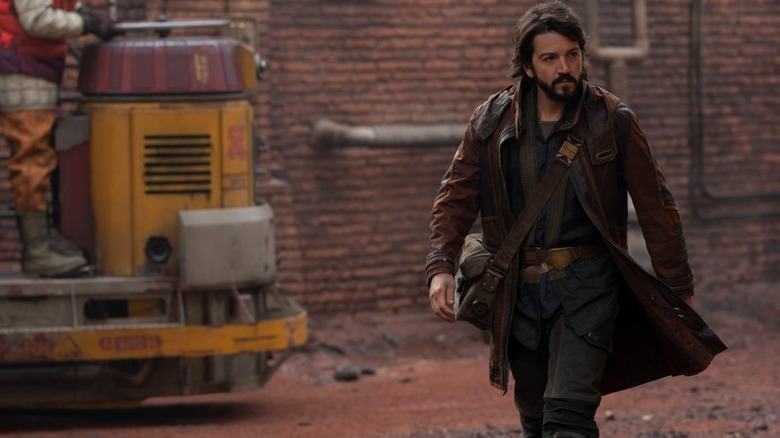 Lucasfilm
In this edition of Star Wars Bits:
John Boyega on Finn's Force Sensitivity
Rian Johnson's "Star Wars" future
"Rogue One" Re-Release Makes $1 Million
And More!
John Boyega on Finn's Force sensitivity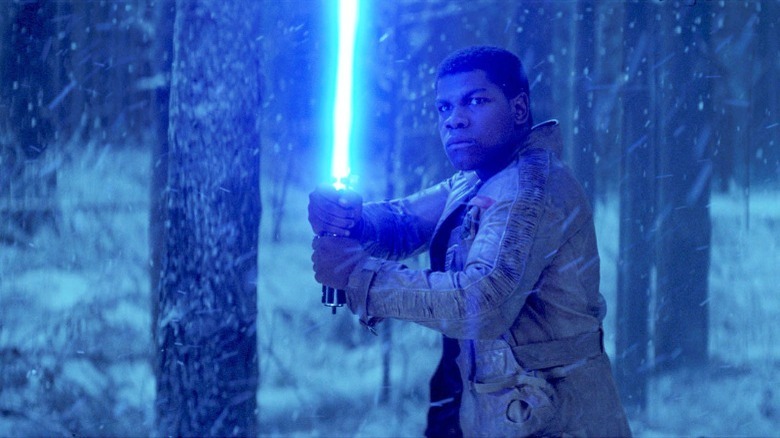 Lucasfilm
John Boyega recently appeared on Happy Sad Confused, where he discussed his "Star Wars" experience with host Josh Horowitz, including what was originally planned for Finn.
"It was a discussion from VII that was kind of brewing, because you didn't know which way it was gonna go, right? And then VIII went in another direction. So I think with VIII going in another direction, when you're bringing someone to the third, they have to kind of like appreciate what's happened in VIII and then still try and make a narrative of it. And J. J. Abrams, I mean J. J. really wanted, Force Awakens is the movie that J. J. directed, he was kind of pinpoint plotting a trajectory. But obviously with the different creative differences in the middle and then getting to the third, it's kind of like he still wanted to just force it in there, just squeeze it in there. And that's when you get the moment between Finn and Jannah where Jannah asks him 'How do you know?' and he says 'It's a feeling'.

So it was interesting when those talks were coming in the first stage. And I thought, obviously, you get the lightsaber, you start swinging, and defending, and I'm like, 'Nah, yeah, yeah,' last time I checked, you can't even just swing that you know a certain type of way. When Han was holding it briefly, what did he do? He held it to like get the locks off or something. It was like manual labor. But you're just using it to defend and you know, you defend your friend, you must have something in you. But, who knows if maybe down the line, they have like a younger actor or whatever, and they try to expand on Finn. Who knows if we get that. We can get to see like what is it about this dude that made him so special."
He also briefly touched on Colin Trevorrow's original script for Episode IX:
"I can't read that one, because I would be heartbroken. I had a sit-down with Colin. I want to say that was one of the best 'Star Wars' meetings I've ever had. Because it felt like two nerds that were like, 'Yes! That's what we wanna see!' And I saw the art, you know? The Stormtrooper rebellion and... That stuff was cold, hopefully Lucasfilm will give him an opportunity down the line to go work on something else, I'm sure they'd love to collaborate with him again."
Listen to the entire conversation on Happy Sad Confused.
Rian Johnson's Star Wars future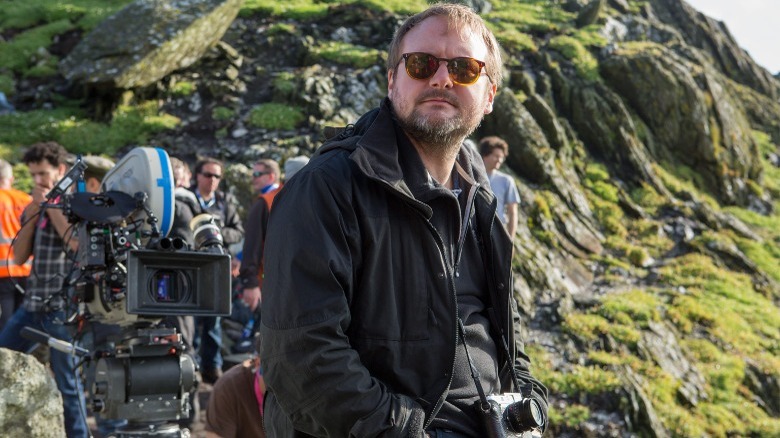 Lucasfilm
On November 9, 2017, just weeks before the theatrical release of "Star Wars: The Last Jedi," Lucasfilm announced that writer-director Rian Johnson would create a brand-new "Star Wars" trilogy. Separate from the Skywalker Saga, the trilogy would introduce new characters "from a corner of the galaxy that 'Star Wars' lore has never before explored."
Five years later and we haven't heard a peep about Johnson's trilogy. Since the announcement, Lucasfilm has expanded into television with hit streaming series like "The Mandalorian," "The Book of Boba Fett," and "Obi-Wan Kenobi," while Johnson has been busy with a different trilogy. After the success of his 2019 film "Knives Out," which grossed $311 million on a $40 million budget, Netflix acquired the rights to two sequels for $450 million. The first sequel, "Knives Out: Glass Onion," is due out later this year. 
Empire Magazine published a new interview with Rian Johnson where he provided an update on the long-dormant project:
"I've stayed close to Kathleen [Kennedy] and we get together often and talk about it. It's just at this point a matter of schedule and when it can happen. It would break my heart if I were finished, if I couldn't get back in that sandbox at some point."
If Johnson does return to that galaxy far, far away, it probably won't be until 2025 at the earliest. 
Rogue One re-release makes $1 million
To celebrate "Andor" coming to Disney+ on September 21, Disney re-released "Rogue One: A Star Wars Story" on IMAX last weekend. According to Collider, the re-release raked in $1 million in ticket sales over the weekend, bringing the 2016 film's total gross on IMAX to $105 million, making it one of the top 10 highest-grossing films released in the format. 
Speaking of "Andor," have you seen the new poster? It's pretty sweet, though it could use some dang space aliens. At least my sweet droid boy B2EMO made the cut. 
Star Wars: Rebels & Ahsoka
Will the next "Star Wars" animated series take place before, during, or after the Galactic Civil War? Join The Resistance Broadcast, the official podcast of Star Wars News Net, for a discussion on what the future of "Star Wars" looks like after "Ahsoka."
RRR is a great Star Wars movie
Star Wars Explained has a new video on exploring the characters and themes of "RRR," the Indian epic action drama written and directed by S. S. Rajamouli, and how the film captures the spirit of "Star Wars."
Live Action Light & Magic
Ralph and James at Live Action Star Wars are doing a weekly review series of "Light & Magic," the six-part docuseries about Industrial Light & Magic, directed by Lawrence Kasdan. Check out their thoughts on Part 6, "No More Pretending You're Dinosaurs," above.
Sideshow Collectibles Obi-Wan Kenobi
Obi-Wan Kenobi Droid Factory 4-Pack
Bossk's Bounty has a video review of the Disney Obi-Wan Kenobi Droid Factory 4-Pack, which includes R3-T2, NED-B, Viper Probe Droid, and 1-JAC.
S.H. Figuarts Boba Fett
TFNUT gives his impressions of the new S.H. Figuarts Boba Fett figure from "The Book of Boba Fett." The six-inch figure is due for release in January 2023 and is priced at $95.
Scotty Holiday Too's Star Wars collection
Scotty Holiday Too has a new video in which they take us through some of the ships and vehicles in their "Star Wars" collection. 
Disneyland Galaxy's Edge updates
This Week! in Star Wars
On This Week! in Star Wars, host Kristin Baver gives us the lowdown on all the latest news from that galaxy far, far away.
"This week in Star Wars, StarWars.com shares 20 favorite fun facts we learned from 'Light & Magic,' streaming now on Disney+, and we crack open Marvel's 'Star Wars' #27. Plus, we declare #MothMadness and take a deep dive into Mon Mothma ahead of her appearance in 'Andor.'"