How Bronson Became A Challenging Four-Year Process For Tom Hardy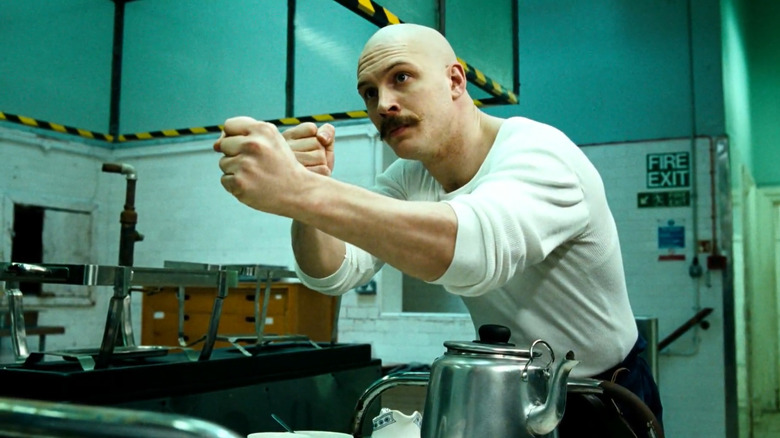 Vertigo Films.
Born Michael Peterson, the British criminal best known as Charles Bronson — and now going by Charles Salvador — was once called the most violent prisoner in Britain by the Guardian. Salvador has notoriously spent most of his life in prison, having been convicted for, in the words of the BBC, armed robbery, wounding, wounding with intent, criminal damage, grievous bodily harm, false imprisonment, blackmail, and threatening to kill. Salvador has a penchant for getting into violent fistfights in prison, and was given his movie-star nickname from his brief days on the outside as a professional bare-knuckle fighter. Salvador was also known for his outsized personality, amusing theatrics, and unusual hobbies; he wrote books about how to stay fit while in solitary confinement, and he is a self-styled painter and artist.
Bronson was a colorful enough to warrant a biopic in 2008, starring Tom Hardy in the title role. Nicholas Winding Refn directed Bronson's life as an impressionistic theatrical experience, featuring frequent surrealist asides wherein Bronson would directly address the camera. 
"Bronson" was kind of Hardy's breakout film, as it was the film that made critics first sit up and notice of his talents (although Trekkies had been following him since his appearance as a young Capt. Picard clone in "Star Trek: Nemesis" six years earlier). Hardy, as he revealed in a 2009 interview with Interview, had actually been attached to the project for years prior to filming, but he and director Refn initially didn't get along. Those years of prep also saw Hardy writing to Salvador, and eventually visiting him in prison.
Rough with Refn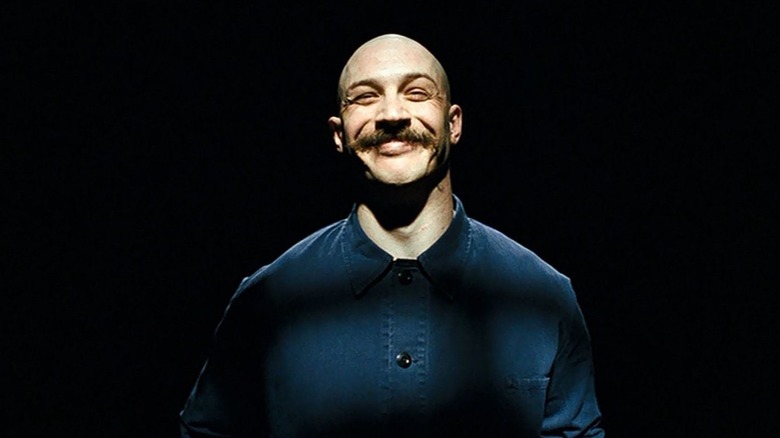 Vertigo Films
It turns out Hardy and Refn didn't just have a bad first meeting, they had a bad relationship all around. As Hardy tells it, he and Refn had such a bad first meeting — they merely had mismatched personalities — that Hardy was let go from the project entirely. Despite this, and Hardy doesn't explain why, Refn would eventually call Hardy back, and "Bronson" would be put back on track with Hardy in the lead.
"From conception and when I first met the guys with the script. It belonged to another director at that point, and the producer then took it to Vertigo. Then it went to Nicolas Winding Refn, and he didn't like me, I didn't like him, and he offered the film to someone else. Then a year later he came back to me and I started writing to Charlie."
When asked about their antagonistic relationship, Hardy reveals that he and Refn did manage to stay professional, even if they kind of hated each other. Not all directors get along with their muses, as anyone who knows about the notorious relationship between Werner Herzog and Klaus Kinski can attest. Hardy doesn't give details, but he does confirm that he and Refn were, quite simply, not compatible. "[W]e just didn't see eye to eye as human beings," Hardy said. "We just rubbed each other the wrong way and continued to rub each other the wrong way."
It was that rubbing the wrong way that seemingly delayed "Bronson" for a fateful year. That, and the usual behind-the-scenes rigmarole about securing more money. That delay, it turns out, also upset the real Charles Bronson.
Charlie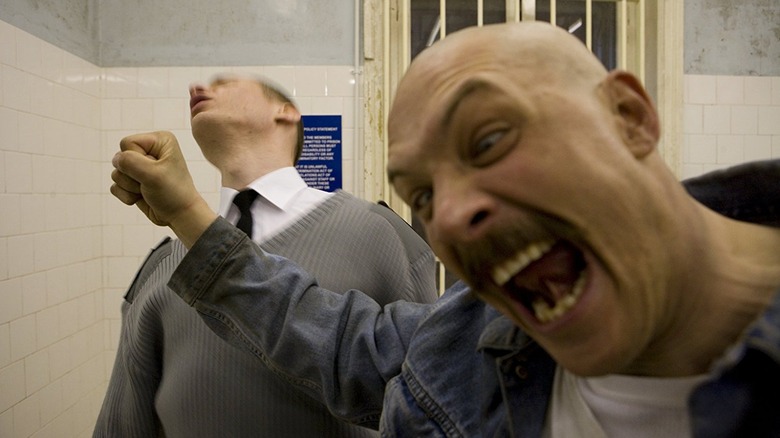 Vertigo Films
It might have been bad enough having Refn mad at him, but the delay in production also had Salvador angry at Hardy. Previously, Hardy and Salvador had only been corresponding through letters, and when word of production delays reach Salvador's prison, he began to assume that Hardy was trying to get out of the job deliberately. Hardy had to meet with Salvador in person in order to set the record straight. 
"Charlie got very angry because he thought I didn't want to play him and that wasn't the case at all, and he demanded to see me and I ended up calling his sister and got in touch with the family and then I started visiting him for two years and then the story slowly got financing."
Delays and tempestuous collaborations seemed to be the lifeblood of the "Bronson" production. Hardy mentioned that tensions were high on set, but that ultimately served him well as an actor. The final film is full of violence, edge, and energy. It feels like a fist to the face. It's possible that if Hardy and Refn had been friendly, a lot of the film's manic insanity would have been diminished. And it's something Hardy wouldn't have minded doing again. In his words: 
"Yeah, it's often the way with collaborations when you work with desperately individual people and then put them together as a team there are going to be fireworks or disgruntlement and we had our fair share of disagreements, but having said that I loved working with Nic and I would love to work with him again. I know that I'm going to have an argument with him, but I wouldn't have it any other way."
"Bronson" is currently widely available on streaming. Salvador's books are still in print.