The Mighty Ducks: Game Changers Season 2 Trailer: The Team Heads Off To Summer Hockey Camp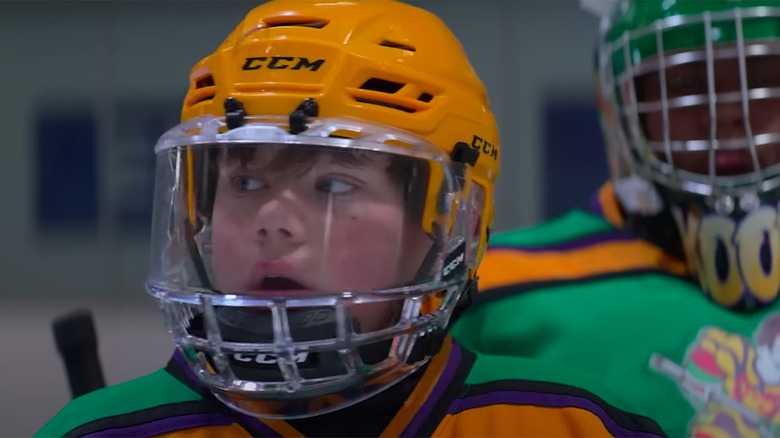 Disney+
"The Mighty Ducks: Game Changers" brought a new generation of peewee hockey players to Disney+ last spring. In the show's first season, 12-year-old Evan Morrow (Brady Noon) was cut from the titular team, which had turned into an ultra-competitive powerhouse. His mother, Alex (Lauren Graham), formed a new team of ragtag underdogs called the Don't Bothers, and she even got some reluctant but much needed help from former Mighty Ducks coach and hockey player Gordon Bombay (Emilio Estevez), who had since become the owner of a low level ice rink. 
Of course, by the end of the first season this team of misfits and their mismatched coaches banded together, and in an unofficial but crucial game with a high stakes bet, the Don't Bothers defeated the elite Mighty Ducks and took the team name for themselves. But in the upcoming second season of "Game Changers," the Ducks will be out of their element all over again, as they make an effort to improve their skills by heading to EPIC (the Elite Performing Ice Center) in California for an intense summer hockey institute run by a former NHL player (Josh Duhamel), who doesn't exactly have the patience for the relatively inexperienced Ducks and their frequently silly antics. Get a sneak peek below.
Watch The Mighty Ducks: Game Changers season 2 trailer
Clearly, the Mighty Ducks have some trouble fitting into the strict training regimens under the supervision of former NHL player Colin Cole (Duhamel). While Alex is all about the fun spirit of hockey and keeping the kids' spirits up, Cole is all about creating finely tuned athletic machines who can skate like the wind and drill hockey pucks straight into the goal. That makes for some amusing mismatching, especially when it comes to the hilarious Maxwell Simkins as Evan's friend Nick, who just can't deal with not having pizza and running through the woods.
Undoubtedly, Cole and Alex will end up teaching each other something about hockey and life, and the kids will step up to their next challenge without losing their fun-loving identities in the process. But it'll be how they get there that hopefully makes the series another entertaining watch.
The only problem is the unfortunate lack of Emilio Estevez as Gordon Bombay. Sadly, the franchise star allegedly declined to follow COVID-19 vaccination policies, so he was left on the bench this season. Interestingly enough, when Duhamel was cast for the second season of "Game Changers" it was said that he was replacing Estevez, but this feels more like Duhamel was always going to be in this role, regardless of Estevez's involvement. So what we might be missing instead is Bombay clashing with Cole alongside Alex. 
Even without the presence of Gordon Bombay, it feels like we're getting a second season that follows in the footsteps of "D2: The Mighty Ducks."
Off to California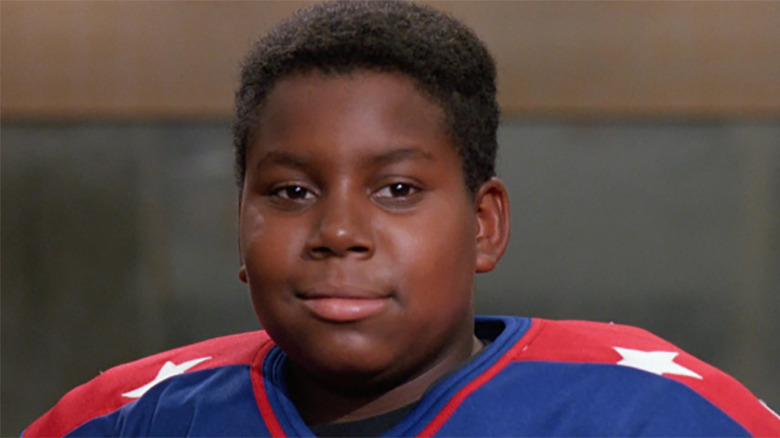 Disney
Just as "D2: The Mighty Ducks" sent the team off to California to compete in the Junior Goodwill Games, the second season of "Game Changers" finds them in California for this summer hockey institute. Similar to the international teams in competition, it appears the Ducks will have their work cut out for them when it comes to competing against the other teams in attendance. 
Since we're without Gordon Bombay, and it's not likely that any of the original Mighty Ducks will make their way out to California all the way from Minnesota just for another round of mentoring, I think we have a pretty good idea of where the nostalgia will come from this season. Let's not forget that "D2: The Mighty Ducks" introduced us to Russ Tyler (Kenan Thompson), who calls California home. It would make perfect sense for Tyler to show up here, especially since franchise writer and series executive producer Steven Brill previously revealed their hopes to bring Kenan Thompson back to reprise the role. Maybe he'll even teach the knucklepuck to one of the new Ducks.
We'll just have to wait and see what happens. In the meantime, here's the official synopsis for the second season of "The Mighty Ducks: Game Changers" on Disney+:
After winning back the Mighty Ducks team name last year, our squad-with-heart and their coach Alex Morrow (Lauren Graham) take to the road to attend an intense summer hockey institute in California run by charming yet hardcore former NHL player, Colin Cole (Josh Duhamel). It's a place for kids to get excellent at hockey — without school to get in the way. As our Ducks try to survive in this super-competitive environment, they're faced with the question: Can you win summer?
"The Mighty Ducks: Game Changers" returns to Disney+ starting on September 28, 2022.