The 15 Best Al Pacino Movies, Ranked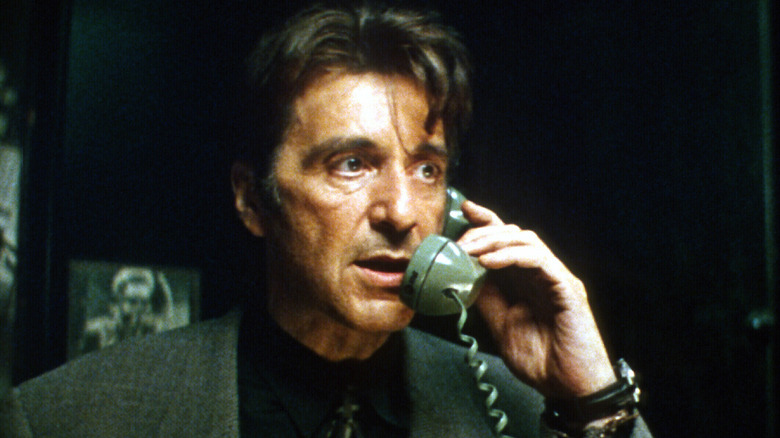 Warner Bros.
Alfredo James Pacino, or Al Pacino as he's more widely known, is one of Hollywood's most iconic actors, known for his intense and riveting performances across a varied but often gritty portfolio of films. Whether playing a mob boss, a cop, a coke-addled drug lord, or even the Devil himself, the nine-time Oscar nominee and Academy Award winner has brought his signature vigor and smoldering intensity to each and every role. 
Not only has the octogenarian delivered outstanding performances throughout his more than 50-year career, but many of the films he's starred in are considered all-time classics. That's a real win-win for all of us, if you ask me. How do you rank a filmography as great and iconic as his? It's not going to be easy, but we're about to try. Join us as we dive into Al Pacino's impressive roster of movies and rank the 15 best.
If you or anyone you know is struggling with addiction issues, help is available. Visit the Substance Abuse and Mental Health Services Administration website or contact SAMHSA's National Helpline at 1-800-662-HELP (4357).
15. The Panic in Needle Park (1971)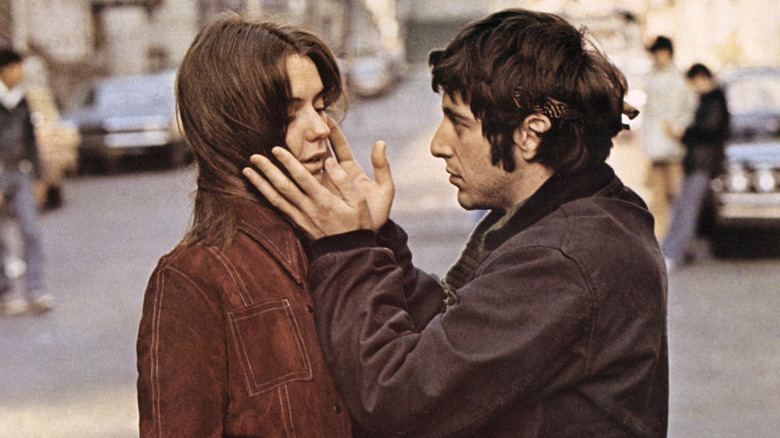 20th Century Fox
Al Pacino's first lead role was that of a heroin addict in the harrowing New York City-based drama "The Panic in Needle Park." The story centers around the doomed love affair between a street hustler named Bobby (Pacino), and a troubled young woman named Helen (Kitty Winn) as Bobby introduces her to heroin and they both descend into addiction.
The film is notable for its realistic depiction of drug use for its time, with a script adapted by Joan Didion from the book by James Mills, who had previously covered the drug subculture around "Needle Park," aka the real-life Sherman Square in New York, for Life magazine. "The Panic in Needle Park," gave the world an early glimpse of Pacino's talents on the precipice of his big breakout as a major star, teeing up his path as a go-to guy for gritty dramas. Kitty Winn, meanwhile, won Best Actress at the Cannes Film Festival for her role in the film. But this was only the beginning of the greatness that would mark Al Pacino's career, as the best was still yet to come.
If you or anyone you know is struggling with addiction issues, help is available. Visit the Substance Abuse and Mental Health Services Administration website or contact SAMHSA's National Helpline at 1-800-662-HELP (4357).
14. The Devil's Advocate (1997)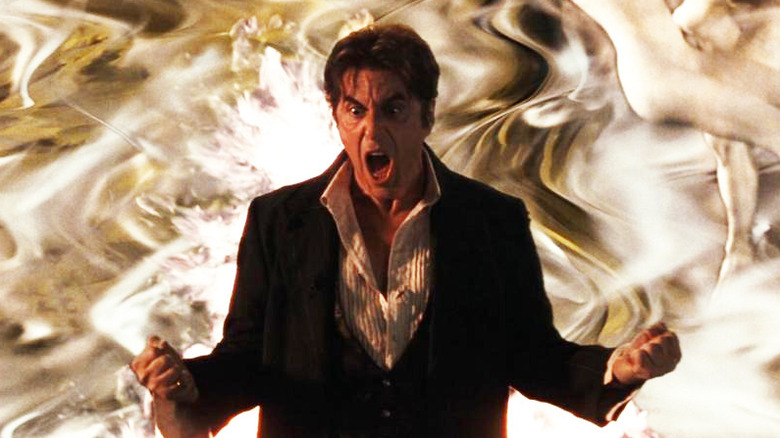 Warner Bros.
Al Pacino's flair for the dramatic served him well in "The Devil's Advocate," in which he gives an appropriately over-the-top performance as none other than Satan himself. The story revolves around a young defense lawyer, Kevin Lomax (Keanu Reeves), who, after helping a guilty man go free, is recruited from Florida to New York City to join a firm owned by the enigmatic John Milton (Pacino). Kevin and his wife Mary Ann (Charlize Theron) try their best to settle into life in the big city, but things soon take a dark turn as Mary Ann starts having visions of demons and Kevin becomes drawn to a seductive co-worker, Christabella. Kevin eventually learns the dark nature of Milton's true identity, culminating in a fiery ending.
While it's not as hard-hitting or serious as some of Pacino's other works, the stylishly atmospheric "The Devil's Advocate" benefits from a truly committed cast, resulting in a devilishly entertaining, '90s-rific gem. Is it better than "The Panic in Needle Park"? Well, that's subjective, but I would say that only one of these films also stars Keanu Reeves, so you be the judge.
13. Donnie Brasco (1997)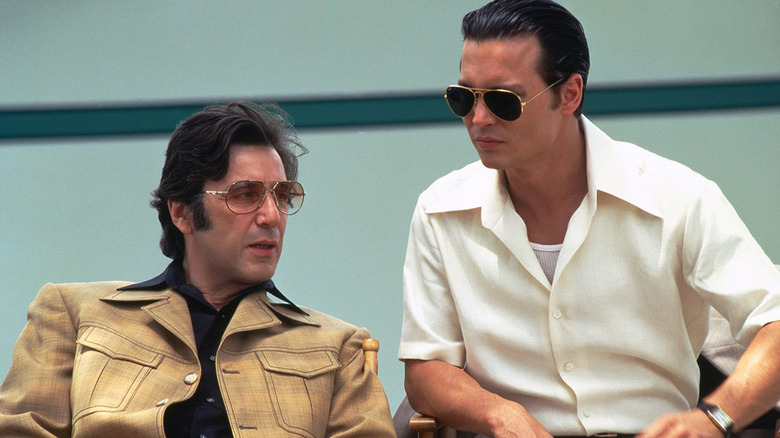 Sony Pictures Releasing
Al Pacino has played a mob man several times in his career, while skillfully managing to keep each role uniquely compelling. In "Donnie Brasco," he plays real-life 1970s Mafia hitman "Lefty" Ruggiero to great effect opposite Johnny Depp as the titular undercover informant.
Lefty helps bring "jewel thief" Donnie Brasco into the crime family, but unbeknownst to him, Donnie is actually an FBI agent whose real name is Joe Pistone. When Joe/Donnie ends up befriending Lefty, however, it makes completing his assignment a difficult choice, especially given the knowledge that it will lead to Lefty's murder.
Mike Newell directed the gripping and well-acted crime drama, which was based on the nonfiction novel by the real Joe Pistone titled "Donnie Brasco: My Undercover Life in the Mafia." While "Donnie Brasco" is one of the 15 best Al Pacino films, it's one of the lesser mafia-centric films in his portfolio, if only by virtue of the fact he's made so many good ones, hence its relatively low ranking.
12. Scent of a Woman (1992)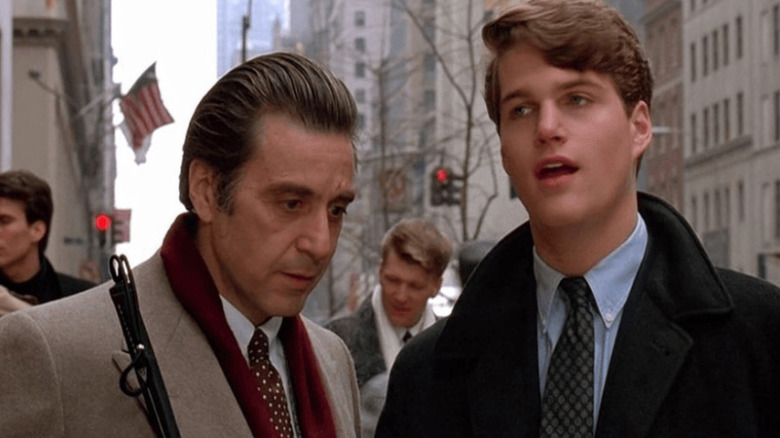 Universal Pictures
"Hoo-ah!" Al Pacino's memorable catchphrase from "Scent of a Woman" must have struck a chord with Academy voters, who handed him his first and only Oscar win for his feisty performance as a blind, extremely cantankerous retired Army Lieutenant Colonel named Frank Slade. 
Chris O'Donnell plays Charlie, a prep school student who accepts a gig looking after Frank in order to pay for a trip home, only to discover Frank is a total pain in the rear. Frank takes Chris on an unexpected trip to New York City, where he admits to Chris that he's been planning to end his life. 
"Scent of a Woman" is less gritty and more sentimental than Pacino's usual works, but it's a poignant crowd pleaser that resonated with viewers and the Academy alike. In addition to Pacino's Best Actor win, the film was nominated for Best Picture, Best Director, and Best Adapted Screenplay. Still, "Scent of a Woman" hasn't aged quite as well as some of his other films perhaps, especially when viewed as part of his impressive collective body of work.
If you or anyone you know is having suicidal thoughts, please call the National Suicide Prevention Lifeline​ by dialing 988 or by calling 1-800-273-TALK (8255)​.
11. Insomnia (2002)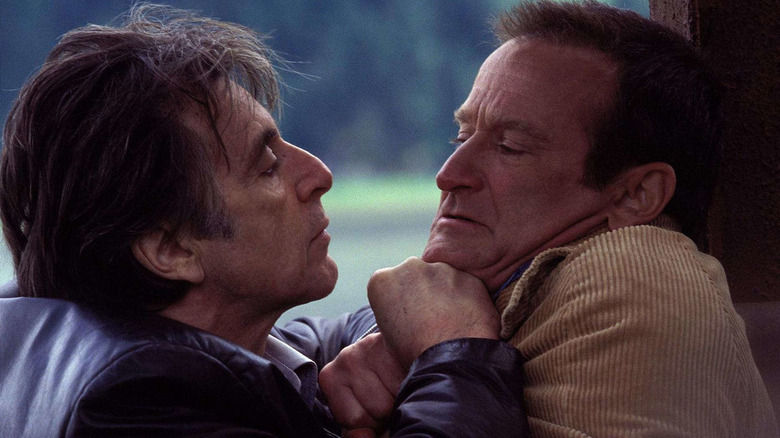 Warner Bros.
Christopher Nolan has a knack for directing smart, atmospheric psychological thrillers, and "Insomnia" is an underseen and underrated work. The movie features great performances not only by Al Pacino but also by the late Robin Williams in one of his darker dramatic roles.
Pacino plays LAPD Detective Will Dormer, who is called to the tiny village of Nightmute, Alaska to investigate the murder of a 17-year-old girl. But things get complicated for him when he mistakenly shoots his own partner during a foggy pursuit, then chooses to deflect the blame. He subsequently develops insomnia, which is only exacerbated by both the endless daylight of the northern locale and the cat-and-mouse game that ensues between himself and the lead suspect in the girls' murder, crime writer Walter Finch (Williams).
Based on the critically-lauded 1997 Norwegian film of the same name, Nolan's "Insomnia" is both riveting and unsettling in equal measure, and certainly worth revisiting as the movie scratches at the door of Pacino's top movies of all time. 
10. Serpico (1973)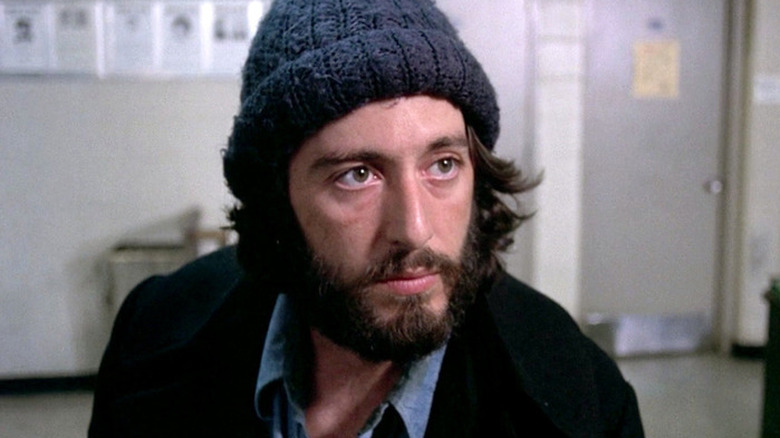 Paramount Pictures
Esteemed director Sidney Lumet made a number of great films in his long and fruitful career, many of which garnered Academy Award nominations, including the two pictures he made that starred none other than Al Pacino. Entering our Top 10, "Serpico" was the first film in which the two heavy hitters teamed up, in the midst of an incredible run in both of their careers.
Pacino stars as real-life NYPD officer Frank Serpico, who, faced with a litany of corruption within the police force, declines to bend to peer pressure and ends up going public against his fellow officers' misdeeds, which essentially places a target on his own back. His powerhouse performance as the idealistic cop earned him an Oscar nomination for Best Actor, helping solidify his reputation early on as an actor of immense intensity and gusto, and contrasting interestingly to his many characters on the other side of the law.
9. The Insider (1999)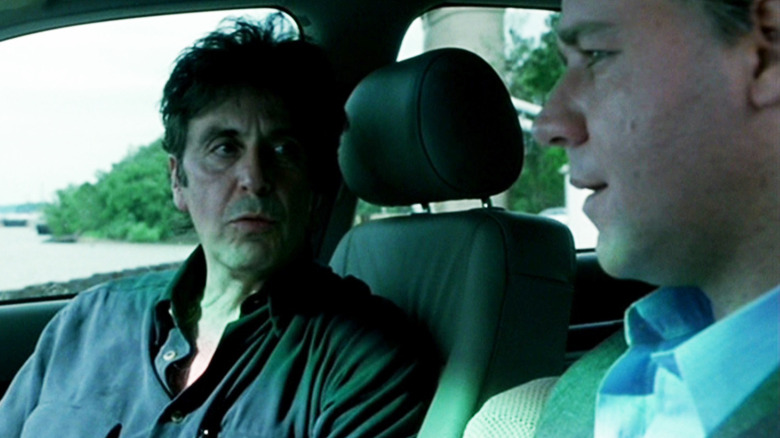 Buena Vista Pictures
Another director Al Pacino has worked with twice in his career with winning results is Michael Mann. His second collaboration with the filmmaker, 1999's "The Insider," was nominated for a whopping seven Academy Awards.
Here, Pacino plays real-life CBS television producer Lowell Bergman, who persuades a Big Tobacco executive, Jeffrey Wigand (Russell Crowe), to come forward with industry secrets. In doing so, they come up against intense pressure in the form of lawsuits and death threats in an effort to stop the truth from being told.
As with other Mann works, "The Insider" is a riveting thriller with outstanding performances by its two leads. Its message on the importance of speaking truth to power against all odds remains as relevant now as ever. 
8. Carlito's Way (1993)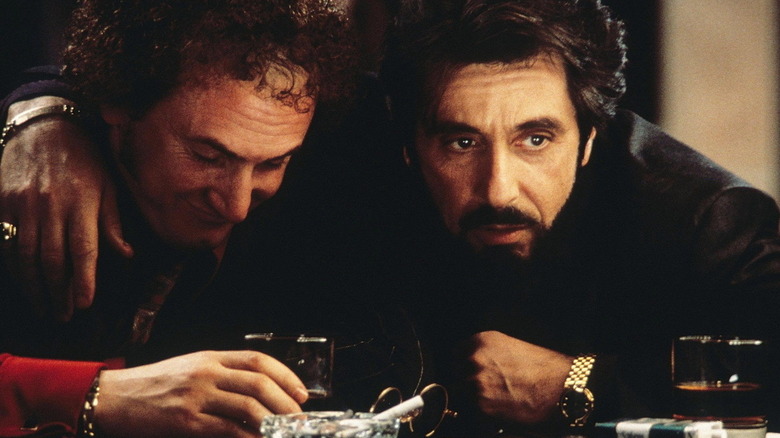 Universal Pictures
Yet another winning pairing of director and talent, the excellent "Carlito's Way" reunites Al Pacino with his "Scarface" director, Brian De Palma. The crime drama thriller also sees Pacino teaming him up with Sean Penn, John Leguizamo, and Penelope Ann Miller in an emotionally resonant tale of a career criminal who intends to turn his life around, only to get sucked back into his old ways.
When Carlito (Pacino) is released from prison thanks to his friend and lawyer, Dave Kleinfeld (Penn), he plans to go straight. However, it's not long before he gets into trouble with a gangster named Benny (Leguizamo), putting a damper on his plans to run off to the Caribbean with the woman he loves (Miller). Directed with panache by De Palma, "Carlito's Way" is as stylish, energetic, and haunting a crime drama as they come, easily earning its place in the Top 10.
7. The Irishman (2019)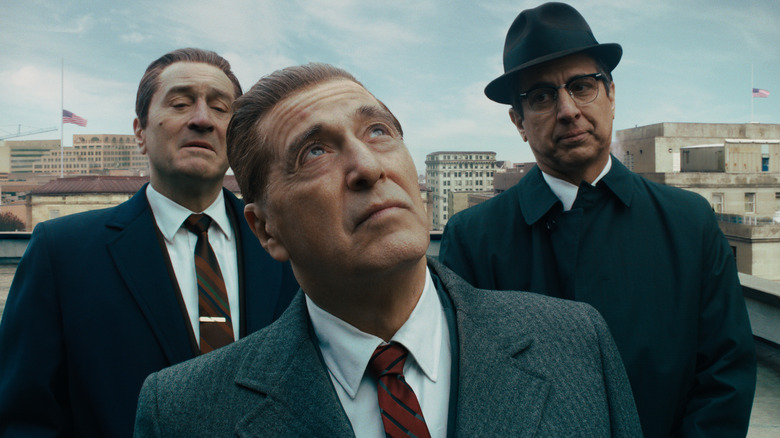 Netflix
While Al Pacino has found himself starring in a number of epic gangster movies as either a cop or a gangster, Martin Scorsese's "The Irishman" gave him an opportunity to explore a slightly different type of character as the powerful real-life Teamster Jimmy Hoffa.
Based on the nonfiction book "I Heard You Paint Houses," the film revolves around WWII vet-turned truck driver (and titular character) Frank Sheehan (Robert De Niro), who winds up rising through the ranks of the Bufalino crime family to become their number one hitman while befriending Hoffa along the way. Though it has never been proven, both the book and the movie suggest that the mob put out a hit on Hoffa, who disappeared in 1975, and that Sheehan was the man who pulled the trigger.
"The Irishman," which was notable for the digital de-aging techniques employed on the actors, offered a great showcase for the talents of an older crew of Hollywood heavyweights still at the top of their game; Scorsese and most of the main cast were over 75 when the movie was released. Pacino's powerful performance earned him a Best Supporting Actor nomination, one of 10 total Oscar nods for the film.
6. Glengarry Glen Ross (1992)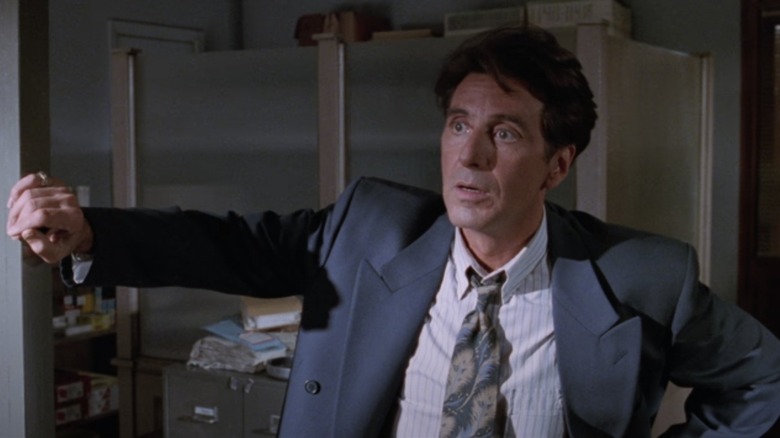 New Line Cinema
"ABC...Always. Be. Closing!" That's the edict set forth by Alec Baldwin's aggressively assertive salesman character, Blake, in the great "Glengarry Glen Ross." This film adaptation of David Mamet's Pulitzer prize-winning play revolves around a group of washed-up salesmen tasked with going after the Glen Ross real-estate leads, most of which consist of people who can't afford or simply aren't interested in buying the land developments for sale. 
The firm sends Blake to motivate the men, by first berating them and then offering both a promise and a threat: those who sell the most will gain access to the coveted Glengarry Highlands leads, while those who fail will lose their jobs. Al Pacino plays the cutthroat Ricky Roma, who hustles an insecure client into purchasing a plot, but the situation is complicated when two of the other salesmen conspire to steal the leads.
"Glengarry Glen Ross" is an enduring classic, with flawless performances across the board. Pacino's role might not be the largest in the film, but that didn't stop him from snagging its only Oscar nomination for Best Actor in a Supporting Role. 
5. Scarface (1983)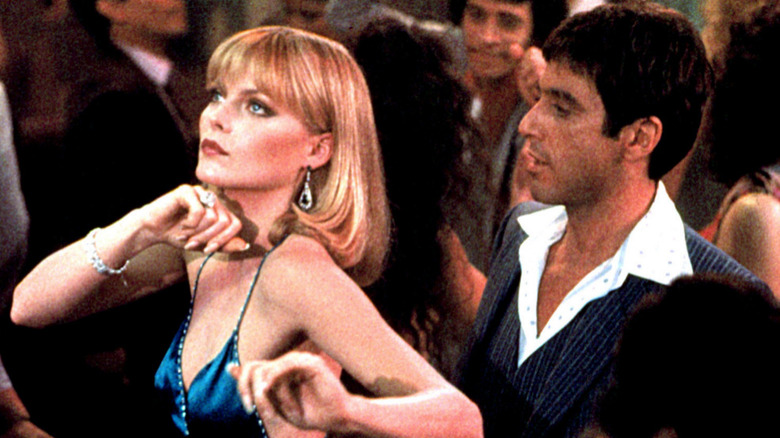 Universal Pictures
There's no doubt that the character of Tony Montana in Brian De Palma's epic crime drama "Scarface" is one of Al Pacino's most iconic roles. An updated remake of the 1932 movie of the same name, the sweeping saga charts Tony's rise from penniless Cuban refugee to a wealthy drug lord, while he destroys himself and everything else around him in the process, including his relationship with wife Elvira (Michelle Pfeiffer) in the process.
Tony's final scene, trapped in his mansion, surrounded by mountains of cocaine while brandishing an AR-15 gun against the feds and screaming, "Say hello to my little friend!" is a perfect encapsulation of both the allure and the dark side of the so-called American dream. Perhaps that's why it's managed to remain a fixture in our cultural zeitgeist.
As far as the casting choice to have Pacino play someone of Cuban descent, it will be interesting to see if director Luca Guadagnino's announced remake will continue with a Cuban protagonist, and who he will cast if so.
If you or anyone you know needs help with addiction issues, help is available. Visit the Substance Abuse and Mental Health Services Administration website or contact SAMHSA's National Helpline at 1-800-662-HELP (4357).
4. Heat (1995)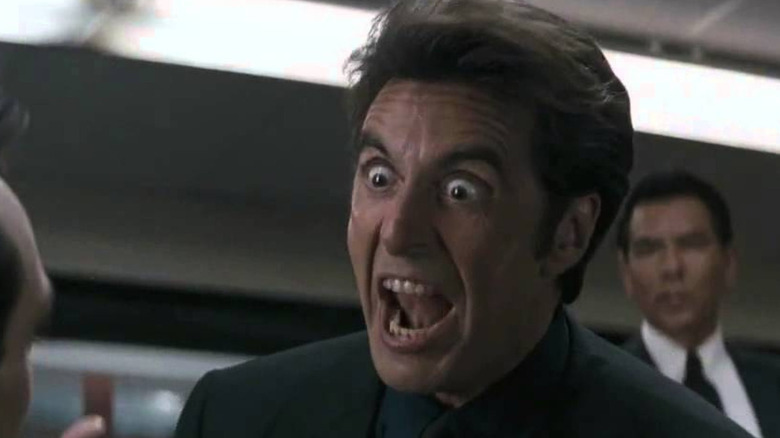 Warner Bros.
Al Pacino has a remarkable filmography, and one of the greats within it is the one in which he emphatically declares, "She's got a great a**"! That film is none other than Michael Mann's "Heat," which also happens to mark the second time Pacino would star in a film with his friend Robert De Niro. Despite the fact that they both acted in "The Godfather Part II," the two had never appeared in the same scene together. Even in "Heat" they are kept apart except for a single diner scene which is cut so that you never see both of their faces at the same time on the screen.
Pacino plays a dedicated LAPD detective, Vincent Hanna, who is tasked with tracking down master thief Neil McCauley (De Niro). Though on opposite sides of the law, they're both hyper-dedicated to their respective careers and adept at their crafts, and eventually they develop a mutual respect for and understanding of each other. It's a super sleek, stylish, and compelling crime drama that marks a high point in Michael Mann's career, as well as that of its stars, easily landing it in Top 5 territory.
3. Dog Day Afternoon (1975)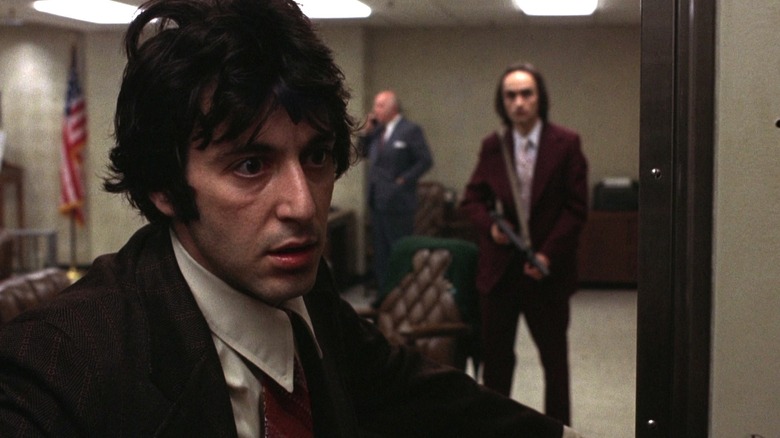 Warner Bros.
Once again pairing Al Pacino with the great Sidney Lumet, "Dog Day Afternoon" remains one of Pacino's very best films, with one of his all-time greatest performances. Based on real events, the film chronicles a Brooklyn bank robbery by high-strung Vietnam veteran Sonny Wortzik (Al Pacino) and his accomplice Sal Naturile (John Cazale). Their would-be heist starts off as a big idea with a simple concept but quickly goes bad as the situation escalates into a hostage crisis. 
Soon the media show up in addition to the cops, and the whole thing turns into a circus broadcast live for the world to see. The crowd eventually cheers Sonny on, while it's also revealed he's attempting to get the money to pay for a sex change operation for his lover, Leon (Chris Sarandon).
"Dog Day Afternoon" is a fascinating dissection of a plan spun out of control, while also serving as an effective snapshot and critique of American society in the 1970s. Pacino's Sonny elicits empathy as a stand-in for the everyman failed by the system, while the brilliant John Cazale, who died of cancer three years after the film's release, turns in a complex and moving performance as the more introspectively desperate Sal. Pacino and Sarandon received Oscar nominations for their roles.
2. The Godfather (1972)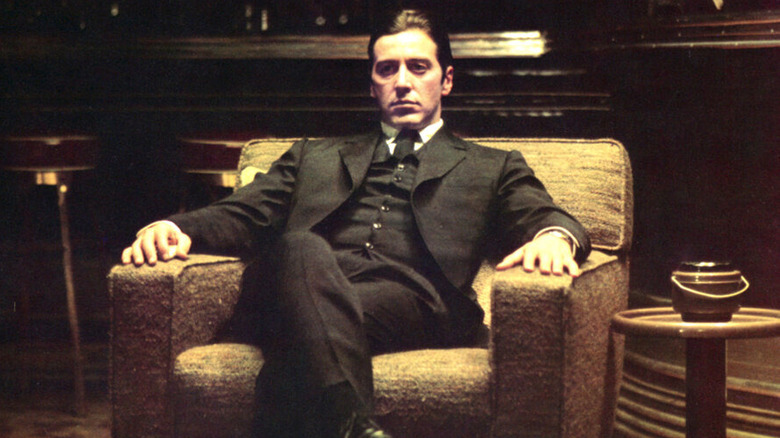 Paramount Pictures
Based on Mario Puzo's bestselling novel of the same name, and widely considered to be one of the greatest movies of all time, Francis Ford Coppola's "The Godfather" is as compelling a saga as they come. It's a sweeping tale of power, lawlessness, tradition, family, duty, loyalty, and betrayal that highlights the dark side of power and the corruption of the American Dream. It's no wonder it was nominated for 11 Oscars, including a nod to Al Pacino for Best Supporting Actor.
"The Godfather" charts the story of the fictional Corleone crime family, led by the titular Don, Vito Corleone (Marlon Brando), who finds himself fighting to keep his spot as the head of the Five Families and struggling to keep his own family safe. Pacino's Michael Corleone, the youngest son of the family, is presumed least likely to take over the family business. But as this is an epic crime drama, things don't go exactly according to plan.
1. The Godfather Part II (1974)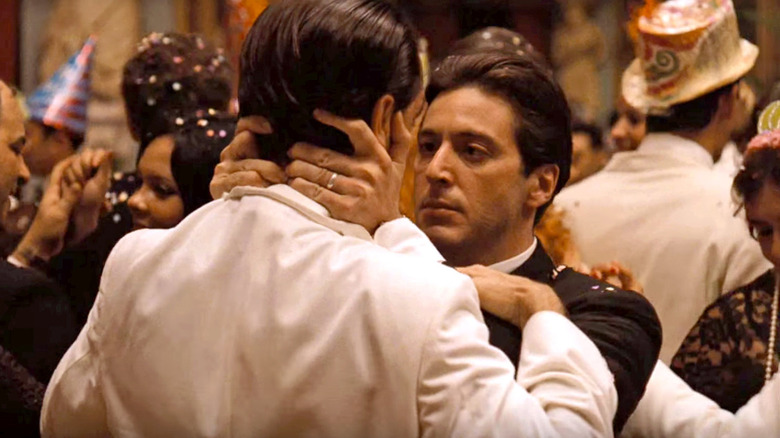 Paramount Pictures
Whether you prefer the first "Godfather" or "The Godfather Part II," it's hard to argue that the second film in the crime trilogy isn't the stronger Al Pacino movie. After all, his character, Michael Corleone, is now the Don of the Corleone family, which comes with it a whole set of responsibilities and complications that gives Pacino even more to chew on as an actor, including his memorable scenes with his "Dog Day Afternoon" costar John Cazale as his sensitive brother Fredo.
Dual timelines innovatively split the film between the past, in which the younger Vito Corleone (Robert De Niro) emigrates to America and works his way up to becoming a mafia don, and the present, in which his son Michael navigates his new post in the wake of a hit on his family, making "The Godfather Part II" both a prequel and a sequel in one go. Add amazing performances and incredible richness and depth of story that further expands on the characters and their changing priorities and motivations, and you have what remains one of the best sequels in cinema history. One that is arguably even better than its predecessor, and the very best film of Al Pacino's illustrious career.