Community's Cast Knew Dan Harmon's Firing Could Spell Doom For The Series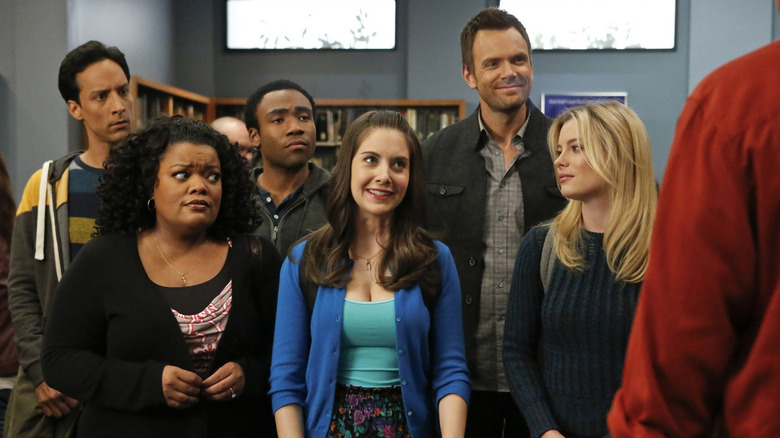 NBC
Dan Harmon, the creative mind behind such acclaimed shows as "Community" and "Rick and Morty," was at one point widely known for being hard to work with behind-the-scenes. While his work on the latter has helped Harmon mature as a creator and a collaborator, during his time on "Community," he gained a reputation for his constant arguments with network executives and a feud with legendary comedic actor Chevy Chase. But even then, these issues were seen as the price to pay to work with a man whom some see as a comedic genius.
At one point during his tenure as showrunner on "Community," these issues came to a head in a big way, with Harmon being fired from his role with the show following the show's third season. Many fans and critics alike consider the show's fourth season, the only one to not feature Harmon at the creative helm, as the show's weakest and a tonal departure from the rest of the series. The jokes just weren't landing, the characters were becoming simpler, exaggerated versions of themselves, and the series was missing Harmon's signature talent for concept episodes. Many believed that Harmon's ouster could prove fatal to the show, including some of the show's on-screen stars.
A ship without a captain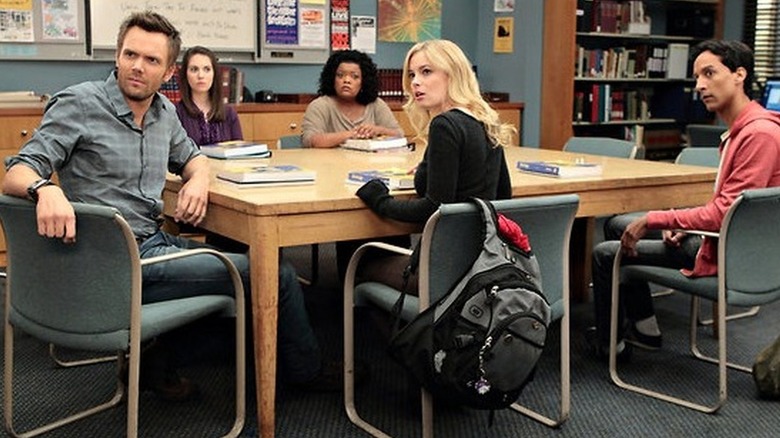 NBC
In a retrospective interview about the series in 2020, Alison Brie addressed the morale of the cast following Harmon's departure. "The season Dan left was very depressing because we lost our leader," Brie said. "It was brutal. Dan's role ended up being the person who was challenging the network and really fighting for his own idea."
Yvette Nicole Brown echoed these sentiments. "We felt like we were sunk because we were a ship without a captain. Even if the captain kept us out at sea for 16-hour days, he was still in charge of that ship."
Other members of the cast reflected on feeling like the show was in severe danger of being canceled. "Each episode felt like it might be our last," said Danny Pudi. "We didn't know what was happening until after it happened. We didn't know whether our show was being renewed or canceled until somebody said something on Twitter."
These internal struggles were accentuated by what many saw as the show's drop in quality without Harmon. "When he was gone the show really did feel like it fell from grace," Brie said. "It dropped a notch creatively and it was horribly unsatisfying."
Back on course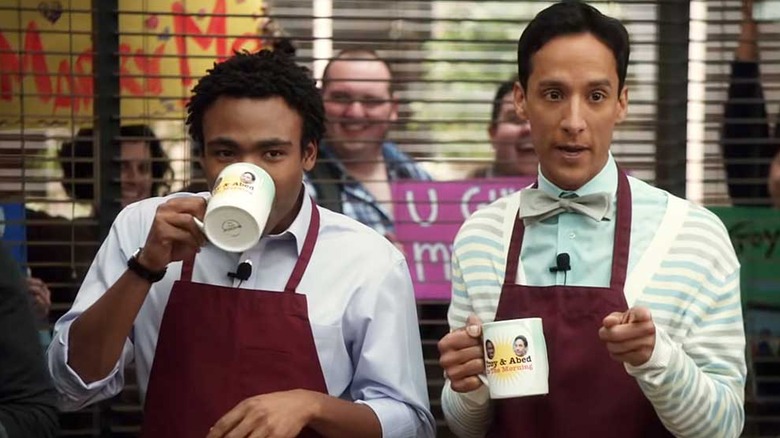 NBC
Following lots of fan outcry, Harmon was brought back on as showrunner for the show's fifth season. For the members of the cast, Harmon's return felt like the proverbial ship was being steered back on course. "It felt like that moment in 'Back to the Future' where Marty McFly's parents finally kiss on the dancefloor and he stops fading away," Joel McHale said in the aforementioned interview. "I don't think it could have continued after season 4 the way things were going but having Dan back was like having our GPS back."
The show addressed Harmon's one-season absence with Harmon's signature defiant wit, often referring to the fourth season as "the gas leak year." Fans rejoiced as the show seemed to find its mojo again. It had the same biting wit and quaint charm it had in its first three seasons. 
Even with Harmon back aboard, the production of "Community" was still not without its struggles. The show lost stars Chevy Chase and Donald Glover in quick succession, both big hits to the show's excellent ensemble cast. Additionally, NBC canceled the series in 2014 after season 5, forcing the show to migrate to the short-lived streaming service Yahoo! Screen for its sixth and final season. Despite these obstacles, Harmon was able to take the project that was his brainchild and finish it his way, staying true to his unique artistic vision.