Clips Round-Up: Kevin Dillon In The Wire Room & Darren Lynn Bousman In The Horror Crowd [Exclusive]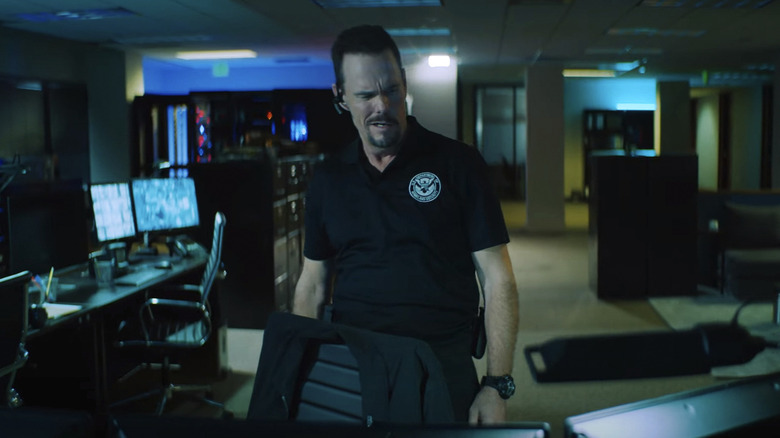 Lionsgate
(Welcome to SlashClips, a series where we bring you exclusive clips from hot new Digital, Blu-ray, and theatrical releases you won't see anywhere else!)
In this edition:
Wire Room
The Horror Crowd
Wire Room
Our first clip is from Lionsgate's new hard-hitting action flick "Wire Room," and features Kevin Dillon of "The Blob" and "The Doors" fame as a Homeland Security agent squaring off (virtually) with an arms dealer played by Oliver Trevena. Also featuring Bruce Willis, the film arrives in select theaters and on demand September 2, 2022. 
Here is the official synopsis:
Action legend Bruce Willis comes out with guns blazing as Shane Mueller, a Homeland Security agent who runs the Wire Room, a high-tech command center surveilling the most dangerous criminals. New recruit Justin Rosa (Kevin Dillon, "Entourage") must monitor arms-smuggling cartel member Eddie Flynn — and keep him alive at all costs. When a SWAT team descends on Flynn's home, Rosa breaks protocol and contacts the gangster directly to save his life. As gunmen break into the Wire Room and chaos erupts, Mueller and Rosa make a final, desperate stand against the corrupt agents and officials who seek to destroy evidence and kill them both.
The Horror Crowd
Our final clip is from the forthcoming documentary "The Horror Crowd," which arrives on digital September 2, 2022. It features interviews with Lin Shaye ("Insidious"), director Russell Mulcahy ("Highlander," "Resident Evil: Extinction"), director Oren Peli ("Paranormal Activity"), Brea Grant ("Dexter"), director Ernest R. Dickerson ("The Walking Dead"), director Adam Robitel ("Escape Room"), Blumhouse's Ryan Turek, Greg Grunberg ("Star Wars: The Rise of Skywalker"), director Chelsea Stardust ("Satanic Panic"), and "Saw" franchise director Darren Lynn Bousman. 
Here is an exclusive quote from director Ruben Pla:
"I was traveling in the horror circles of Hollywood, working on all these different filmmakers' movies, and I decided to ask them about themselves ... what made them tick, what were their passions, their loves, their first introduction into horror. So I met up with my buddy, Hank Braxtan, who ended up being my co-producer, and told him my idea, that I wanted to talk with all the people we knew and maybe just record it on my phone, no big deal, and see what I'd get. He said he loved the idea but that he would bring in cameras, lights, sound kit, and really go for it. Then we brought in his wife, Arielle Brachfeld, who became my producing partner, and I started asking everyone if they wanted to be in this thing I was putting together ... and they all said yes. They lined up, they wanted to talk about their lives, their films, they wanted to divulge all their secrets to you, the audience. And that's how it began."
Here is the official synopsis:
Director Ruben Pla has assembled an all-star cast of actors and filmmakers to discuss the Hollywood horror community, covering such wide-ranging topics as women in horror, race relations, "being the weird kid," and film festivals, as well as the unique community and support that exists in the space.