Charlie Sheen's Platoon Casting Depended On The Opinion Of Willem Dafoe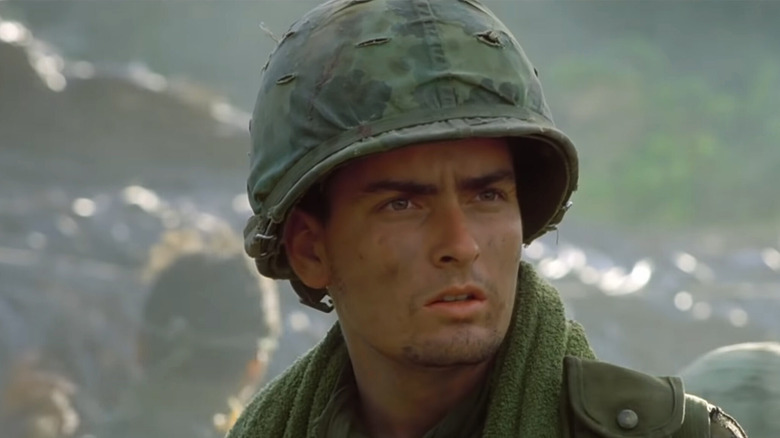 Orion
As a twice-wounded veteran of the Vietnam War, Oliver Stone had a solemn responsibility to drive home the savagery of this tragically misguided conflict to modern audiences via "Platoon." It had been a little over a decade since the last U.S. helicopter left Saigon, and the filmmaker wanted to make sure no one would forget the myriad of atrocities committed in America's name. This meant he had to place the highest of premiums on authenticity, from the locations down to the cast.
Given that the film was going to be a showcase for numerous young actors, Stone found himself inundated with hungry ingenues eager to make the leap to stardom. Though the higher ranking officers like Sargents Barnes and Elias would be played by more seasoned performers like Tom Berenger and Willem Dafoe, their charges had to be fresh-faced kids who looked like they'd been plucked out of their high school graduation to fight for their country. One such actor was Emilio Estevez, who, one year after "The Breakfast Club," was initially cast in the lead role of Chris Taylor. When he had to drop out due to scheduling, his brother, Charlie Sheen, stepped in to audition. The symmetry of having a son of Martin Sheen, who'd starred in Francis Ford Coppola's "Apocalypse Now," likely appealed to Stone. But Charlie had to earn the part.
Passing the Dafoe test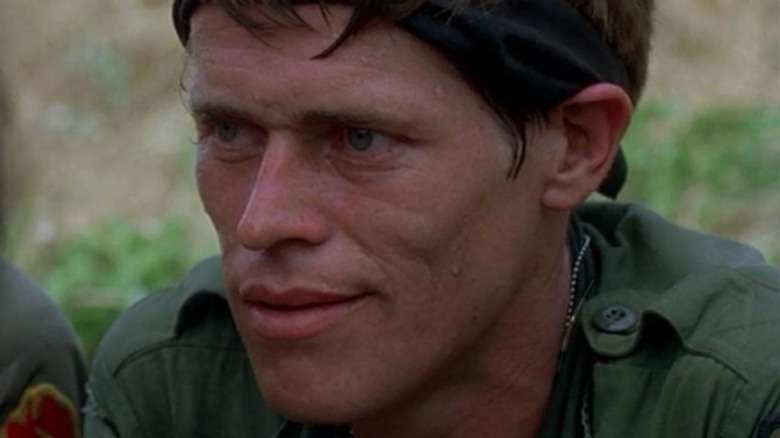 Orion
Sheen was a huge fan of Stone's screenplays for "Midnight Express" and "Scarface," so he was amped to work with the filmmaker. Unfortunately, he didn't exactly blow Stone away in his audition. As the actor told The Guardian for a "Platoon" oral history, "Oliver said I was 'too mannered' and needed to do more work."
Fortunately, Sheen had two finely shaded performances on the way in Penelope Spheeris' crime flick "The Boys Next Door" and David Seltzer's bittersweet coming-of-age drama "Lucas." Stone was sufficiently impressed to give him the part, but he had one last condition: Willem Dafoe, who would play Sheen's Sargent and quasi-mentor, had to approve.
If this was intended to be some kind of hazing ritual, Dafoe didn't get the memo. "I didn't meet Willem until we got to the Philippines," says Sheen. "He ran past me in our hotel and gave me a hug. Later, Oliver came up to me and said: 'Willem digs ya.'"
Dafoe's instincts were spot-on. Sheen is immensely sympathetic at the idealistic, in-way-over-his-head Taylor. We view the madness of the war through his innocent eyes (and his somewhat overbearing voiceover). He's the perfect audience surrogate, and this remains Sheen's second-best performance.