In Another World, Robert De Niro Played The Role Of Tony Soprano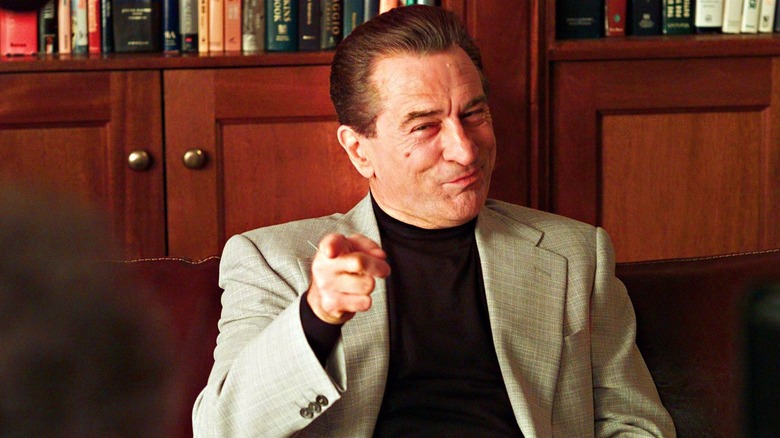 Warner Bros.
Once upon a time, "The Sopranos" creator David Chase envisioned telling the story of a mobster battling his inner demons on the silver screen instead of the small one. In an interview with The New York Times, the creator and showrunner said that he initially planned on writing the story as a film, but his agency talked him out of it. Chase ended up taking the twisting tale of a middle-aged mobster tackling his trauma in talk therapy to television, but some of what he imagined for the film version ended up lost in the switch between mediums. 
Obviously Chase would have to make major additions to the story in order to make it last for several seasons and not just a single two-hour movie, but he also had to change up his potential casting plans. After all, in the late 1990s, major movie stars very rarely acted on TV, because it was seen as the lesser art form. (Funnily enough, "The Sopranos" helped change that by ushering in the golden age of prestige television!)
So who did Chase have in mind for his mafioso in crisis? None other than mob movie superstar Robert De Niro. 
You talkin' to me?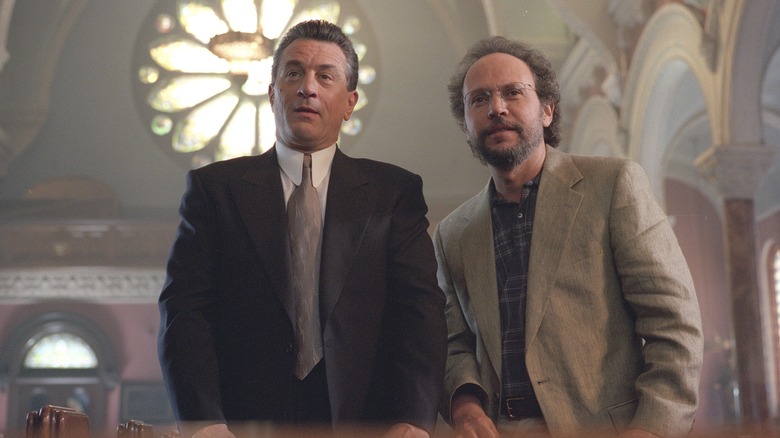 Warner Bros
Back when Chase initially thought of doing "The Sopranos" as a film, he didn't have a name for Tony yet, but he had an actor in mind: 
"I planned to have Robert De Niro as, well he didn't have a name, and Anne Bancroft as his mother. But I was signing with a new agency and they said mob comedies were dead, so I should forget about that. As it turned out, they had missed their mark."
There's an additional layer of irony to Chase's agency telling him that mob comedies were as dead as Dillinger, because in 1999, the same year that "The Sopranos" debuted on HBO, the Harold Ramis comedy "Analyze This" hit theaters. Though "The Sopranos" is much heavier subject matter, both deal with a mobster who gets into therapy. The therapists are pretty different, as Tony Soprano (James Gandolfini) talks to the talented but occasionally morally ambiguous Dr. Melfi (Lorraine Bracco), while the therapist in "Analyze This" is funnyman Billy Crystal, but here's the kicker: the mafia man in mental health crisis in "Analyze This" is played by De Niro. That had to have rubbed Chase a little raw, but in the end "Analyze This" is a small but funny footnote in cinema history, while "The Sopranos" changed TV forever. 
The Sopranos wouldn't have worked without Gandolfini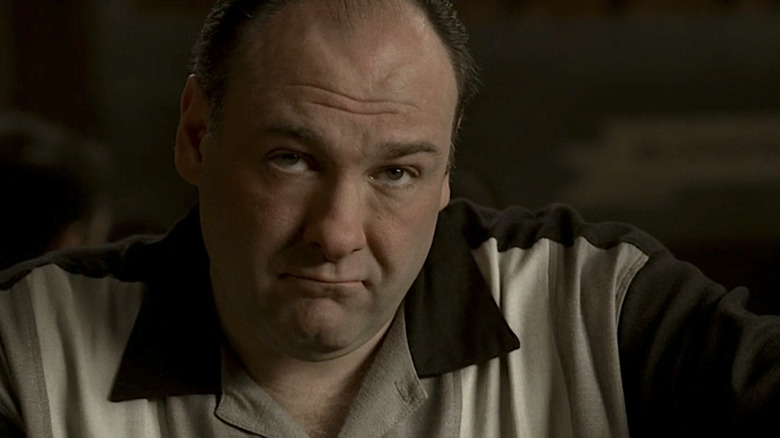 HBO
Don't get me wrong — I love Robert De Niro, but I just don't think he could have brought the same qualities to Tony Soprano as Gandolfini. Even when De Niro plays comedic characters or characters that are supposed to be a little pathetic, it's impossible to see anyone but De Niro, the guy from "Taxi Driver" and "Goodfellas." Besides, De Niro is a New Yorker through and through, and it makes more sense for Soprano to be played by someone from New Jersey, like Gandolfini. 
The character and the man have become inextricably linked, in large part because Gandolfini's performance is one of the all-time greats. He imbues Tony Soprano with a kind of kicked-puppy sadness that makes him almost sympathetic beneath his brash bulldog exterior. The actor was brilliant at playing Tony as both a blustering beast of a man and a broken little boy, and that kind of performance requires a great deal of vulnerability. It's raw, it's honest, and it's why Tony's attempts to become a better man are so captivating. De Niro rules, but Gandolfini is the GOAT.