How Whoopi Goldberg Made Queen Constantina Uniquely Hers In Cinderella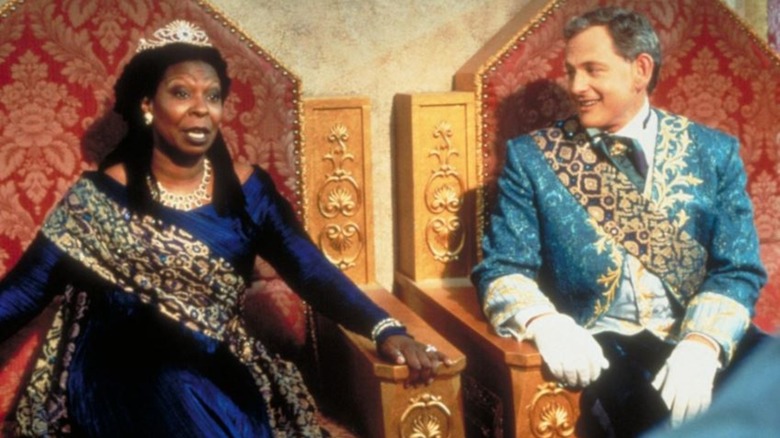 Buena Vista Television, Inc.
In the '90s, Whoopi Goldberg earned her way into the hearts of millennials with her performances in movies such as the "Sister Act" films, "The Lion King," and "The Little Rascals." The star-studded 1997 musical fantasy TV film "Cinderella" was another go-to movie for pizza parties during my elementary school days. The fairy tale remake stars Brandy Norwood as the titular character who, with the help of her Fairy Godmother (Whitney Houston), wins the love of Prince Christopher (Paolo Mantalban). Goldberg plays Queen Constantina, the prince's controlling mother who wants to find him a suitable mate.
"Cinderella" is an all-around funny movie. Cinderella's stepmother (Bernadette Peters), her stepsisters, Calliope (Veanne Cox) and Minerva (Natalie Desselle Reid), and the royal family's servant, Lionel (Jason Alexander), all provide some comic relief. But what really made my classmates and me choke on our Pepsi was Goldberg's performance as the queen. Her patented squeals that I can't even begin to precisely describe in my own words incited most of our laughter. It turns out that Goldberg used herself as inspiration for the character.
'I wanted her to be me in a dress'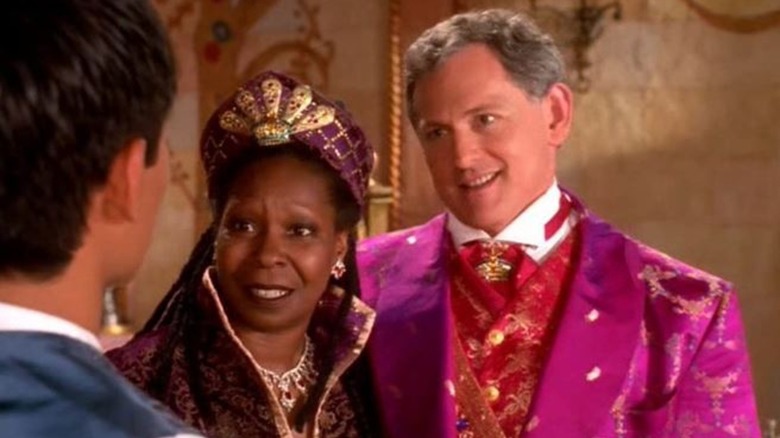 Buena Vista Television, Inc.
In a 2022 special edition episode of ABC's "20/20," the cast of "Cinderella" reunited for the movie's 25th anniversary. There, Whoopi Goldberg discussed how she brought Queen Constantina from the page to the screen (via The Hollywood Reporter). "I wanted her to be me in a dress. A little silly, a little fun," she said. "She doesn't finish sentences, she makes sounds." But the implementation of the weird noises isn't where Goldberg's influence stops.
"The View" co-host also revealed the pieces of jewelry that drape her ears, neck, wrists, and fingers in the movie were real, expensive, and came from a personal favorite jeweler of hers: Harry Winston. She recalled the special request she made to the company. "I said, 'Listen, I'm playing this queen and I would like to have some jewels. Will you guys loan us some jewels?' They said, 'We'll pick out our most royal jewels.' And so that's what they did." 
Armed guards watched over the queen's jewelry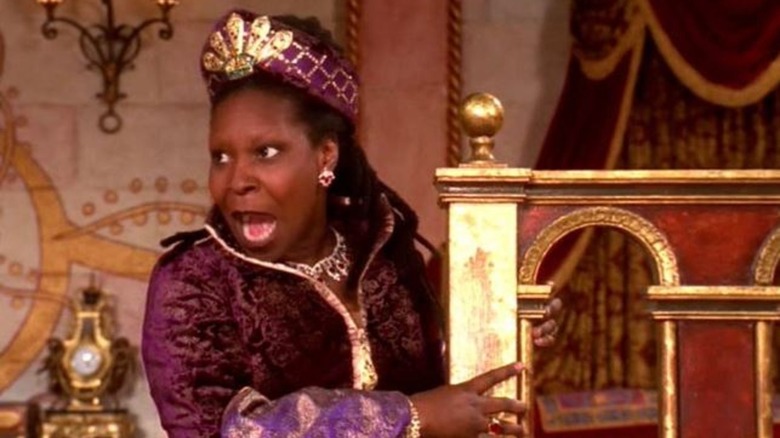 Buena Vista Television, Inc.
The jewels Whoopi Goldberg wore on the set of "Cinderella" became the most protected commodity on set, if James Alexander's revelation during the reunion special was any indication. "There were armed guards just beside the camera," he said. "So that if anybody approached or Whoopi made a mistake and tried to leave the set with that jewelry on, someone would have been shot."
That made me laugh out loud. I think Alexander may have tapped into his inner George Costanza, because that was a bit dramatic. Or maybe not; the fact that there were armed guards standing off camera shows how serious the top brass at Harry Winston were about making sure their valuables returned without a scratch. Still, I doubt the guards would have actually shot anyone. If the scenario actually unfolded the way Alexander recalled, it must have been nerve-wrecking for everyone on set, especially Whoopi. Luckily, everyone — and everything — walked away from production in one piece, and "Cinderella" went on to become a memorable movie for us millennials.