George Miller Had The Idea For Three Thousand Years Of Longing Since The '90s [Exclusive]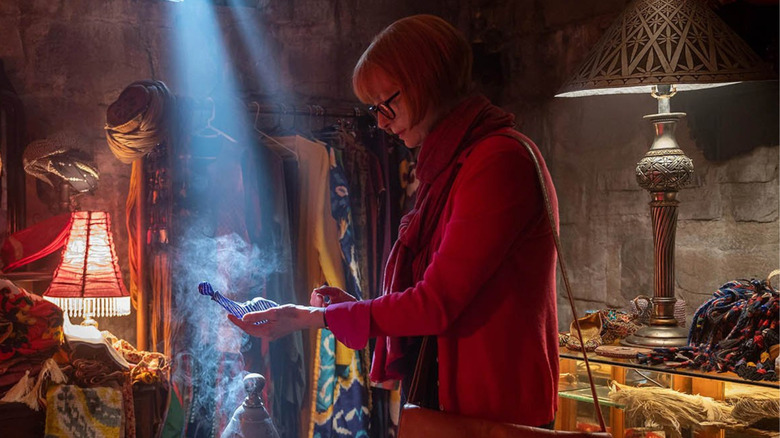 Metro-Goldwyn-Mayer
"Three Thousand Years of Longing," the centuries-spanning epic and George Miller's first film since "Mad Max: Fury Road," has finally arrived in theaters after a boisterous Cannes debut. However, what many might not know is that it is actually an adaptation of a short story by British writer A.S. Byatt titled "The Djinn in the Nightingale's Eye," a story published in her 1994 collection of the same name.
While speaking to /Film's Emma Stefansky in an interview, Miller recounted when he first read "The Djinn in the Nightingale's Eye." Once he finished the story, he knew that it was a story he had to adapt to the big screen.
"I first came across the story when someone gave me a small anthology of fairy tales that A.S. Byatt had written," the "Happy Feet" director recalled. "One of them was a little longer than the others, about 40 pages, called 'The Djinn in the Nightingale's Eye.' And I read it, and it was one of those stories that wouldn't let me go."
However, that wasn't a story that he read over the COVID-19 pandemic, nor is it one that he read while celebrating his Oscar nominations for "Fury Road." Miller revealed that he had read the story all the way back in the 1990s, and he's been trying to get this adaptation made ever since.
Preparing for the story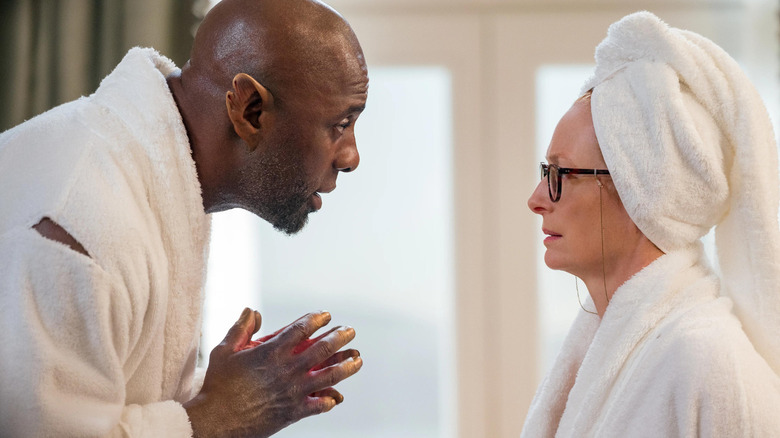 Metro-Goldwyn-Mayer
Miller explained that the juxtaposition the short story provided felt like a great canvas for a visual story. While the film travels across Turkey throughout centuries of its existence, the majority of the film actually takes place in a hotel room occupied by Dr. Alithea Binnie (Tilda Swinton) and a nameless but striking Djinn (Idris Elba).
"Here was a story that, ostensibly, was a conversation between two characters in a hotel room in Istanbul, and the stories that they told each other span 3,000 years. So, already, there was that paradox of something that, in a sense, was small, it was almost a 'My Dinner With Andre' type of conversation, really. And yet, it was very expansive."
However, a story like this probably wouldn't be particularly marketable in years past. After all, a story about finding and losing love over the course of thousands of years is a premise that would interest a specific group of people, but probably not the general masses. Specific reasons why Miller never got the green light to make the project are unknown, but this likely played a part in its delay.
The nature of reality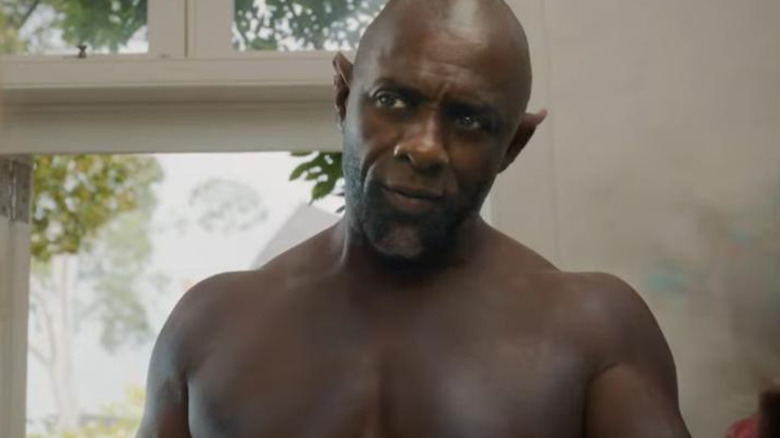 Metro-Goldwyn-Mayer
However, Miller was finally able to get the ball rolling on the project in 2018, when FilmNation agreed to handle the film's distribution (via Deadline). Later that year, Elba and Swinton were cast, and everything seemed poised for a shooting date in 2019. Unfortunately, principal photography was delayed for unknown reasons into 2020, where it was once again delayed for obvious reasons. Given how many projects died during the COVID-19 pandemic, it's a miracle that this one managed to stay alive. Maybe it is fitting in that regard.
While it took a few decades for "Three Thousand Years of Longing" to finally hit the big screen, Miller thinks that the questions the film poses are still worth exploring today:
"At the core of it, though, because of how the story unfolds, it goes to various central ideas, like, what's the nature of reality? What's real, and what's not real? Why do we tell each other stories and make meaning of a bewildering universe through stories? What's the nature of love? What are the gestures that really define love, one for another, and all of that, in a relatively short story and a relatively short thought. That was the thing that really got me going in the first place."
"Three Thousand Years of Longing" is now playing in theaters.