The Boys Season 4 Is Now A Supernatural Reunion As Jeffrey Dean Morgan Joins The Cast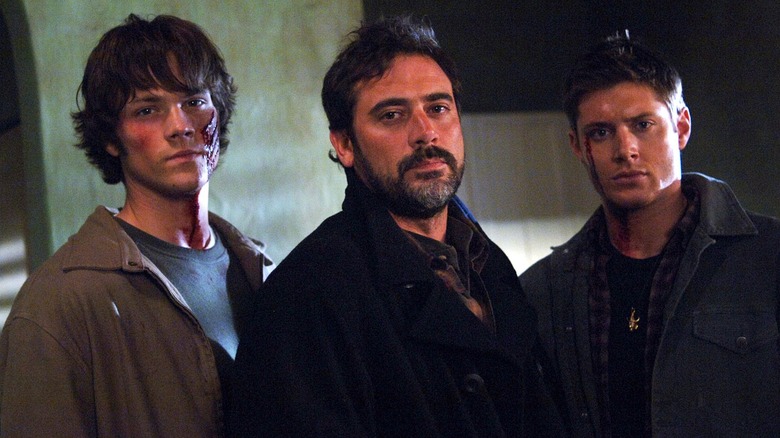 The CW
Jeffrey Dean Morgan has spent the past few years trying to suit up for a cameo on "The Boys," but scheduling woes kept getting in the way. Until now. Evidently, all he needed was the extra special push of jealousy to get things hashed out. After seeing his former "Supernatural" co-star Jensen Ackles get a well-deserved spotlight on the depraved Prime Video series, Morgan has cleared his schedule to get down and dirty with "The Boys." Okay, that's not entirely true — Morgan is in fact a very busy man (he's headlining an upcoming spin-off of "The Walking Dead"), but what could be more important than reuniting with his TV son?
Jeffrey Dean Morgan has signed on for a recurring role in the fourth season of "The Boys," the details of which are being kept under wraps. Although he got a shoutout on the series' official Twitter account, the creatives refuse to reveal whether or not Morgan will be spending his onscreen time in tights.
Chuffed to welcome @JDMorgan to The Boys S4. Can't confirm if he's gettin' any tights, though. pic.twitter.com/ApDpQgo0QC

— THE BOYS (@TheBoysTV) August 25, 2022
We also don't know for sure that Morgan will have an onscreen reunion with Jensen Ackles, given the way Solider Boy's story shook out in the aftermath of the season 3 finale. But we do know that he'll be linking back up with "Supernatural" creator turned "The Boys" showrunner Eric Kripke. This is the part where Prime Video realizes that four seasons of "The Boys" have just been an elaborate scheme from Kripke to reboot "Supernatural," with superheroes. If he drops any more hints about getting Jared Padalecki onboard too, then his master scheme will officially be revealed.
A tale told thorugh tweets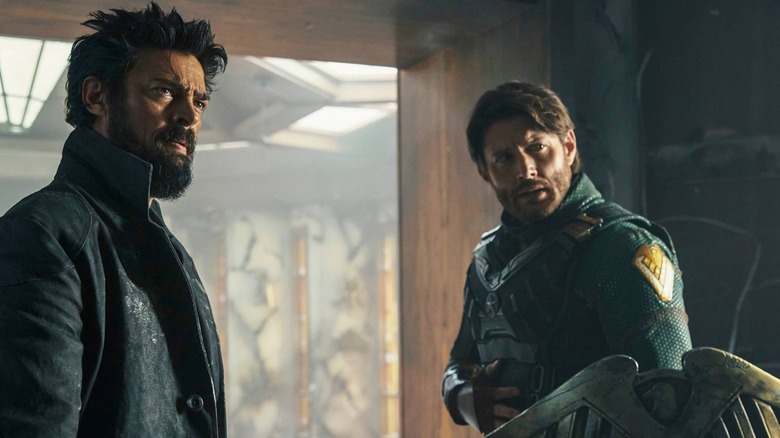 Prime Video
After spending a few years hunting monsters and demons with his sons on "Supernatural," Morgan departed the CW series and soon found himself fleeing some troublesome zombies on "The Walking Dead." He's now set to reprise the role of Negan alongside Laura Cohen as Maggie in "The Walking Dead: Dead City." This, along with recent roles in "Fall" and "The Integrity of Joseph Chamber" might be why previous scheduling didn't work out.
Kripke has been trying to get Morgan on the series since back in January 2020, when season 3 was still in the works. And Morgan was interested! As a self-proclaimed fan of the show, he made it very clear that he wanted in on all the whale explosions and 11-foot penises, tweeting out, "I'll go play with that gang anytime." Kripke replied, "I'll make you a deal. Season 3. I'll write it, and if you're avail, come shoot it!" Morgan's response? "In a heartbeat."
Thanks @JDMorgan for spreading #TheBoys gospel! I'll make you a deal. Season 3. I'll write it, and if you're avail, come shoot it! Thanks for all the love, brother. #SPNReunion#TheBoystv @TheBoysTV @PrimeVideo #SPNFamily https://t.co/tI6A8UFPyV

— Eric Kripke (@therealKripke) January 16, 2020
A very Supernatural reunion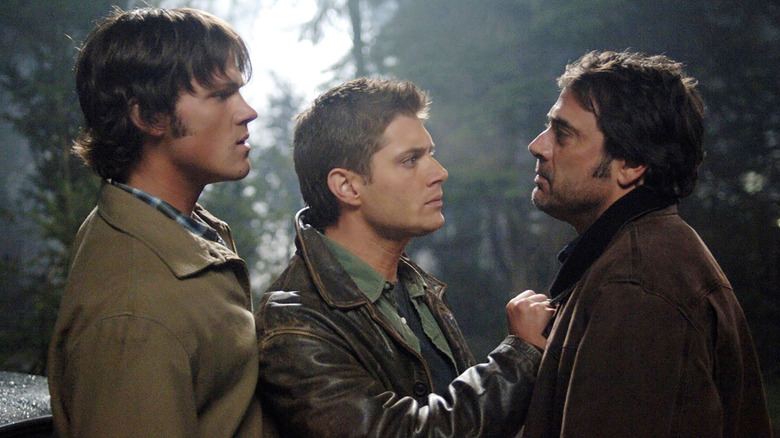 The CW
While the scheduling didn't quite work out, Kripe still had Morgan on his mind while making the rounds about the third season and told Entertainment Weekly that an offer was extended for Morgan to join season 4. At the time, he didn't expect it to work out:
"Schedule-wise, I don't know. We might still remain star-crossed, unfortunately, because I did ask. We had a role come up, and my first question was, 'Well, is Jeffrey available?'"
But sometimes the stars align perfectly and everything comes together. This was one of those times. All we need now is some official confirmation about Ackles' return. And some answers on the role Morgan will play — is he going from hunting monsters to demons to superheroes? Or will he be donning tights as a superpowered monster himself? Or maybe he'll join fellow "Supernatural" alum Jim Bever as a politician (ya know, the other kind of monster on this show). Only time (or Kripke) will tell.
No release date is set for "The Boys," but season 4 is currently in production.