12 Underrated Time Travel Movies You Need To See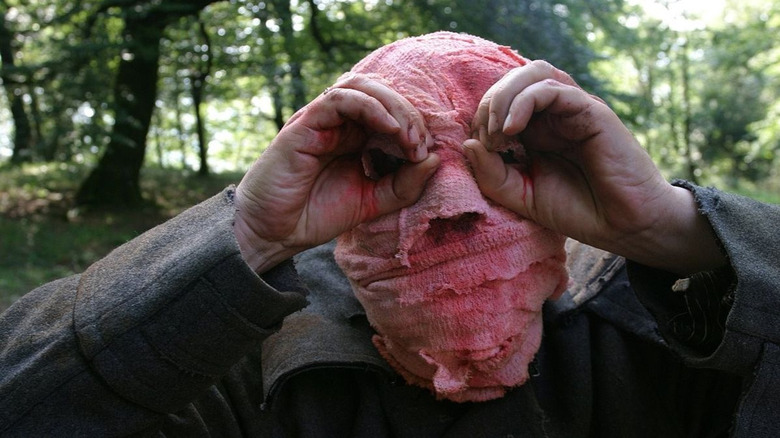 Karbo Vantas Entertainment
Forget flux capacitors and sports almanacs. Where these underrated time travel movies are going, you don't need mainstream references. This year-hopping corner of cinema may be predominantly dominated by Marty and the Doc's souped-up DeLorean and emotionless machines sent back in time to kill us, but take a deeper look and you'll find a range of stories that take time travel to some pretty unexpected places.
If we were to have our way, this list wouldn't be quite as brief. After all, with the entire space-time continuum at their fingertips, you'd think filmmakers would've put a little more effort into mining time travel for the full mind-bending potential the genre contains. However, as it stands, truly left-field adventures can often seem few and far between.
That said, we're lucky to have a handful of movies that use time and space as a jumping-off point to tell tales that are wild, head-scratchingly complex, and sometimes, oddly chilling. Either way, they stay with you long after the credits roll and you've returned to your regular time zone. Set your watch, it's time to jump in...
Primer
THINKFilm/IFC Films
If you're looking for a time travel movie that's guaranteed to fry your brain with the complexities of doubles, loops, and the dangers of dicing with time, "Primer" fits the bill perfectly. Written and directed by Shane Carruth, it follows two friends and would-be inventors who accidentally create a machine that messes with time. Before long, the duo figures out that their invention — which they name "the box" — can also send people back to the point at which it was initially turned on, effectively making it a time machine that they can use to create time loops.
However, what starts as two pals innocently playing around with science quickly devolves into a messy tangle when the duo decides to use their invention to make a quick buck on the stock market. Throw a couple of tricky human relationships into the mix, and these two inventors are soon walking a dangerous time tightrope of repetition and suspicion, requiring them to avoid their multiple doubles and try their best not to ruin their fragile and ever-changing realities.
In addition to writing, directing, producing, editing, and scoring "Primer," Carruth also stars as one of his film's time-obsessed inventors. His hard work paid off, too. The film bagged the Grand Jury Prize at 2004's Sundance Film Festival. "Primer" remains one of cinema's most underrated — and unashamedly complex — time travel movies, with its gritty, low-fi reality aesthetic adding to its long-lasting allure.
The Butterfly Effect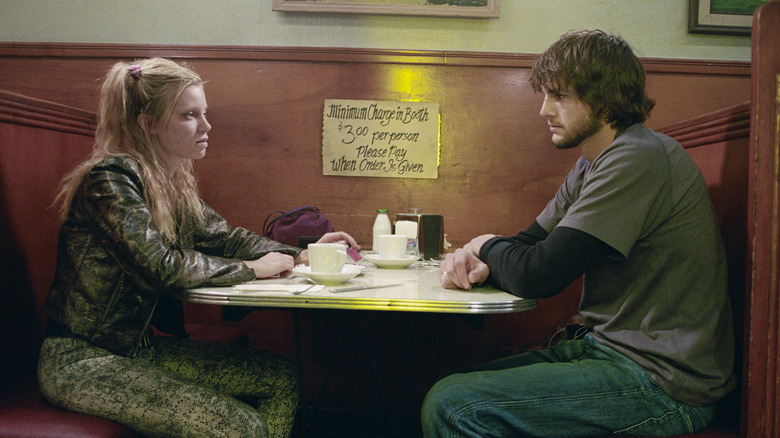 New Line Cinema
"You can't change who people are without destroying what they were," explains the trailer for "The Butterfly Effect." In essence, that line pretty much sums up this 2004 sci-fi thriller. In it, we meet Evan (Ashton Kutcher), a guy whose troubled childhood was plagued with mysterious blackouts that left him with amnesia. Cut to the present day, and he discovers that by re-reading his old journals, he can travel back in time to these periods, essentially giving him the chance to redo his past and write a new future for both himself and his friends.
However, as with most time travel stories, things are never that easy. As Evan starts to change key moments from his youth, his best intentions result in new realities back in his original timeline. From ending up in prison to becoming an amputee and eventually landing himself in a psychiatric ward with seemingly no hope of escape, the impact of Evan's time tampering soon start to catch up with him in dark and unexpected ways.
Directed by filmmaking duo Eric Bress and J. Mackye Gruber, "The Butterfly Effect" has garnered a cult following and spawned two Kutcher-less direct-to-DVD sequels. By using journals instead of a physical machine for its chosen mode of time travel, the film sets itself apart as one of the more psychologically impactful installments of a genre that's filled with unforeseen repercussions.
Timecrimes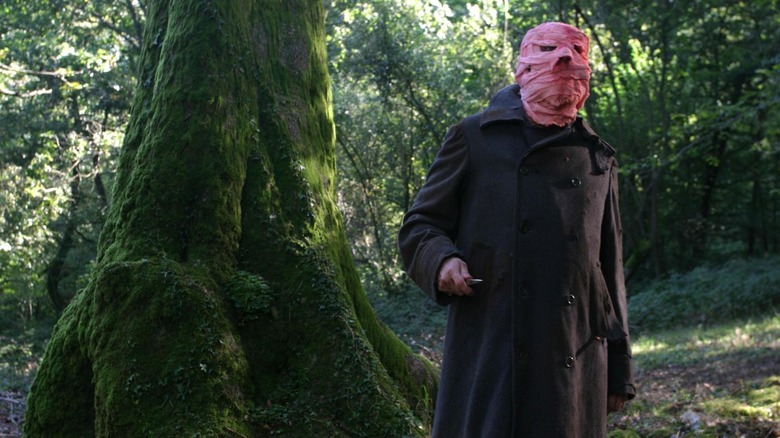 Karbo Vantas Entertainment
A sinister figure with a face haphazardly wrapped in bloody bandages is more than enough to pique your interest in Nacho Vigalondo's ace indie, "Timecrimes." However, it's the film's simple-yet-devastating story that'll grab your attention and quickly have you hooked. Released in 2007, this Spanish language take on the genre does what all good time travel movies do best — ditch any scientific logic or unnecessary jargon and instead focus on telling a compelling story that's as nail-biting as it is mind-bending.
When it comes to this type of narrative, "Time Crimes" delivers. Things start simply enough when Héctor (Karra Elejalde) spies a naked woman in the woods behind his house and sets off into the foliage to investigate. After he's suddenly attacked by a bandaged stranger, he soon finds himself inside a mysterious laboratory, lured there with the promise of safety from his assailant. After being convinced to hide in one of the lab's machines, Héctor emerges seconds later to discover that he's traveled back in time a few hours, finding his past self where the audience finds Héctor at the start of the movie.
What follows is one disaster after the next, as our increasingly out-of-his-depth protagonist tries to set his timeline straight while making a series of mistakes, each more desperate than the last. With Vigalondo amping up the tension with each return journey and composer Eugenio Mira's terrific score lending some welcome horror movie vibes, "Timecrimes" is a trip worth taking.
Safety Not Guaranteed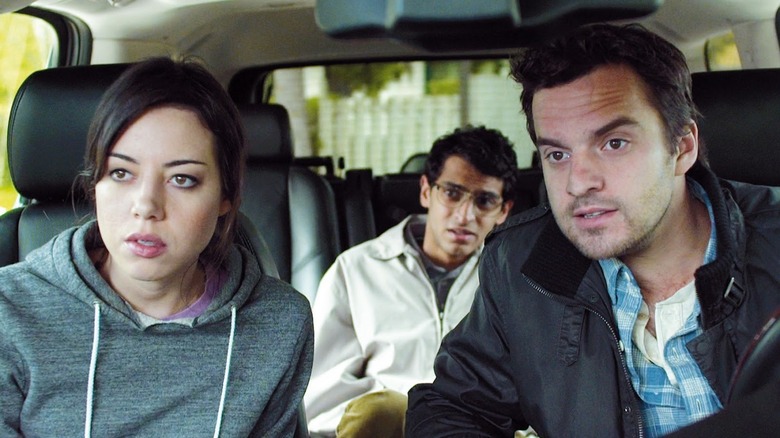 FilmDistrict
Before director Colin Trevorrow was splicing dino genes in his two "Jurassic World" movies, he was busy splicing indie rom-coms with time travel in 2012's "Safety Not Guaranteed." Here, we follow Darius (Aubrey Plaza), a magazine intern tasked with the job of following up an intriguing classified ad from someone looking for a companion to help with a perilous mission into the past.
Together with her friend and fellow writer, Jeff (Jake Johnson), the pair set off to meet the supposed time traveler behind this curious call for assistance. Here, they meet Kenneth (Mark Duplass), a grocery store worker and potential time traveler who believes secret agents are watching his every move. As Kenneth begins to train Darius to accompany him on his mission to rescue a doomed old flame, the pair reveal elements of their tragic pasts, which could use a time-traveling do-over.
Charming and filled with mystery until its final minutes, Trevorrow's feature film debut is one of the few underrated time travel movies on this list that also works as a perfect date movie. What's more, the fact that the story's classified advert jumping-off point was based on a real-life event (albeit, a joke magazine notice sadly not posted by a real-life time traveler), makes "Safety Not Guaranteed" one of the rare time travel movies that has origins based firmly in reality.
Time Bandits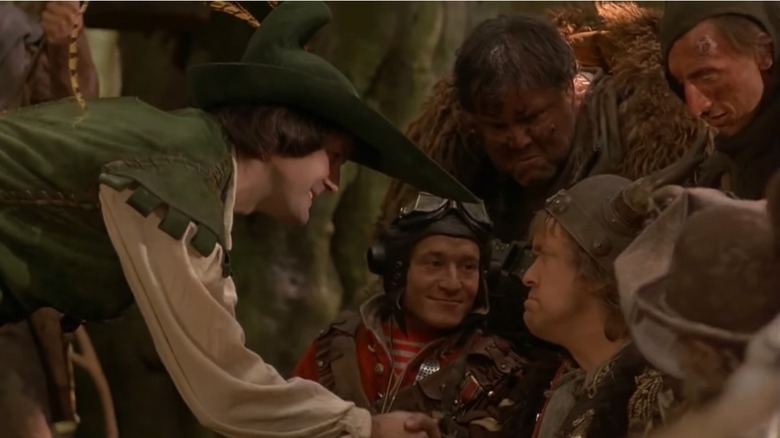 HandMade Films/Avco Embassy Pictures
Ah, '80s cinema... the decade of big ideas, ambitious directors, and practical effects that were sometimes barely able to keep up. "Time Bandits" ticks all three of these boxes. Odds are, you have stumbled across it during lazy Sunday afternoons spent channel hopping, as its family-friendly use of the time travel genre sets it apart as one of the few movies on this list that audiences of all ages can enjoy.
With "Monty Python" animator Terry Gilliam at the helm, this story of a young boy who's swept away from his mundane family life and welcomed as the latest member of a group of time-traveling thieves feels at times like an unofficial "Python" picture. Cameos by fellow "Flying Circus" members John Cleese as a perpetually chipper Robin Hood and Michael Palin as an unfortunate lover who can't seem to catch a break add to this claim — but Gilliam makes sure not to linger on either of them long enough for it to really take hold.
Instead, he presents us with a film that feels more like a series of vignettes, each with a different star taking the lead (from Ian Holm and Shelley Duvall to Jim Broadbent and Sean Connery) and each linked by his ensemble cast of bandits. Meanwhile, the late David Warner delivers a dryly comic turn as Evil, the film's larger-than-life baddie who's hellbent on securing the all-important map that helps our heroes skip through time. Looking for a fun escape? This is the one.
Bill and Ted Face The Music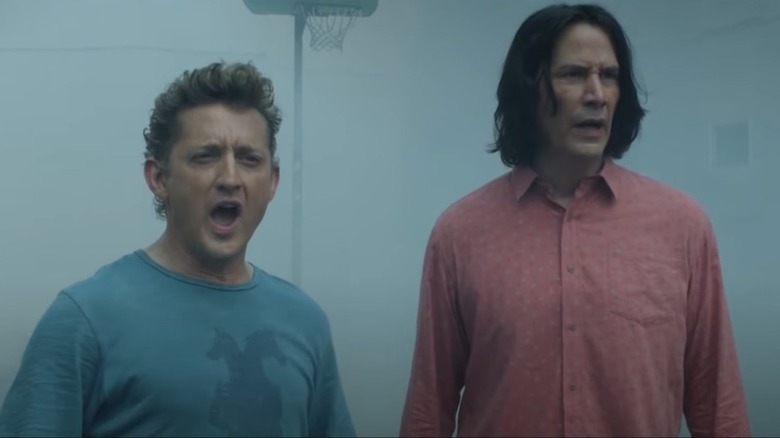 United Artists Releasing
The Wyld Stallyns' first trip through the circuits of time established Bill S. Preston Esq. (Alex Winter) and Ted "Theodore" Logan's (Keanu Reeves) status as giants of the genre in 1989's "Bill and Ted's Excellent Adventure." However, after a journey to hell and back in the 1990 sequel "Bill and Ted's Bogus Journey," their 2020 threequel returned the duo to their century-hopping roots.
Penned by series creators Ed Solomon and Chris Matheson, this second sequel finds Bill and Ted facing their biggest challenge yet: parenthood and a mid-life slump. With the pair yet to fulfill their destiny by writing the song that unites the universe, they're tempted to give up and pack it all in when the future comes knocking. After a quick trip to 2720, the duo discovers they have less than 24 hours to write the song that saves humanity, and in true Bill and Ted fashion, they decide to simply travel to a future where they've already written it and steal it from themselves. Easy, right? Well, not so much.
While a heady dose of nostalgia undoubtedly powers most of "Bill and Ted Face The Music," the charming authenticity of Winter and Reeves' enduring real-life friendship helps successfully deliver the rarest of things: a satisfying trilogy closer. "Excellent Adventure" may rightfully get most of the praise, and "Bogus Journey" adds a darkly metal flavor to the mix, but it's "Face The Music" that wraps it all up with a satisfying — if long overdue — encore.
Men In Black 3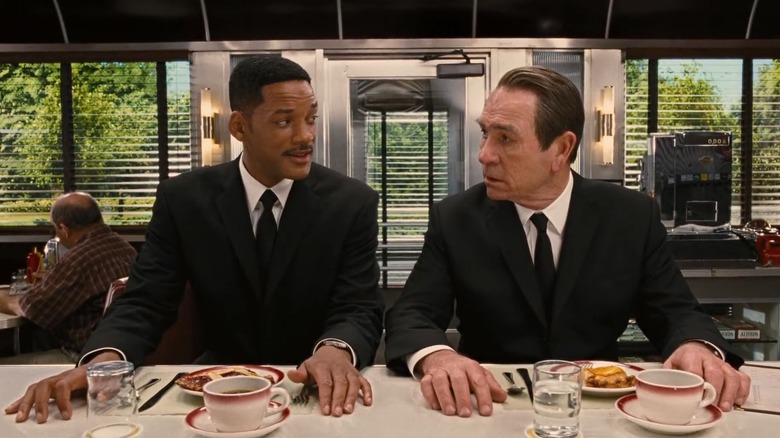 Sony Pictures Releasing
From one threequel to another, the third installment of the popular "Men in Black" franchise proves just how tricky it can be to stick the landing. In director Barry Sonnenfeld's final outing with Will Smith's Agent J and Tommy Lee Jones' Agent K, these clandestine alien cops face their toughest foe yet — an alien fugitive with the ability to escape through time.
Played by "Flight of the Conchords" comedian Jemaine Clement, ruthless villain Boris the Animal has a score to settle with Agent K that takes him back to 1969 to kill a younger version of the stoic MIB suit, played by a pitch-perfect Josh Brolin. With Agent J hot on his tail and the future of the world at stake, the scene is set for an adventure through time that introduces audiences to a host of retro 1960s aliens, courtesy of make-up maestro Rick Baker.
However, creating the third installment of this hit space franchise wasn't without its issues. Time travel knots proved so tricky to untangle that Sonnenfeld reportedly started production without a finished script and was forced to shut down part way through shooting so some much-needed rewrites could be completed. "We knew starting the movie that we didn't have a finished second or third act," Sonnenfeld told Empire in 2012. "Was it responsible? The answer is, if this movie does as well as I think it will, it was genius. If it's a total failure, then it was a really stupid idea."
Midnight in Paris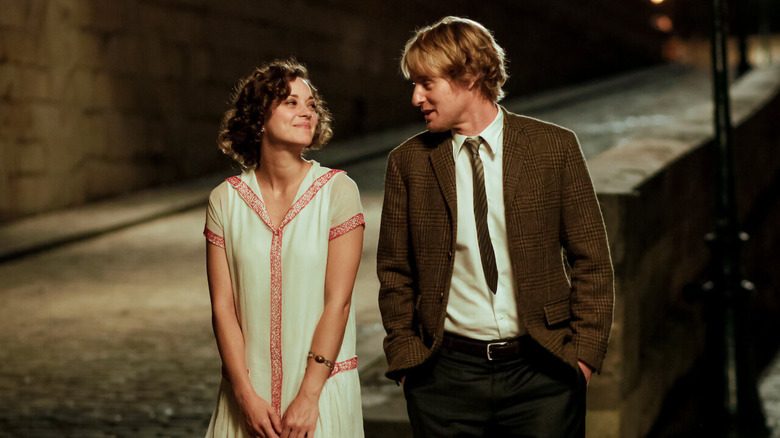 Sony Pictures Classics
"Midnight in Paris" boasts that rare quality of whisking the viewer away on an unexpected journey through time while also making you want to visit its on-screen locations in the present day. Forget dystopian futures or increasingly tragic time loops, Woody Allen's love letter to the rain-soaked streets of Paris is as heartwarming as it is nostalgic and likely the only film on this list that could be described as cozy comfort viewing.
Owen Wilson stars as Gil, a successful screenwriter yearning for something more much to the dismay of his materialistic and increasingly disinterested fiancée Inez, played by Rachel McAdams. Yearning to escape the wealthy trappings of his current life and experience the quaint Paris of the roaring '20s instead, a late night stroll across the city's cobblestone streets sees him accidentally stumble back through time to his dream location.
Soon, his nightly visits to days gone by have him rubbing shoulders with a range of iconic faces from the era, including Tom Hiddleston's F. Scott Fitzgerald, Alison Pill's Zelda Fitzgerald, Corey Stoll's Ernest Hemingway, and wild surrealist Salvador Dalí played by Adrian Brody. However, as his trips increase in regularity, Gil soon learns the unexpected value of living in his own time zone. This is a time travel movie that champions the fleeting importance of staying right where you are and simply living in the moment.
Project Almanac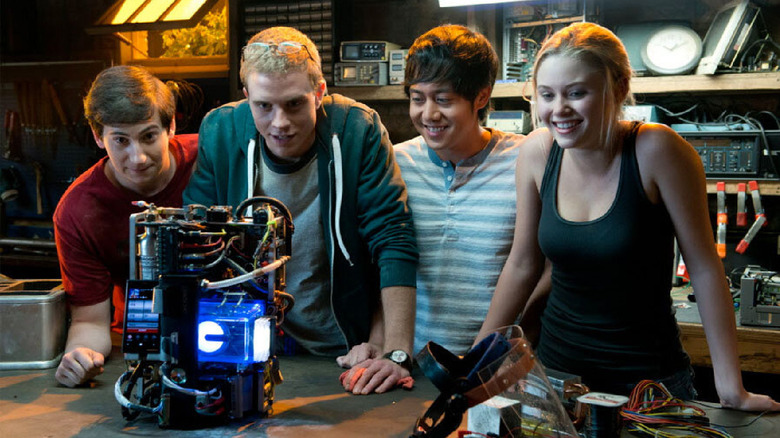 Paramount Pictures
Found footage meets a cautionary tale about the perils of time tampering in "Project Almanac," the 2015 indie film from future "Power Rangers" director Dean Israelite. On the surface, this handheld sci-fi film has all the carefree energy you'd expect from a high school teen movie. However, much like Josh Trank's dark superhero found-footage film, "Chronicle," which arrived a few years earlier in 2012, the complexities posed by the film's primary predicament give "Project Almanac" a darker edge.
Israelite introduces us to David (Jonny Weston), a high schooler who alongside a few friends, discovers that his late father was working on a time machine before he died. Using a set of secret blueprints to complete his dad's work, David and his pals soon find themselves with the power of time travel in their young and irresponsible hands. It doesn't take long for them to play around with this new ability — first to have fun and later, to fix some life problems that'll realign their current timelines more favorably. No biggie, right?
Upon returning, the group discovers their actions in the past have had huge ramifications on their present, and by jumping back to fix things, they only end up making things worse. Buried under an influx of found-footage movies throughout the late noughties and early 2010s, the imperfect "Project Almanac" remains one of the more underrated indie takes on the genre.
Predestination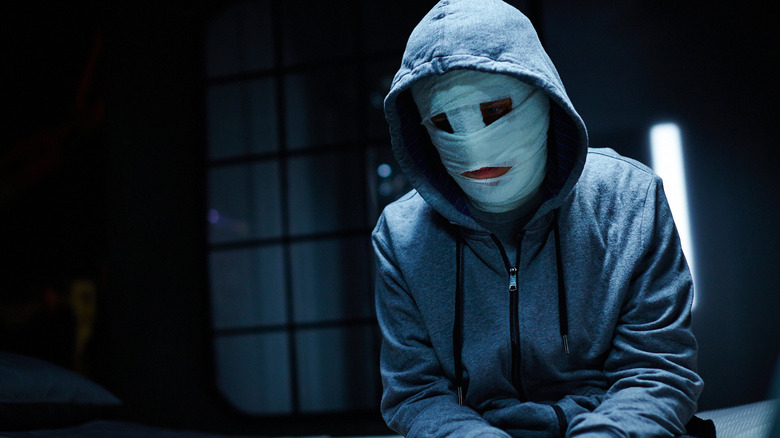 Pinnacle Films/Stage 6 Films
Written and directed by the Spierig Brothers, the duo behind 2009's ace vampire movie "Daybreakers," "Predestination" takes its sweet time unraveling its true mysteries. However, when all is revealed during the film's final moments, the overall ride makes this 2014 time-travel movie one of the genre's more complex and layered efforts. What's more, with Ethan Hawke and "Succession" break-out, Sarah Snook, as its leads, it's a film that's overdue a revisit.
Hawke stars as a nameless agent who's employed by a secret organization dedicated to tracking down the person behind a terrorist attack that destroyed a huge section of Manhattan back in 1975, killing thousands. By using a time travel device disguised as a simple violin case, our unknown protagonist manages to narrow his suspects down to a single person who he travels back in time to meet in a bar. However, while hearing the harrowing and lonely life story of his prime suspect, the agent discovers that he and the fugitive he's been chasing have more in common than he first thought.
Despite not getting bogged down in the practicalities of its time travel, "Predestination" still has a lot of exposition to power through before its real plot starts to emerge. However, stick with it, and you will be treated to one of the more unusual entries in this sometimes formulaic genre that relishes embracing ideas of predetermined fate and destiny alongside the sometimes futile attempts at trying to alter both.
Army of Darkness
With Sam Raimi's stone-cold cult favorite "Evil Dead II" receiving much of the focus and praise when it comes to all things deadites and boomsticks, it can be easy to overlook 1992's "Army of Darkness." In addition to rounding out the big-screen story of reluctant hero Ash Williams (Bruce Campbell), it's also a tale that takes audiences back in time, following the closing moments of Raimi's 1987 sequel, which left its chainsaw-handed hero stuck in the Middle Ages.
After swapping his trusty chainsaw for a newfangled robotic hand and slaying a couple of deadites, Ash is quickly praised as a hero. Still, he's determined to return to his own time. To do this, he must find and use the power of the "Necronomicon Ex-Mortis," but when he flubs his big attempt at returning home, Ash accidentally unleashes the titular undead Army of Darkness, prolonging his stay.
After eventually defeating the deadite hoards, Ash does indeed return to his mundane life in the present day where he details his exploits to doubtful colleagues while stocking shelves at S-Mart. However, in the film's alternate original ending, he isn't so lucky. Raimi has Ash wake up a century too late and come face-to-face with a broken, war-torn future. Sadly, this post-apocalyptic climax was deemed too depressing by studio heads and was ultimately replaced with the supermarket ending seen in the theatrical cut.
Source Code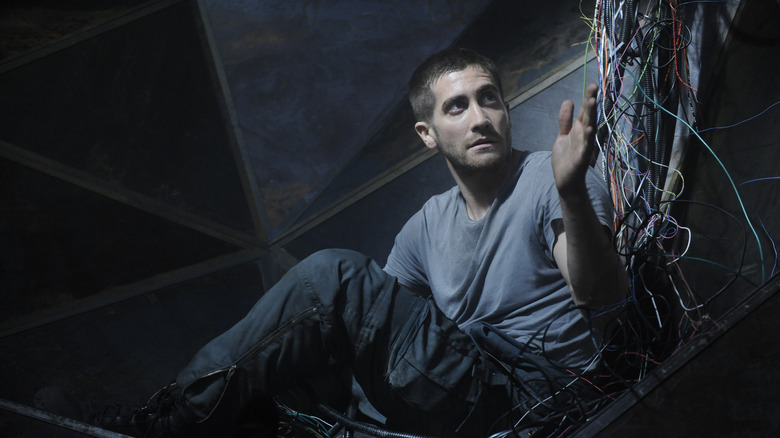 Summit Entertainment
"What would you do if you knew you had less than eight minutes to live?" That's the question posed by Captain Colter Stevens (Jake Gyllenhall), the man at the center of this time travel film with a difference. Awaking on a busy commuter train with no memory of how he got there, Stevens is further befuddled when he catches a glimpse of his reflection and discovers he has a brand new face.
As he tries to piece together what's happening, we quickly learn that Colter's train will fall victim to a terrorist attack that kills everyone onboard. When it does, he awakens in a mysterious cockpit and discovers he's plugged into a high-tech piece of government kit that injects his consciousness into the body of a commuter moments before the atrocity takes place. Through a series of trial and error visits to the last moments of this stranger's life, Colter must identify the fellow commuter behind the attack and prevent an even deadlier blast that's due to take place later that day.
Director Duncan Jones follows up his brilliant sci-fi movie "Moon" with a high-concept thriller that plays with the traditional rules of time travel to present a film that eventually explores alternate timelines. He may replace most of the low-fi feel that gave "Moon" its hand-made charm with slick visuals indicative of a much bigger budget, but "Source Code" provides enough new ideas to warrant a place on any list of underrated time travel movies.